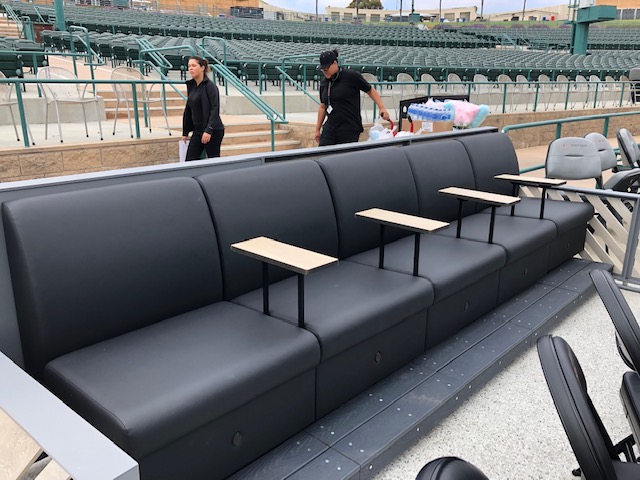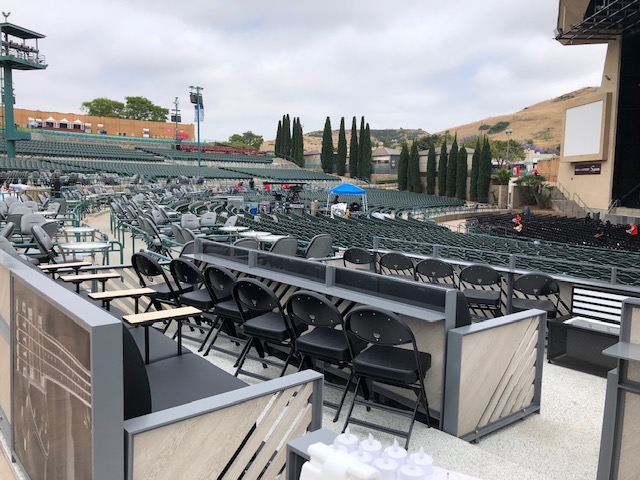 A Luxury Experience at North Island Credit Union Amphitheater
Summertime in Chula Vista is simply perfect. This summer there is an incredible lineup of musical artists coming to the North Island Credit Union Amphitheater to fill the summer air with music for fans to enjoy while outside under the stars. Skip the crowded indoor venues and see your favorite bands outside from seating in a VIP seating at North Island Credit Union Amphitheater.
There is nothing like enjoying live music out under the stars. As your favorite artists head on tour for the summer, you can now plan an unforgettable experience at North Island Credit Union Amphitheater in a Live Nation Rock Box. 
The Rock Box at North Island Credit Union Amphitheater provides the VIP experience you've been dreaming of. With the best views of the stage, luxurious lounge-style seating, and catering on demand from your own dedicated server, you won't want to sit anywhere else. Live like a Rock Star while you rock out to the best tunes of the summer. 
In addition to the private seating in front of the stage, you'll receive a reserved table in the Live Nation VIP Club and a parking pass for every pair of tickets.
At many venues, you can book as few as 2 seats in a VIP Box and share the experience with other concertgoers. For a private experience, you can book the entire VIP Box by purchasing all the seats. 
The VIP Experience at North Island Credit Union Amphitheater
VIP Parking 
VIP guests have the privilege of booking a pass to parking in a lot close to the private entrance that is just for them! This gets you to your private seating quicker and without any hassle.
Access to Private Clubs 
If you want a break from the concert or a cool place to hang out in between the opening act and headliner, enjoy the VIP Club inside North Island Credit Union Amphitheater. Here you can relax and enjoy five-star food and drink offerings. Don't wait in line for a hot dog with the crowds. Be treated like the VIP you know that you are in the private club reserved for VIP Box ticket holders.
Premium Views 
The design of the North Island Credit Union Amphitheater ensures that VIP box guests get amazing views of the entire stage. You won't be staring at the heads of the fans in front of you. You will look directly at the stage from your VIP Box and will love every minute of the concert.
In-Seat Wait Service 
Seats in VIP boxes are equipped with Kallpod buttons. With the push of this button, you request a server to your box. Order gourmet food, drinks, beer, wine, or cocktails, and your order will be brought directly to you so you don't miss the show waiting in line for concessions.
Exclusive Restrooms 
The lines for the restrooms at concerts get long! You will not have to deal with this thanks to private VIP Box guest restrooms nearby.
Ticket Costs at Outdoor Amphitheatres
Don't let the summer slip away without catching one of your favorite bands touring and stopping at North Island Credit Union Amphitheater. Purchase tickets in a North Island Credit Union Amphitheater VIP Box to have the most memorable and stress-free experience you have ever had at a concert.
Live music should be enjoyable. You shouldn't spend your evening standing in lines and fighting to see the stage. Choose VIP tickets for the outdoor concerts you want to see this summer. SuiteHop has access to the best shows and seats all summer long. Browse through our live listings and view the best VIP ticket experiences near you.
There is no one like SuiteHop with their exclusive access to VIP seating all over the United States. If there is a concert happening this summer and you want to see it as a VIP ticket holder, SuiteHop can make that happen. VIP seating does cost more than general admission but it is a great value with all the perks and luxuries included at that cost. Here is a picture of what you can expect at North Island Credit Union Amphitheater.
How much do VIP Tickets Cost
$300 - $600 per ticket 
VIP Tickets for concerts at amphitheaters vary in cost based on the location and artist performing.
Are VIP tickets and VIP Boxes less expensive than regular tickets?
No, VIP tickets do come at a premium but they are not as expensive as you would expect considering all the perks and benefits that come with being a VIP ticket holder.
Snag a VIP Box at North Island Credit Union Amphitheater
Outdoor concerts in the grass are a thing of the past. With SuiteHop you can enjoy the best seats in the house with premium access to exclusive VIP ticket holder clubs and amenities. Check out the options and rock out like a VIP this summer.
VIP Box Seating at North Island Credit Union Amphitheater
Individual VIP tickets may be purchased in boxes and these areas typically include sunshade in addition to the best sightlines of the show. VIP Tickets may be purchased individually and offer extra legroom with comfortable luxury seating.
Premium Club Seats at North Island Credit Union Amphitheater
Premium Club seats offer plush comfortable seating with the best sightlines at North Island Credit Union Amphitheater! Premium Club seats are reserved specifically for your group and allow you to order food and beverages directly to your seat.