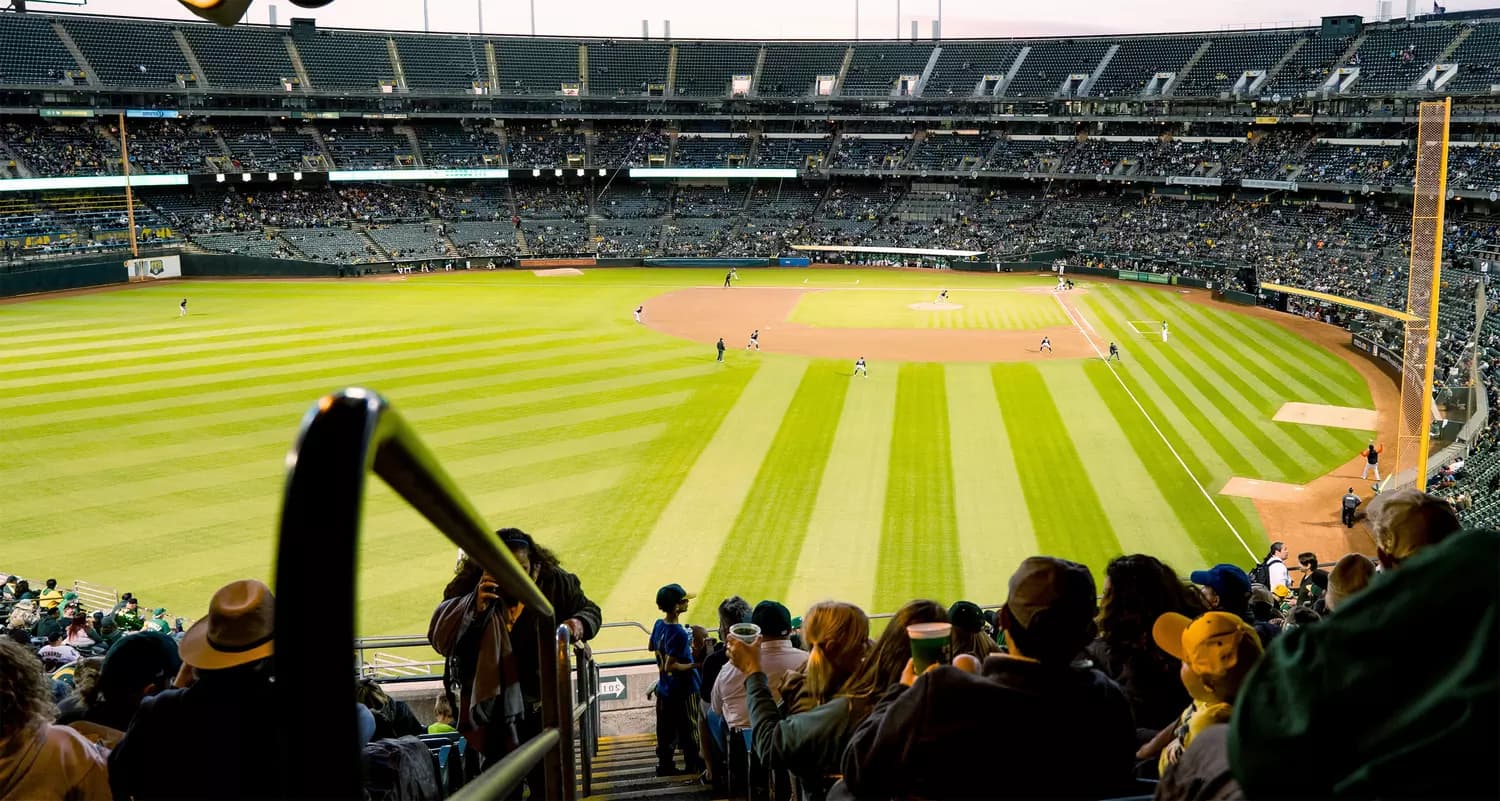 RingCentral Coliseum [formerly Oakland Coliseum]
Suites & Premium Seating
Venue Info
RingCentral Coliseum [formerly Oakland Coliseum]
7000 Coliseum Way
Oakland, CA
Get Updates
Sign up for our newsletter with offers, updates and featured events at RingCentral Coliseum [formerly Oakland Coliseum].
Suite Pricing
RingCentral Coliseum Suite Pricing and Amenities
Make the most of your trip to the Bright Side of the Bay, also known as Oakland, by booking a private suite at the RingCentral Coliseum with SuiteHop for your next event. SuiteHop provides the best spots in RingCentral Coliseum to watch the Oakland A's hit a homer, the Raiders score a touchdown, or to see Supercross or Monster Jam wreck it in the dirt.
We can help you to book a suite, order catering, and make your night one to remember. Private suites booked with SuiteHop are great for private birthday parties, bachelor/bachelorette parties, family celebrations, or even work social events. RingCentral Coliseum was formerly known as Oakland-Alameda Coliseum and the name changed in Fall 2019.
How much do suites at RingCentral Coliseum cost?
$8,000 - $22,000
RingCentral Coliseum suite pricing varies on the matchup, location in the stadium, the type of seating option, and services requested. Pricing ranges from $8,000 to $22,000.
Amenities: Luxury seating, amazing sightlines, in-suite catering options, access to book VIP parking passes, in-suite concierge services, and more
Suites at RingCentral Coliseum: 87 Premium Suites
Suite Capacity: 8-54 guests
Low Range

Location

High Range

$8,000

Club Suites

 In field 

$18,000

$10,000

Loge Suites

 East and West sides of the stadium

$22,000
Private Suites
Host the perfect event in a private RingCentral Coliseum suite
Looking to experience the best seats in the house at RingCentral Coliseum? SuiteHop has exclusive access to private suites with the best views and premium amenities. From planning an unforgettable birthday celebration to crafting a home run of a corporate event, SuiteHop's team of event experts will help make your next event in Oakland one to write home about.
Private RingCentral Coliseum suites are available for parties of 14-24 guests.
What are my RingCentral Coliseum suite options?
Club Suites
The Club Suites at RingCentral Coliseum are located in the infield, bringing you up close and personal with the action right in front of you. Whether you are watching an A's game, a Raiders game, or another amazing event in RingCentral Coliseum, you will have everything you need with the most amazing sightlines. In-suite catering is available for purchase, and each suite comes with climate-controlled seating, HDTVs, and a dedicated suite attendant. Most club suites seat 14 - 24 guests.
Loge Suites
The Loge Suites at RingCentral Coliseum are located on the East and West sides of the stadium, giving you amazing views of the action no matter where you are seated. Loge Suites have both indoor and outdoor seating with a retractable window to keep out any unwanted elements or to keep things comfortable inside the suite. In-suite catering is available for purchase, and each suite comes with climate-controlled seating, HDTVs, and a dedicated suite attendant.
Stadium FAQ
The answers to your top RingCentral Coliseum suite questions
RingCentral Coliseum is a part of a multipurpose outdoor complex, RingCentral Coliseum which includes Oracle Arena. RingCentral Coliseum is home to the MLB's Oakland Athletics and Oakland Raiders. Other events like Motocross and Monster Jam, as well as other concerts and events. It has a capacity of up to 63,132 guests depending on the type of event being held.
Why should I book RingCentral Coliseum suites with SuiteHop?
SuiteHop is an online marketplace providing the most comprehensive details and availability for all your RingCentral Coliseum events. With real-time pricing and high attention to customer service, SuiteHop's suite experts will help you from booking your suite all the way through ordering catering for your event.
What is included in a suite at RingCentral Coliseum?
All RingCentral Coliseum suites are designed to give guests the experience of a lifetime. Whether you are hosting a private event for coworkers or having a birthday, bachelor/bachelorette, or going away party, SuiteHop can book the best seats in the house with the best amenities. Most RingCentral Coliseum suites come with VIP entry into the stadium. All suites have comfortable seating, are climate controlled, and give you the best views of the action.
How do I get to RingCentral Coliseum?
The RingCentral Coliseum is located at 7000 Coliseum Way, Oakland, CA 94621. The cross-streets to the arena are 66th Avenue and Edes Avenue. RingCentral Coliseum and its adjoining Oracle Arena are located directly off interstate 880.

RingCentral Coliseum is also connected to the Bay Area Rapid Transit (BART) system, which is a public transportation railway system. Simply ride the system to the Coliseum Station stop and cross the pedestrian walkway to get to RingCentral Coliseum. To get to RingCentral Coliseum, continue down the ramp and around the Coliseum to get to the other side.
Where should I park for an event or game at RingCentral Coliseum?
On-site parking is available for all games and events at RingCentral Coliseum.

RingCentral Coliseum recommends using public transportation such as BART if possible. Parking is limited.

If VIP parking passes are needed, please contact your SuiteHop Customer Service Expert to order.
How do I get to my RingCentral Coliseum suite?
Private entry access is available for all ticket holders of private event suites at RingCentral Coliseum. Entry is near VIP parking.
When can I enter and how long can I stay in my RingCentral Coliseum suite?
Parking opens 2 hours prior to a game or event. Event doors open 1 hour prior to a game or event. Guests may stay one hour after the conclusion of a game or event.
Catering
RingCentral Coliseum Catering Explained
All in-suite catering orders can be placed prior to your event online or with your SuiteHop customer service expert. However, in-suite catering is not available in shared suite situations. Customized catering at the RingCentral Coliseum is provided by Spectra Restaurants.
Catering is not typically included in the cost of your suite rental, but Your SuiteHop customer service expert can assist you with placing the best order for your group depending on size and needs.
Estimated RingCentral Coliseum suite catering costs
| Options | Pricing |
| --- | --- |
| Full meal with drinks | $100 - $150 per guest |
| Snacks with beer & wine | $50 - $75 per guest |
| Beer & wine alone | $35 - $50 per guest |
SuiteHop Recommended Menu
Feeds 20 guests
Bottomless Tortilla Chips

South of the Border Dips

Chili Verde and Cheese Tamales

Marinated Beef and Chicken Fajitas

Tres Leches Cheesecake

12 non-alcoholic beverages

24 beers
This menu is based on RingCentral Coliseum Catering Menu presented by Spectra Restaurants. Items are subject to availability.

Pro tip: To lower waste, we recommend ordering fewer beverages upfront. Watch what your guests are consuming and reorder accordingly.