How It Works
Everything you need to know to book your premium experience.
Have you seen those courtside seats, the fans sitting directly behind home plate, or suites and thought that's where you belong?
We have thought the same thing! At venues and arenas across the country, games and concerts take place, and sadly, the premium seats sit empty. This is because they are simply not made readily accessible to the public.
SuiteHop is your answer. We are an online marketplace, offering fans and businesses the opportunity to enjoy games, events, and concerts by gaining on-demand access to the best premium seating options. With SuiteHop, it's more than just a ticket, it's a whole experience.
You're 3 steps away from your premium experience
1. Browse availability
SuiteHop works with listing partners at venues and arenas across the nation to list their premium seating for the best events and games available. You can easily browse the SuiteHop website and search for listings for games, concerts, or live events you want to attend. Whether you're a super fan searching for a particular game or just need a nearby venue for a business event, we've got you covered.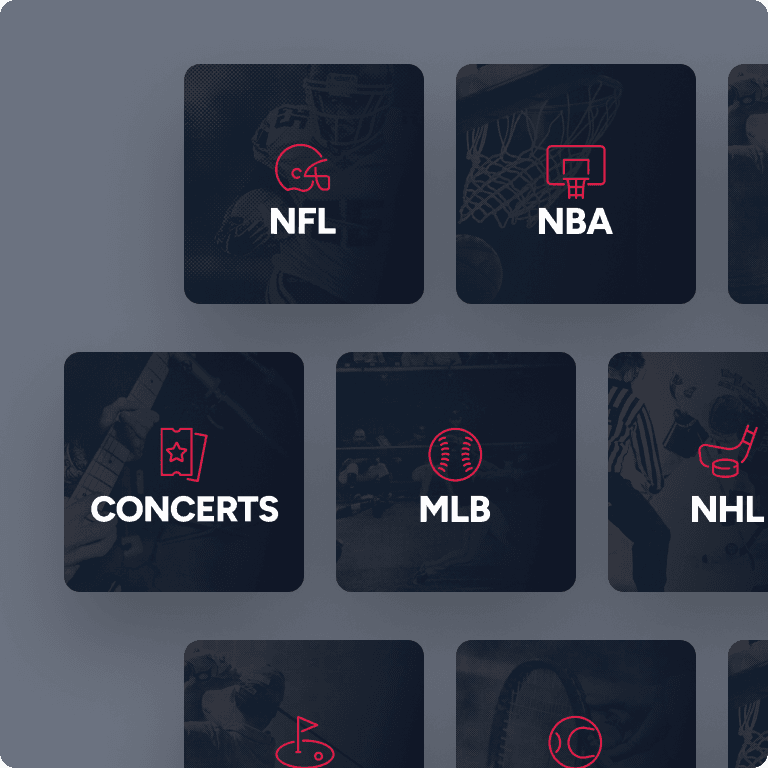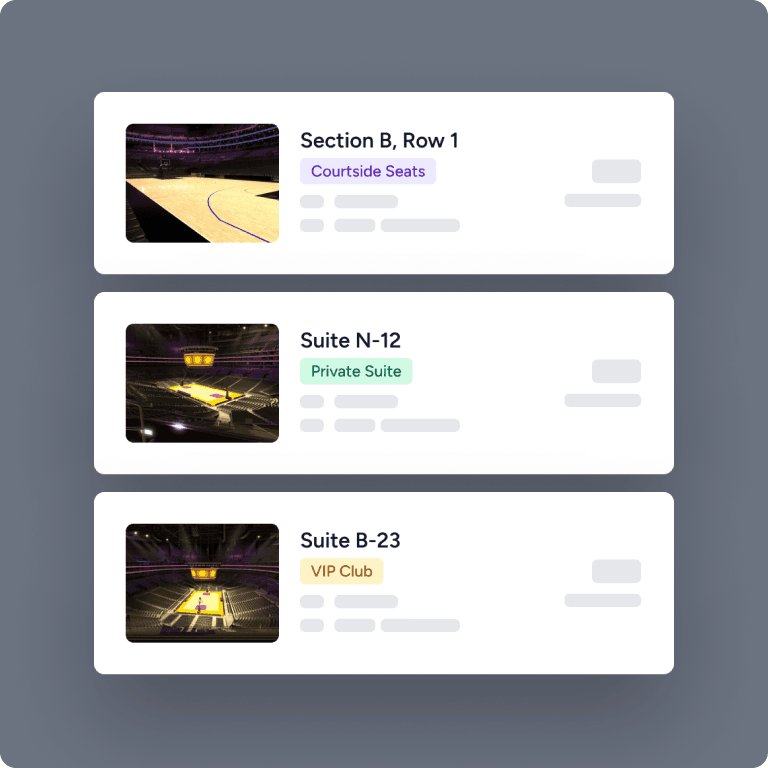 2. Book your experience
Once you found the perfect event, book those seats! SuiteHop's online Instant Book is the quickest way to secure your tickets. However, if you have any questions, we are here to assist you. SuiteHop's experts will help you pick the perfect seating option for your needs and walk you through the ticket delivery process.
3. Enjoy your event
With premium seating, you purchased more than just a ticket. Enjoy the amazing sight lines, comfortable seating, and all the amenities included in your purchase. Our online reps are always available to assist you with additional details such as catering orders and purchasing additional tickets for suites, or any questions about the day-of logistics.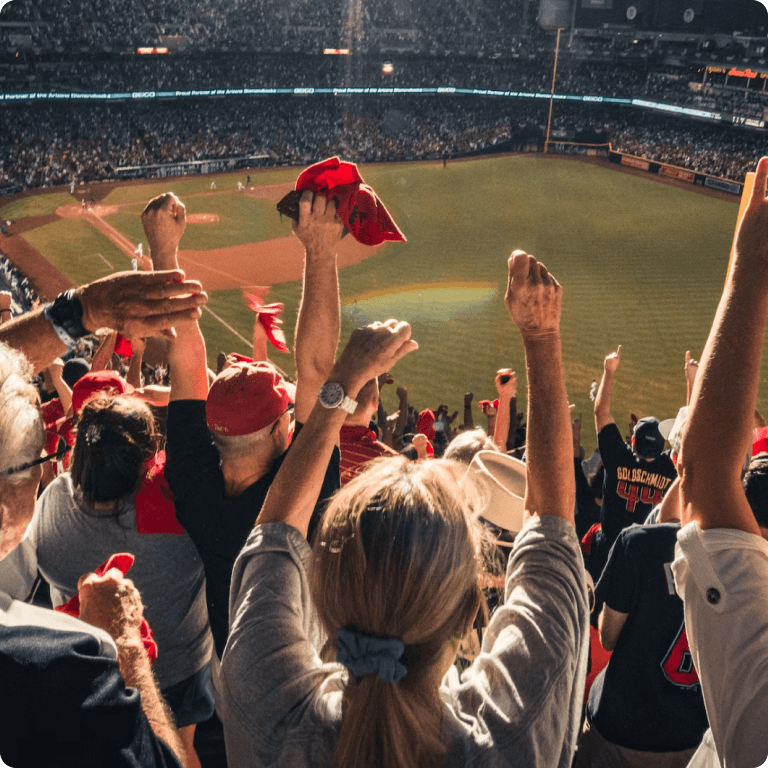 Why book with SuiteHop?
On-demand access to the best
We are an online marketplace, offering fans and businesses the opportunity to enjoy games, events, and concerts by gaining on-demand access to the best premium seating options.
Clear-cut pricing
SuiteHop believes in transparency. What you see listed is what you pay at check-out—no hidden fees or service charges. Simple, straightforward pricing you can trust.
Easy VIP options and upgrades
Take your event to the next level. Secure parking passes, pre-event meeting spaces, exclusive lounge access, and pre-order catering options. Elevate your experience effortlessly and enjoy the full VIP treatment you deserve.
It's more than a ticket
Premium seating goes beyond a mere ticket. Elevate your event experience with upscale amenities, exclusive services, and unforgettable moments. It's the ultimate way to create lasting memories and indulge in unparalleled luxury.
A truly premium experience
Escape the crowd and discover a whole new side of live entertainment. Experience luxury amenities, delicious catering, swanky seating, high-tech environments, and exclusive access to the stadium's clubs, upscale restaurants, and premium bars. Unveil an experience beyond what most people ever get to explore.
The absolute standard in quality
With personalized attention, VIP amenities, and unmatched service, venues go above and beyond for their premium guests. The curated experience will surpass expectations and leave a lasting impression.
What customers are saying
"It was my first time reserving a suite via SuiteHop for a work event and I had a wonderful experience! Suitehop was so helpful and reliable. I find it difficult to work with other resellers, but Suitehop made the process incredibly seamless. I'm looking forward to booking another suite in the near future."
Joanna K. - Field Programs Manager, Tech Company
"Great account manager to work with. Very responsive and accommodated some chaotic, last minute adjustments. Would recommend them for any event support. It was a great experience for our customers and prospective customers!"
James L. - Account Executive, Tech Company
"We have used SuiteHop several times for NBA games and concerts as a means to entertain clients and have always had an incredible experience. The process is quick and simple. Growing customer relationships from these events has been impactful."
Nick M. - Marketing Manager, Law Firm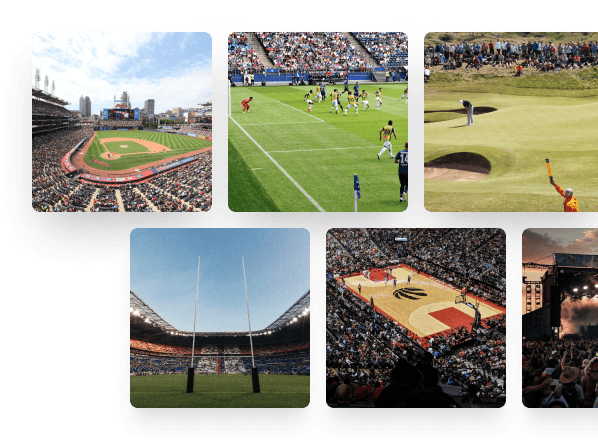 Have questions about how it works?
Here are some frequently asked questions about premium tickets.
Still need some help? Contact us