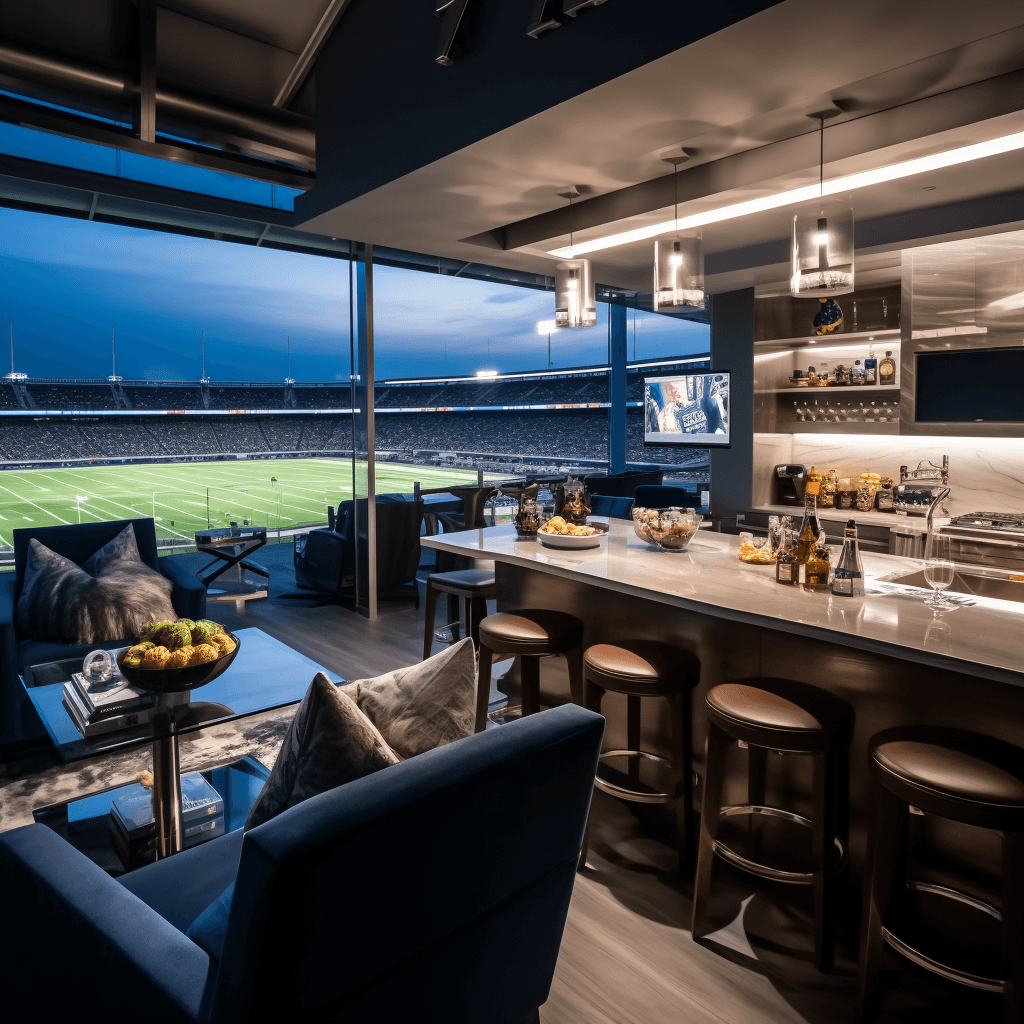 Luxury Suites
Premium Seating
Private Suites
Shared Suites
Party Suites
Private Suites
If you are looking for an exclusive event with 8 to 30 guests, a private suite will be your best option. Private suites can often cost less on a per-person basis and bring a more intimate setting to the event. Your guests can mingle with each other and enjoy the privacy of your group's own suite. The option to pre-order catering is also an added benefit. Your guests can skip the concession lines when they have food and beverages waiting for them upon arrival. Please keep in mind, catering is an additional cost unless noted on the suite description.
Food & Beverage Options
Purchase in-suite catering
Club & lounge dining options
Traditional concession options
Amenities
Lounge-style seating options
Pre-order catering options
Comfortable, stadium-style seating
Day-of-event catering options
Climate-controlled environment
Personal in-suite attendant
Private entrance into the stadium*
Suite level restaurant & club access*
* Typical of most Private Suites but can vary based on venue
Frequently asked questions about Private Suites
What are Private Suites and how will they elevate my next event?
Still need some help? Contact us
How many people can fit in a private suite?
Private suites range in size, but traditional suites can accommodate 8 - 30 guests.
How much do private suites cost?
Private suites cost varies from $1,000 to $100,000 depending on the matchup, venue, location of the suite, and the amenities included.
| Event | Low Range | High Range |
| --- | --- | --- |
| NFL (National Football League) | $7,500 | $75,000 |
| NBA (National Basketball Association) | $2,000 | $25,000 |
| NHL (National Hockey League) | $2,000 | $25,000 |
| MLB (Major League Baseball) | $2,000 | $15,000 |
| Arena Events | $1,000 | $7,000 |
| Amphitheaters | $2,000 | $5,000 |
What are the amenities included in a private suite?
Private suites offer a climate-controlled room exclusively for you and your guests. Most private suites include in-suite lounge style seating and plush stadium-style seats, large TVs, kitchenette and bar area, and an upscale atmosphere. An in-suite attendant will be present to assist in day-of event needs and concerns.
Is catering included in all private suites?
The option to pre-order catering is available as an additional cost for most private suites. Some private suite listings include catering in the suite cost, but those are very rare. SuiteHop can help you order your catering if you desire to purchase.
Who benefits from purchasing a private suite?
Everyone! In the past, private suites were typically booked by businesses who would use them for corporate entertainment or as a perk for employees. Now, with the help of SuiteHop bringing suites to the public, anyone can enjoy a game or concert from a private suite for personal parties, birthdays, celebrations, as well as corporate events.
What are SRO tickets?
The number of tickets included in the suite price equals the number of seats in the suite. Typically, suites have enough space to accommodate extra people to stand in the suite and those tickets are sold as SRO tickets. SRO stands for Standing Room Only. If you have bought a suite, you are the only one allowed to purchase the extra SRO tickets. SRO tickets are NOT released to the public to purchase.