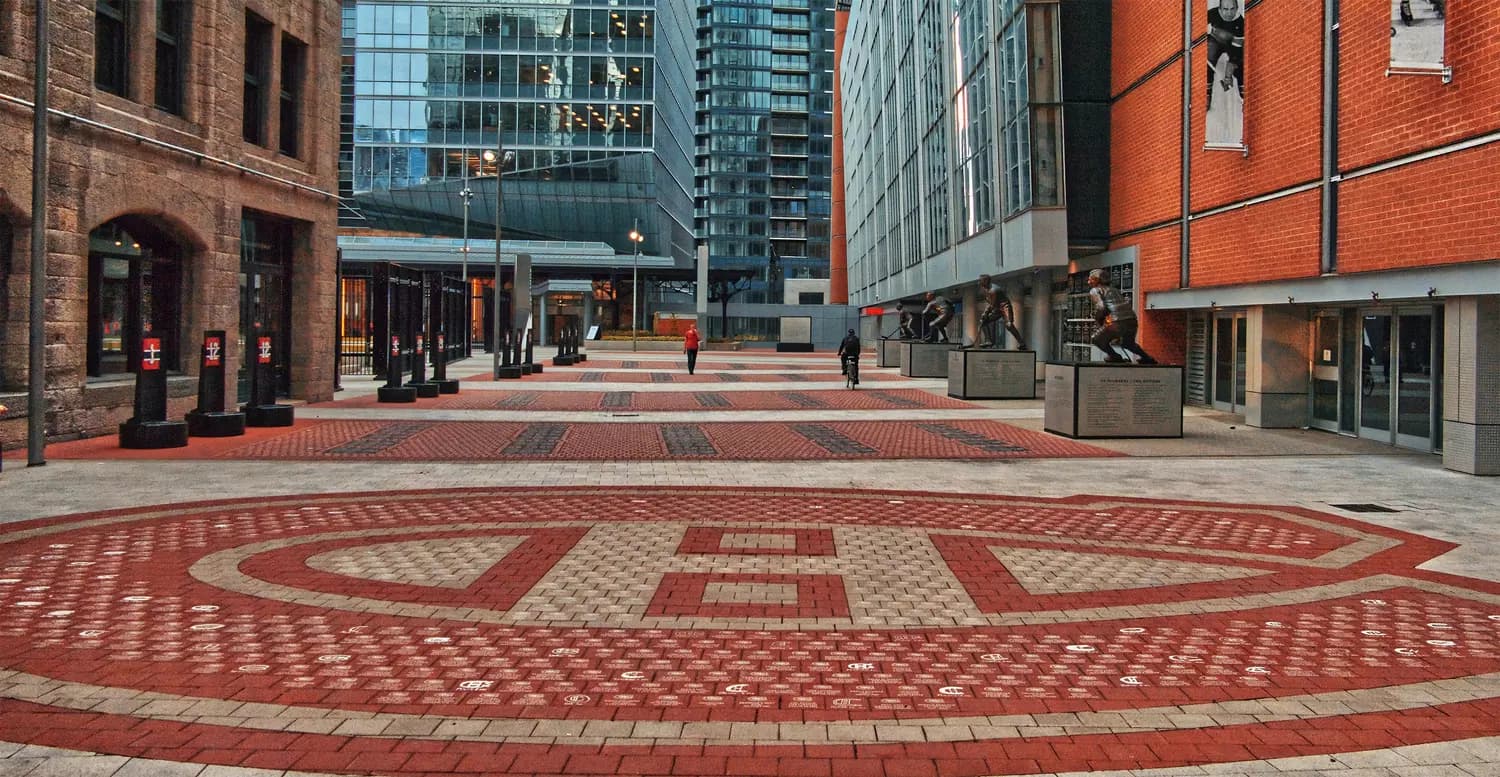 Bell Centre
Suites & Premium Seating
Venue Info
Bell Centre
1200, de la Gauchetiere Street West
Montreal, QC
Get Updates
Sign up for our newsletter with offers, updates and featured events at Bell Centre.
Pricing
Premium Seating Costs at Bell Centre in Montreal
The Bell Centre in Montreal offers a variety of premium seating options for guests who want to experience events in luxury and style. However, it's important to note that premium seating prices at the Bell Centre vary widely depending on the specific seating area, event, and other factors.
Generally, prices for premium seating start at several hundred dollars and can go up to several thousand dollars per seat, depending on the event and location. The Bell Centre's premium seating options offer an unparalleled experience, with access to exclusive lounges, high-end food and beverage options, and exceptional service. Despite the higher cost, many guests find that they are buying more than just a ticket when they purchase premium seats.
How much do suites at Bell Centre cost?
Private Suites: $2,000 -$25,000 USD
Shared Suite Tickets: $350 - $700 USD Per Ticket
⁠Glass Seats: $150 - $2,500 USD Per Ticket
Bell Centre suite prices vary based on the matchup, concert, and location of the seats in the stadium. The average private suite price for Montreal Canadiens games typically ranges from $3,000 USD to $6,500 USD. Glass seats for hockey games typically range from $300 USD to $1,200 USD per ticket.
Amenities: Private indoor and outdoor seating, optional in-suite catering, best sightlines, in-suite host, private in-suite lounge, and comfortable stadium-style seating with extra legroom
Total Suites at Bell Centre: 130+ Suites 
Suite Capacity: 12-40 guests
| Low Range | Location | High Range |
| --- | --- | --- |
| $150 USD Per Ticket | Glass Seats | $2,500 USD Per Ticket |
| $2,000 USD | Level 3 Luxury Suites | $25,000 USD |
| $2,000 USD | Level 5 Luxury Suites | $25,000 USD |
Premium Seating
Host the perfect event with premium seating at Bell Centre
The Bell Centre in Montreal offers a range of premium seating options for guests who want to enjoy live events in style and comfort. Among the most exclusive options are the glass seats and luxury suites, which provide unparalleled views of the action on the ice or stage.
These premium seating areas offer a luxurious experience that includes private lounge access, high-end food and beverage options, and exceptional service. Whether you're looking to entertain clients, celebrate a special occasion, or simply enjoy the ultimate VIP experience, the glass seats and suites at the Bell Centre are a perfect choice.
Private suites are available for parties of 12 - 40 guests. For groups of 4 to 8 guests, SuiteHop recommends shared suites. If you are looking for a night out with a few guests, the glass seats are highly recommended.
What are my premium seating options and amenities at Bell Centre?
Bell Center offers a wide range of premium seating options for its many Montreal Canadiens games and concerts ranging from the Platinum Seats on the glass in the Rouge Level (100-Level) to the premium suites on the Level 3 and Level 5 Luxury Suites.
All suites at Bell Center include:
Comfortable Stadium-Style Seating

Private In-Suite Lounge

High Top Tables

Bar Top Seating with Ice View

In-Suite Attendant

Concierge Service

Catering Options

Private Entrance into Bell Centre

Large, Flat Screen HDTVs.
Glass Seats
$150 - $2,500 USD | 2-4 Guests 
Glass seats at Bell Centre are located on the first row of the Rough Level nearest the glass. These glass seats are also called Platinum Seats. Glass seats at Bell Centre located behind the Canadiens team benches are in sections 101 & 142. The penalty box seats are in section 113.   
Luxury Suites
$3,000 - $25,000 USD | 12 - 40 Guests
Luxury suites at Bell Centre are located on Level 3 and Level 5. Both levels of suites offer the same great amenities listed above. Level 3 Luxury Suites will be located closer to the ice.
Venue FAQ
All about the premium tickets at Bell Centre
The Bell Centre, located in the heart of downtown Montreal, is one of the most iconic sports and entertainment venues in Canada. Since its opening in 1996, the arena has been the home of the Montreal Canadiens, one of the oldest and most successful teams in the National Hockey League.
In addition to hockey, the Bell Centre hosts a wide range of concerts, shows, and other events throughout the year, attracting millions of visitors from around the world. With its state-of-the-art facilities, excellent amenities, and prime location, the Bell Centre is a must-visit destination for anyone looking to experience world-class entertainment in Montreal.
How many suites are at Bell Center?
Bell Centre has over 130 suites.
Why should I book my Bell Centre premium tickets with SuiteHop?
SuiteHop is an online marketplace providing the most comprehensive details and availability for Bell Centre events. With real-time pricing and high attention to customer service, SuiteHop's suite experts will help you from booking your suite all the way through purchasing catering for your event.
What is a suite at Bell Centre?
Every fan with a ticket to an event at Bell Centre expects a unique experience. However, fans attending a Montreal Canadiens game or concert in a private suite know they will be treated like celebrities. Bell Centre suites offer private seating, a furnished suite, and an in-suite attendant to help with all your day-of needs. Be sure to read each listing to determine what is exactly included in your suite purchase at Bell Centre.
How do I get to the suites at Bell Centre?
Bell Centre suites are located on two different levels. Refer to the Bell Centre seating chart for your specific suite listing to decide the best way to get to your suite. On the day of your event, a concierge will be available to help you locate your suite.
When do Bell Centre suites open for access?
Bell Centre suites typically open 90 minutes prior to the game or event.
Where is Bell Centre Located?
Bell Centre is located at 1909 Av. des Canadiens-de-Montreal, Montreal, QC.
Catering
Bell Centre Suite Catering Explained
The chefs at Bell Centre have carefully crafted their suite menus to incorporate local, sustainable, and organic options. Snacks, entrees, desserts, and drinks served right in your suite will impress your guests and give you the most relaxing experience possible.
Catering is an additional cost on top of your Bell Centre suite purchase. SuiteHop can assist in ordering catering before your event's catering deadline. 
If you desire to order catering, Bell Centre allows you to create a customized in-suite menu from traditional game-day fare to premium options. Food allergies and other dietary issues are not a problem, just indicate those when you place your order.
Catering is not necessary for all suite events, guests can browse and purchase the many food and beverage vendors throughout Bell Centre.
Recommended suite catering budget at Bell Stadium
| Options | Pricing |
| --- | --- |
| Full meal with drinks | $75 - $150 USD per guest |
| Snacks with beer & wine | $50 - $75 USD per guest |
| Beer & wine alone | $35 - $50 USD per guest |
Bell Centre Recommended Menu
feeds 20 guests
Freshly Popped Popcorn

Chips & Dip Assortment

Chicken Wings

Hot Dogs

Pizza

Brownies & Cookies

12 non-alcoholic beverages

24 beers
This menu is based on traditional catering options. Items are subject to availability.
Pro tip: To lower waste, we recommend ordering fewer beverages upfront. Watch what your guests are consuming and reorder accordingly.