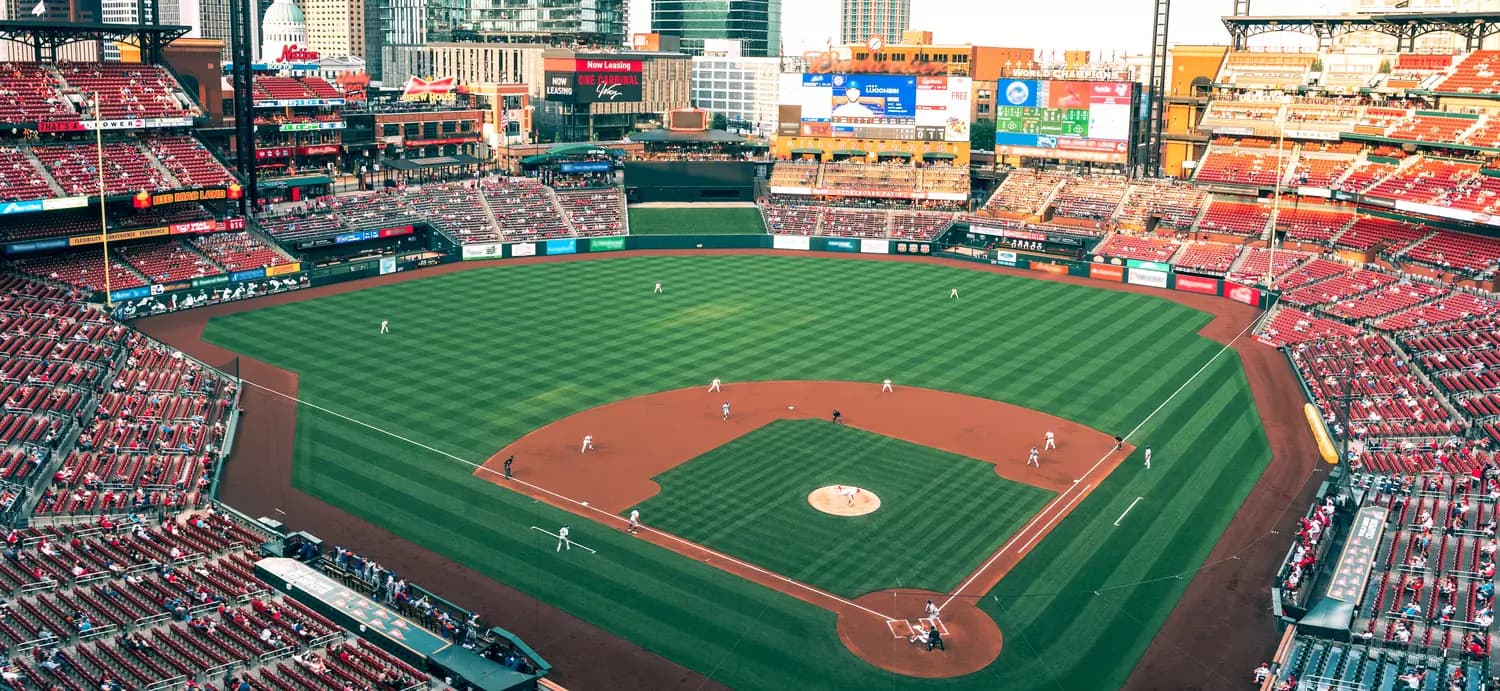 Busch Stadium
Suites & Premium Seating
Venue Info
Busch Stadium
100 South 4th Street
St Louis, MO
Get Updates
Sign up for our newsletter with offers, updates and featured events at Busch Stadium.
Suite Pricing
Busch Stadium Suite Pricing and Amenities
SuiteHop is your place to find all the best suites for your next game or event. Busch Stadium suites are luxury suites that provide gorgeous decor, comfortable and plentiful seating, delicious catering, and plenty of room for all your family, friends, or coworkers to enjoy the next St. Louis Cardinals game or other events. You will have everything you need in one of Busch Stadium suites, giving you an evening to remember for you and your guests.
How much do suites at Busch Stadium cost?
Premium full-suites range from $5,000 to $8,000 for a regular St. Louis Cardinals game. Pricing for suites for other events may vary.

Suites for concerts or other private events can go between $3,000-$13,000, depending on the location and event.

The price of Busch Stadium suites varies based on the matchup, location in the stadium, the type of seating option, and services requested.

Amenities: Double-wide, theater-style seating, wet bar, high definition flat-screen TVs, private restrooms, refrigerator
Total Suites at Busch Stadium: 115 Suites
Suite Capacity: 20-100 guests

There are several suite options available in Busch Stadium for your next Cardinals game or other events:
Diamond Suite- 20 to 24 guests

Branch Rickey Room- 22 to 30 guests

Party Suites- 30 or more guests
Low Range

Location

High Range

$5,000

Diamond Suite

 Level 2 - Between home plate and third base

$8,000

$6,000

Branch Rickey Room -

 Second floor

$8,000

$7,500

Party Suites

 Right field - Level 2 and 3

$10,000
Private Suites
Host the perfect party, meeting, or get together in a private Busch Stadium Suite
Looking to experience the best seats at Busch Stadium with a group of friends or coworkers? SuiteHop has exclusive access to the premiere private suite experiences in St. Louis for all your Cardinals games and other events.
Private suites are available for parties of 20-100 guests.
What are the options?
Diamond Suite
The Diamond Suite at Busch Stadium is located between home plate and third base. It has a suite capacity of 24 guests (20 tickets with the option to purchase 4 additional tickets). Climate-controlled comfort along with outdoor stadium seating offers the option to enjoy your event indoors or outdoors.
Branch Rickey Room
The Branch Rickey Room is a private indoor suite with a balcony overlooking the field below. With a height at the second level of Busch Stadium, it offers great sightlines of all the action below. The Branch Rickey Room accommodates 22 to 30 guests along with an all-you-can-eat buffet with hot dogs, brats, BBQ brisket, chicken breasts, pasta salad, field greens salad, nacho bar, cookies, and brownies. You will also have mixed drinks, Budweiser, and Bud Light available 1.5 hours before the event and 2.5 hours after the event. Each guest also receives complimentary access to the Cardinals Hall of Fame and Museum before and during the game.
Party Suites
Party Suites at Busch Stadium are perfect for larger groups, like hosting a family reunion, a work event, or entertaining clients. They are located on Level 2 overlooking right field. These suites can accommodate 30 or more guests and have both indoor and outdoor seating.
Stadium FAQ
All about the suites at Busch Stadium
Busch Stadium is home to the MLB's St. Louis Cardinals. It also hosts other professional sporting events and concerts. It has a seating capacity of 46,861. Busch Stadium was built in 2006 and has been home to the Cardinals ever since. Busch Stadium also hosts professional soccer and hockey games, college football games, and several concerts. The stadium has Cardinals memorabilia throughout, making it the perfect place for a lifelong Cardinals fan to enjoy a game.
How many suites are available at Busch Stadium?
Busch Stadium has 115 suites that seat thousands of guests each year for MLB's Cardinals games and other events. Several different suite options are available for every party size and type.
Why should I book Busch Stadium Suites with SuiteHop?
SuiteHop is an online marketplace providing the most comprehensive details and availability for all your Busch Stadium events. With real-time pricing and high attention to customer service, SuiteHop's suite experts will help you from booking your suite all the way through ordering catering for your event.
What is included in a suite at Busch Stadium?
All suites at Busch Stadium come with climate-controlled comfort, luxury seating, and access to outdoor patio seating to get closer to the action. Your SuiteHop Customer Service Expert can help you with in-suite catering ordering, additional parking passes, and any other needs of your group before your game or event.
How do I get to Busch Stadium?
Busch Stadium is located in the heart of downtown St. Louis, Missouri at 700 Clark Avenue.

Due to high traffic congestion, especially on game days, Busch Stadium suggests using ride-sharing services like Uber or a taxi or public transportation such as MetroLink and the RedBird Express.
Where should I park for an event or game at Busch Stadium?
Many Busch Stadium suites come with access to a limited number of VIP parking passes with suite rental. All Luxury Suite Parking is located in Lot C. If parking is not included, or if additional parking passes are needed, contact your SuiteHop Customer Service Expert.

Parking lots open approximately 2 hours before the start of an event. Park gates open 1.5 hours prior to the start of an event.
How do I get to my suite inside Busch Stadium?
Private entry access to Busch Stadium suites is located in Lot C.
Catering
Busch Stadium Catering Explained
Suite catering for events and games at Busch Stadium suite is available in all suites. Catering is not included in the cost of your suite booking, it is an additional cost. Catering is not necessary for all suite events, however, if catering is desired, your SuiteHop event expert will help you select a menu that is best for your group and budget. If you do not wish to order catering for your Busch Stadium suite, guests will have the option to select from any number of concessions in the stadium and return to the suite to enjoy the game.
Estimated Busch Stadium Suite Catering Costs
| Options | Pricing |
| --- | --- |
| Full meal with drinks | $75 - $150 per guest |
| Snacks with beer & wine | $30 - $60 per guest |
| Beer & wine alone | $25 - $40 per guest |
SuiteHop Recommended Suite Catering Menu
Feeds 20 guests
Roasted Peanuts in the Shell

Classic Popcorn

Regional Cheese Platter

Chicken Wings

BBQ Chicken Pizza

Hots and Brats

Burger Sliders

Dessert Sampler Platter

12 Non-Alcoholic Beverages

24 Assorted Beers
This menu is based on the Busch Stadium Catering menu presented by Delaware North. Items are subject to availability.
Pro Tip: To lower waste, we recommend ordering fewer beverages upfront. Watch what your guests are consuming and reorder accoredingly.