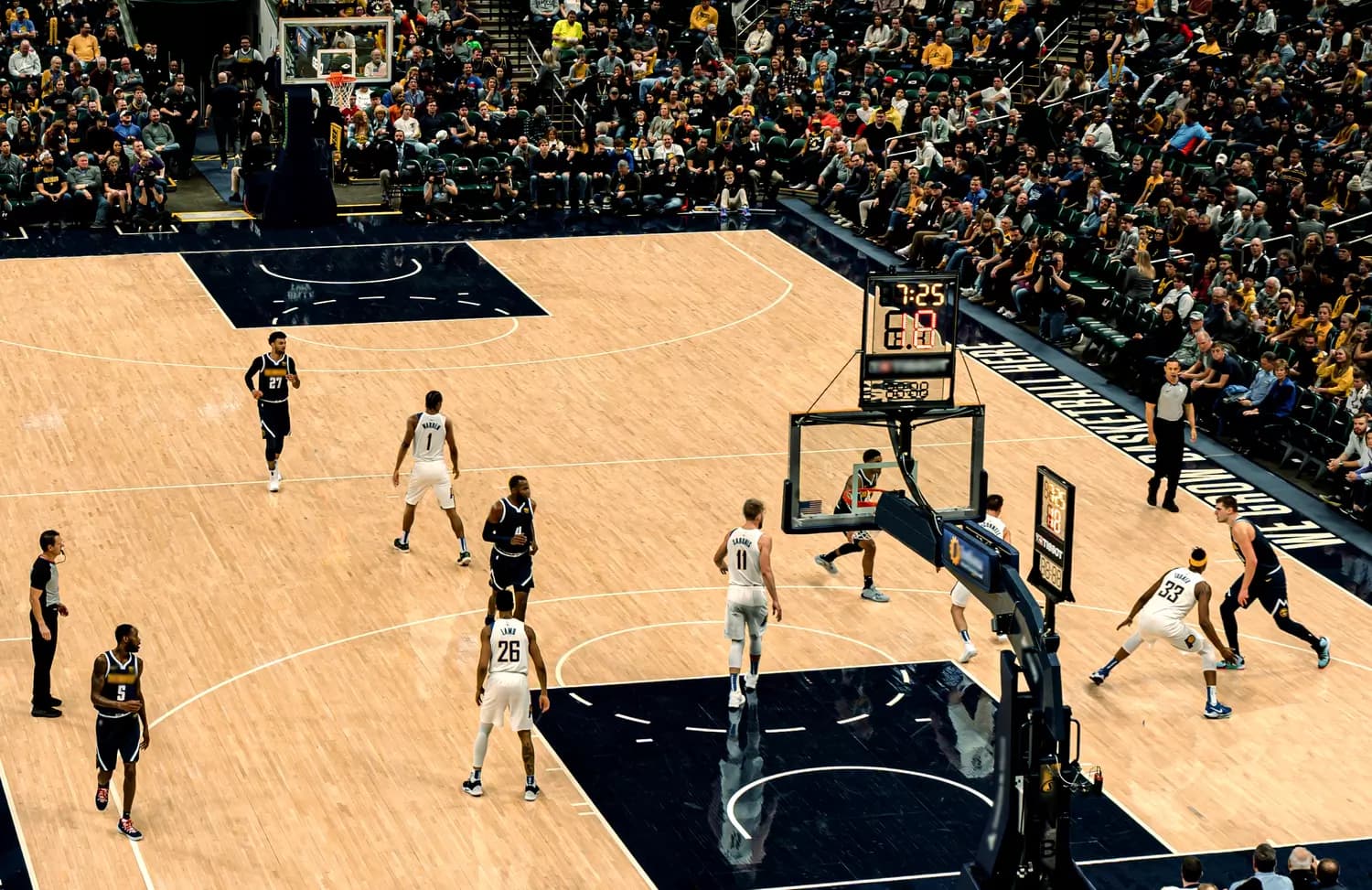 Gainbridge Fieldhouse
Suites & Premium Seating
Venue Info
Gainbridge Fieldhouse
One Conseco Court
Indianapolis, IN
Get Updates
Sign up for our newsletter with offers, updates and featured events at Gainbridge Fieldhouse.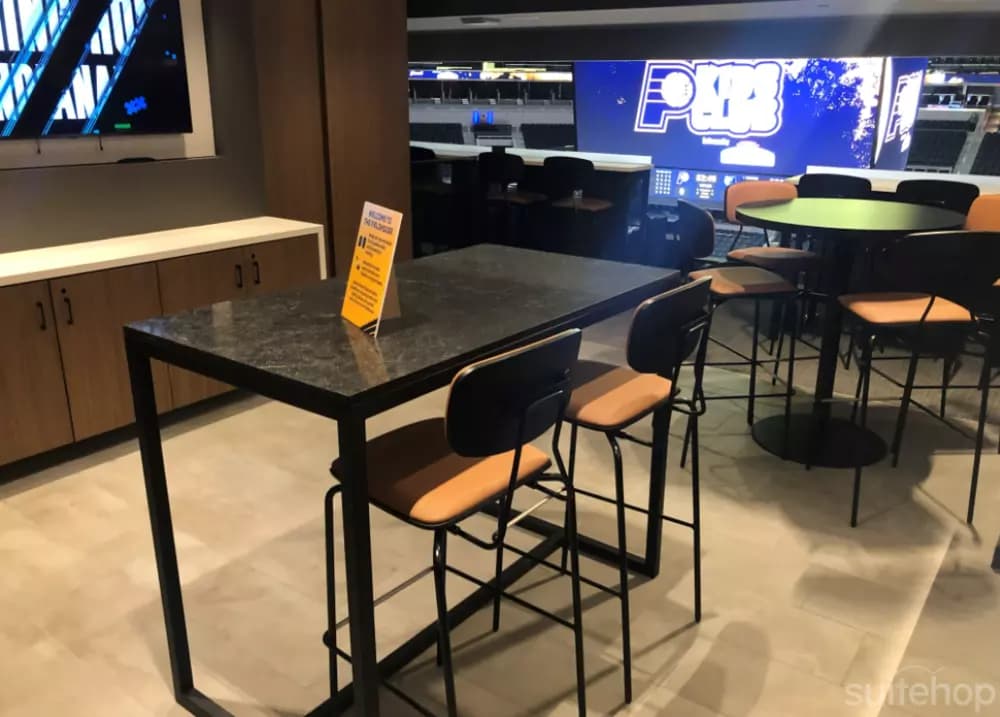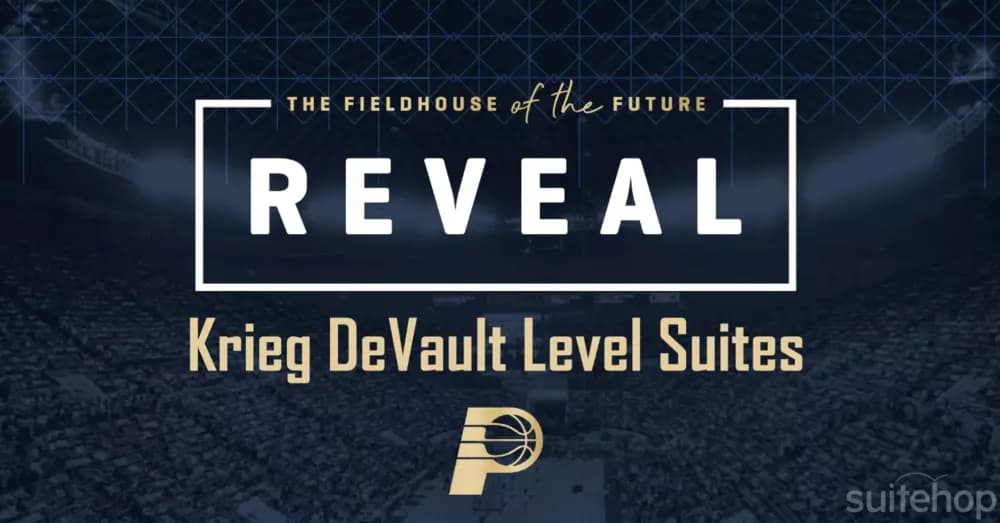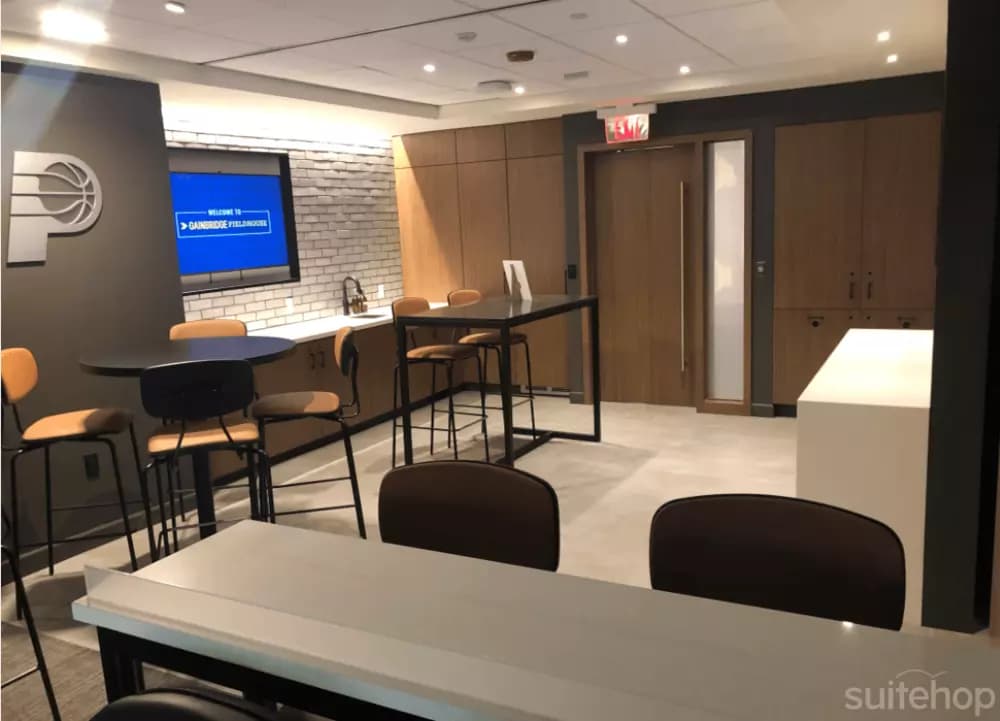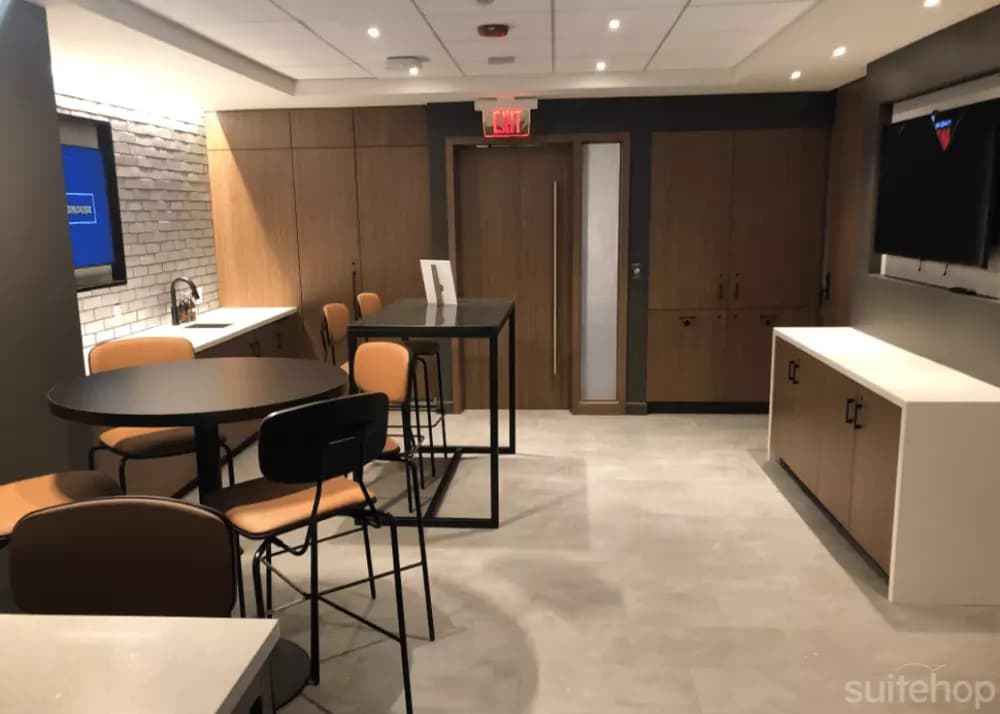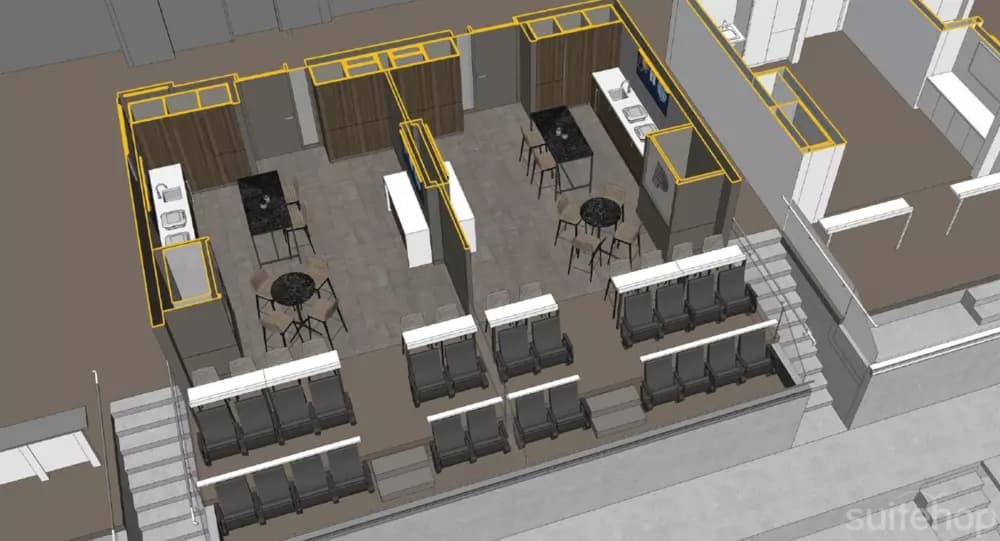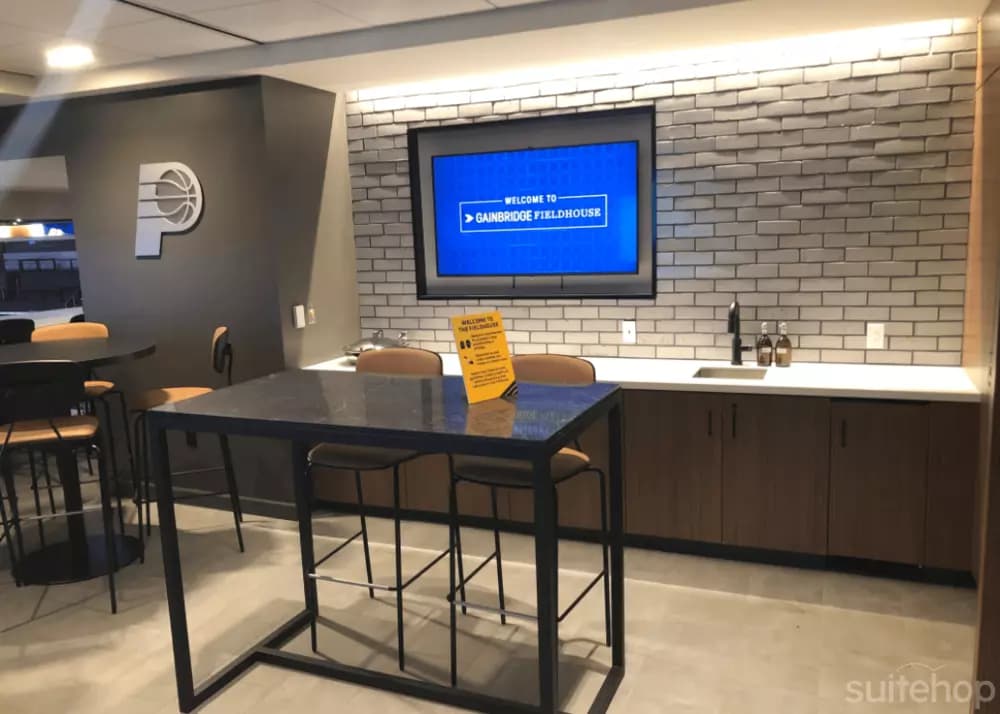 Suite Pricing
Gainbridge Fieldhouse Suite Pricing
If you want exclusive access to private suites at Gainbridge Fieldhouse, you need to connect with SuiteHop. Whether you and some friends want to cheer on the Indiana Pacers or you want to impress clients with a VIP concert experience, a private suite booked with SuiteHop is the way to go. Gainbridge Fieldhouse suite guests are treated to luxurious amenities and perks all while viewing your event from the best seats in the house.
How much do suites cost at GainbridgeFieldhouse?
$4,000 - $12,000
The price of Gainbridge Fieldhouse suites varies based on matchup and location in the stadium. Suites are available for all Gainbridge Fieldhouse events with prices starting at $4,000 and may cost as much as $12,000.
Suites at Gainbridge Fieldhouse: 71 Luxury Suites
Suite Capacity: 10-50 guests
Amenities: VIP parking passes, catering options available to order, and private Restrooms (in all Suites)
| Low Range | Location | High Range |
| --- | --- | --- |
| $4,000 | Executive Suites | $8,000 |
| $7,000 | Party Suites | $12,000 |
Private Suites
Host the perfect event at Gainbridge Fieldhouse
Gainbridge Fieldhouse is one of the most exciting arenas for sporting events and concerts and you can be in the center of it all by booking a suite for your next event. Suites are for groups of 10-50 so you can cheer on the Pacers or sing along with your favorite band with a group of friends, coworkers, or clients.
All suites have fantastic views and perks like access to VIP parking and entry into the arena, in-suite catering, and more. Enjoy private interior and exterior seating with theater-style seats and bar stools. Suites are climate controlled with a wet bar, refrigerator, and icemaker. There is also HDTV in every suite and WiFi. Some suites have private restrooms and those without have access to well-appointed restrooms for suite-level guests only.
Private suites are available for parties of 10 to 50 guests.
What are my Gainbridge Fieldhouse suite options?
Executive Suites
For smaller groups of 20 or less, an executive suite is a great choice. Executive suites can be found on the First Financial Bank-Level and Krieg DeVault Club Level. These suites are smaller but include all the amenities of the larger suites like climate-controlled and comfortable interior and exterior seating.
You will find a wet bar set up with a refrigerator and icemaker as well as HDTV and WiFi. Catering is available in-suite but does cost extra. Most suite rentals include a food and beverage credit to go towards your catering selections. Your suite attendant will be able to assist with replenishing food or the bar throughout the event.
Party Suites
These large suites are located on the Krieg DeVault Club Level of Gainbridge Fieldhouse. Your group of up to 50 will enjoy interior and exterior seating with amazing views of the Pacers on the court. Some catering is included in the purchase of the suite. Your dedicated suite attendant will assist you with any needs that arise during the game. Other amenities include in-suite HDTV and Wi-Fi. The décor is modern and comfortable, making the party suite your own little home during your next Pacers game.
Suite FAQ
The answers to your top Gainbridge Fieldhouse questions
Gainbridge Fieldhouse opened in 1999. Located in Indianapolis, this state-of-the-art arena was specifically designed to give fans the most entertaining and exciting experience possible. Every seat feels close to the action. Gainbridge Life Fieldhouse is home to the Indiana Pacers (NBA) and the Indiana Fever (WNBA). It also welcomes the best concert tours and other family events in the Indianapolis area.
How many suites are available for rental at Gainbridge Fieldhouse?
Gainbridge Fieldhouse has 71 luxury suites seating 2,485 guests at each event.
Why should I book my Gainbridge Fieldhouse suite with SuiteHop?
SuiteHop is an online marketplace providing the most comprehensive details and availability for Gainbridge Fieldhouse suites. With real-time pricing and high attention to customer service, SuiteHop's suite experts will help you from booking your suite all the way through ordering catering for your event. 
What is included in a suite at Gainbridge Fieldhouse?
Gainbridge Fieldhouse suites include VIP parking, private entry into the arena, interior and exterior seating, and the option for ordering in-suite catering. These suites are located on the Krieg DeVault Club Level of the arena putting you right in the action. Each suite is managed by a dedicated suite attendant and suite guests have access to the exclusive VIP clubs within Gainbridge Fieldhouse as well.
How do I get to the suite level at Gainbridge Fieldhouse?
Suite guests enter Bankers Life Fieldhouse through the private entrance to the Krieg DeVault Club Level. Arena employees will be able to direct you to the suite level as well as your suite location.
When do suites open for access?
Suites at Gainbridge Fieldhouse open 90 minutes prior to the start of the event.
Where should I park for my Gainbridge Fieldhouse event?
Your suite rental may include access to the VIP parking for the Virginia Avenue Parking garage that connects to the Fieldhouse from the third floor of the garage. Suite guests can also choose to park in the multiple parking garages downtown. Private parking can be booked ahead of time, contact your SuiteHop suite expert to assist in booking prior to the day of the suite event.
Suite guests parking without parking passes can find spaces throughout private garages in the downtown area within walking distance of Gainbridge Fieldhouse. Save the time and hassle of hunting down a parking spot by reserving a spot online ahead of time with ParkWhiz.
Expect traffic to be very heavy before and after your event. Allow for plenty of time to get to Gainbridge Fieldhouse so you do not miss the beginning of your event.
Ride-sharing is an excellent option to get to Gainbridge Fieldhouse. Uber has dedicated pick-up and drop-off areas for fans utilizing their services to go to and from Gainbridge Fieldhouse events. When you request an Uber from the arena the Uber app will direct you to the alley between East Maryland Street and Bankers Life Court to find your ride.
Where should I stay before my event?
There are several hotels available near and around Gainbridge Fieldhouse. Some of those that are closest are:
Sheraton Indianapolis City Centre Hotel

The Westin Indianapolis

Embassy Suites Indianapolis Downtown

Hampton Inn Indianapolis Downtown Across from Circle Centre
What should I do before or after the event in Indianapolis?
Indianapolis is a city full of big surprises. In addition to the exciting events at Gainbridge Fieldhouse, Indianapolis is a city rich in culture and activities for everyone. Explore downtown and the surrounding natural areas, check out some world-class museums, eat at the best restaurants, and more. No matter what time of year you come to "Indy", you will be welcomed with more to explore than you thought possible.
Be sure to include time before or after your event at Gainbridge Fieldhouse to take advantage of all the things to do while in Indianapolis.
There are lots of ways to see the area. Take a tour of downtown Indy on a trolley! If you like craft beer, there are brewery tours. Foodies will love the Indianapolis food tours!
Visit one or several of Indianapolis' museums. The Children's Museum of Indianapolis is the largest children's museum in the country.

Race fans will get a rush from the Indianapolis Motor Speedway Hall of Fame Museum.

For the best in the arts, visit Newfields for an immersive art experience.

Experience live theater in one of the most beautiful historic theaters in the country. Check the schedule at Indiana Repertory Theatre for performances while you are in town.

Wine lovers must visit Daniel's Family Winery for a tour and tasting. This winery creates 15 amazing wines. In addition to tastings, they offer other events like trivia and art classes year-round.
Catering
Selecting Catering for your Gainbridge Fieldhouse Suite
Suite catering for Gainbridge Fieldhouse is provided by Levy Restaurants under the leadership of Executive Chef, Roger Duran. When deciding on catering for your suite, Levy Restaurants offers chef-designed packages and a la carte options. They are happy to work with dietary restrictions and/or food allergies. You and your guests will love the gourmet spin that Levy Restaurants puts on classic game-day fare.
Catering is an additional cost and your SuiteHop customer service expert will assist you with placing the best order for your group if desired. Catering is not required and a wide variety of concession items are available throughout Gainbridge Fieldhouse. The Club Level has a private restaurant and other bars and clubs throughout the concourse.
Recommended suite catering budget at Gainbridge Fieldhouse
| Options | Pricing |
| --- | --- |
| Full meal with drinks | $75 - $150 per guest |
| Snacks with beer & wine | $50 - $75 per guest |
| Beer & wine alone | $35 - $50 per guest |
Gainbridge Fieldhouse Recommended Menu
feeds 20 guests
Freshly Popped Popcorn

The Snack Attack

Salsa Sampler & Crisp Tortillas

BLT Salad

Spicy Chicken Wings

Chili Cheese Dogs & Smoked Pork Sandwiches

Gourmet Cookies & Brownies

12 non-alcoholic beverages

24 beers
This menu is based on Levy catering offerings at Gainbridge Fieldhouse. Items are subject to availability.
Pro tip: To lower waste, we recommend ordering fewer beverages upfront. Watch what your guests are consuming and reorder accordingly.