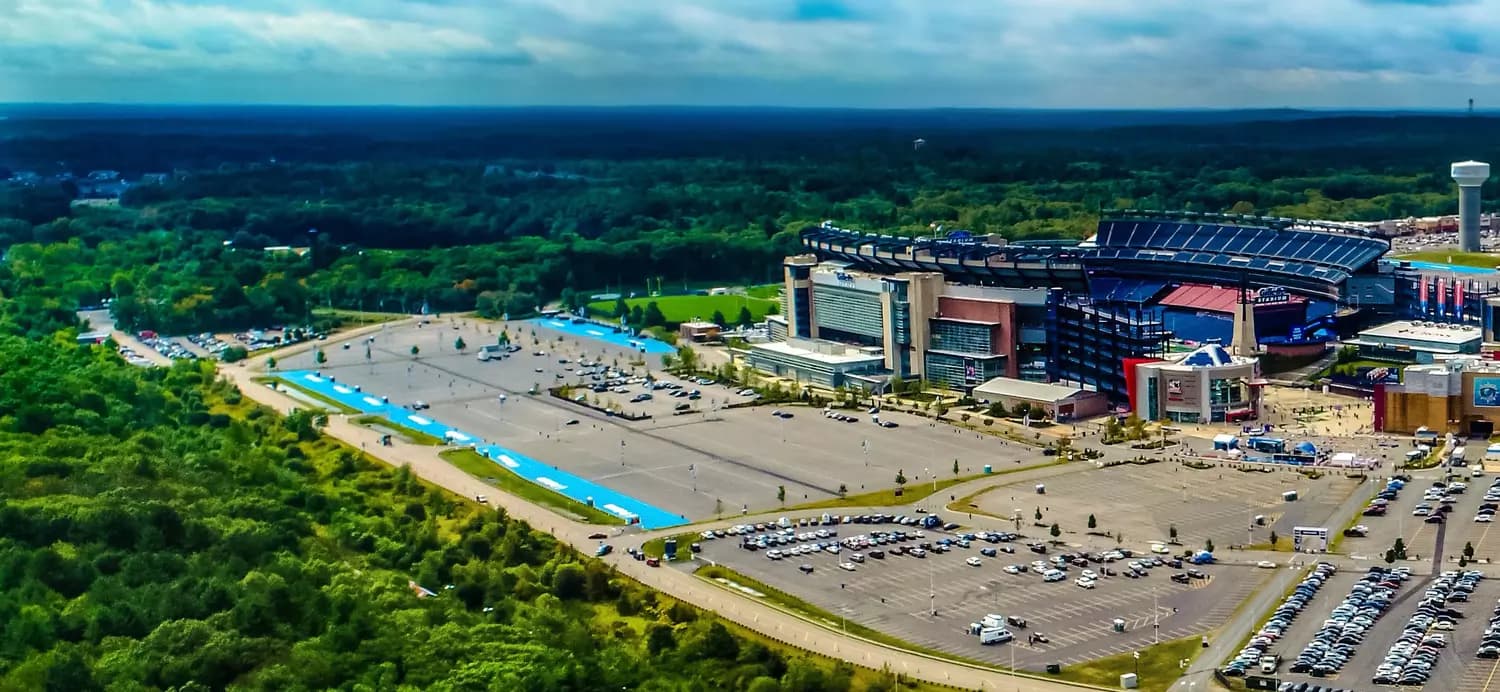 Gillette Stadium
Suites & Premium Seating
Venue Info
Gillette Stadium
One Patriot Place
Foxborough, MA
Get Updates
Sign up for our newsletter with offers, updates and featured events at Gillette Stadium.
Pricing
Gillette Stadium Premium Seating Pricing
SuiteHop is an award-winning suite and VIP seating marketplace. When booking your Gillette Stadium suite or VIP tickets, you can trust that SuiteHop will help you book an unforgettable experience.
How much does a Gillette Stadium suite or club seat cost?
Premium seating, like private suites and club seats, prices vary based on the location of the venue, match-up, event, and location of the seats in the stadium or arena. Complete a request form to receive specific Gillette Stadium pricing for your VIP event. Typical pricing for suites is outlined below:
| Event Type | Average Cost |
| --- | --- |
| NFL Suites | $15,000 - $35,000 |
| NHL & NBA Suites | $4,000 - $8,000 |
| MLB Suites | $3,000 - $6,000 |
| Concert Suites | $5,000 - $15,000 |
All prices are listed in US Dollars.
Are Gillette Stadium suites less expensive than regular tickets?
No, suites are more expensive than other Gillette Stadium tickets. Suites are not the same as group pricing. The per-person cost of a suite may be similar to purchasing club-level seating with similar views.
General Gillette Stadium Suite Capacity: 15-20 guests 
Common Suite Amenities: Five-star catering available for order, comfortable seating, high-end decor
Common Club Seat Amenities:  Comfortable extra-padded seats, in-seat wait service, exclusive club lounge access
Premium Seating
Luxury space to enjoy your event
Your premium Gillette Stadium seats will offer you the best views of the stadium and an exclusive space to enjoy your event. SuiteHop has access to a variety of premium seating options like; luxury suites, private boxes, and exclusive club seats at Gillette Stadium and across North America.
Private suites are best for groups of 10 to 20 guests. SuiteHop recommends club seats or shared suites for smaller groups with 2 to 8 guests.
Frequently asked questions about Gillette Stadium private suites
Do Gillette Stadium private suite rentals and other premium tickets include catering?
No, but your SuiteHop customer service expert will be happy to assist you in placing a catering order for a private suite rental. Refer to the notes in the specific Gillette Stadium private suite listing for exact details on what is included with your purchase. We recommend that you budget $75 - $125 (USD) per guest for a full catering spread including appetizers, entrees, alcoholic beverages, and dessert.
Catering is not available to pre-purchase with shared suites and is not available with club seats. Club ticket holders typically have access to upscale food and beverage options within the exclusive lounge access. All Gillette Stadium premium ticket holders have access to a variety of concessions throughout the venue.
Is seating assigned in private Gillette Stadium suites?
Private suites offer a flexible space for you to enjoy your event. All Gillette Stadium suite seats provide a similar view of the action. Most private suites are seated first come first serve.
FAQ
The answers to your top questions about Gillette Stadium suite rentals & premium seating options
Booking VIP tickets for a suite or club seat for the first time can be a confusing process. The premium seating experts at SuiteHop are your resource for planning an unforgettable event.
Pricing & Availability
Where do your Gillette Stadium suites & VIP tickets come from?
On SuiteHop, premium tickets can only be listed by Verified Listing Partners. Our listing partners are carefully vetted and we build direct relationships with each one to reliably ensure every Gillette Stadium suite and individual ticket order is verified and available for sale.
Are Gillette Stadium suite prices negotiable?
We cannot negotiate Gillette Stadium suite prices or other premium seats for any event. SuiteHop is an online marketplace, meaning we do not set the prices. Our listing partners determine the cost for each rental and upload it directly for access on SuiteHop. The price you see is exactly what you will pay for the suite or VIP tickets as outlined in the listing. There are no service fees and shipping is always included for free.
I don't see the kind of Gillette Stadium suite I need listed for my event. Can you help?
Yes! We have relationships with hundreds of suite owners who trust us to market their suites but prefer not to publicly list them on SuiteHop. If you don't see what you need on the website, or your order is especially complex, please contact us and we'll let you know if any additional options are available.
Why should I book my Gillette Stadium suite with SuiteHop?
Booking a suite, or any premium seating can be a particularly complicated experience. Your dedicated premium seating expert will help you navigate the VIP ticket market and select the suite or seats that best fits your needs, budget, and goals. After booking, you'll work directly with a SuiteHop customer service expert to finalize ticket delivery and determine if you'd like to order catering for your event.
Catering, Food, & Drinks
Is catering included in the Gillette Stadium suite price?
No, catering is not typically included in the suite price. Catering information is provided in each Gillette Stadium suite listing. If catering isn't included in your purchase, you'll have the option of purchasing food directly from the venue-provided suite caterers or at the concession stands. Outside food and beverages are not allowed inside the suites or the venue. Catering is not available for premium club seats. Gillette Stadium club ticket holders typically have in-seat service with premium food and beverage options in the exclusive club lounge.
Gillette Stadium Ticket Delivery
When can I expect the Gillette Stadium tickets for my event?
Gillette Stadium tickets are digital and will be transferred to you by email. On occasion, suite tickets are not released until several days before the event date. On the rare occasion, your tickets are hard-printed, we will ship the suite tickets for your event as soon as possible. Don't worry, we guarantee we will always get your tickets to you in time for your event. 
Locations, Amenities, & Features
Why can't I see the exact location of the Gillette Stadium suite or VIP seat?
Every Gillette Stadium listing you see on SuiteHop is for a specific location. For the privacy of our sellers, we've created a "zone" system that places suites or club seats of similar quality and location into groupings of approximate locations on our map. This provides a good understanding of what view you can expect from your Gillette Stadium premium ticket booking. After you've made your purchase you'll receive full details about the exact suite number or seat location.
Does Gillette Stadium have private restrooms in the suite?
Sometimes, depending on the venue and the specific suite. All suites and venues are unique. We've outlined what you can expect in our individual listings. Suites typically include access to the club level where restrooms are less crowded.
What's in the Gillette Stadium suite?
While suites vary, most will include multiple comfortable seating options such as couches, loveseats, bar stools, and stadium seats. You can also expect to see TVs, a kitchenette, a closet for your belongings, and ample countertops and tables for your snacks. You'll also likely have full shelter from the weather in a climate-controlled space and a great view of the action.
Access, Bringing Guests, & Day-Of-Event Planning
Can I bring people into the Gillette Stadium suite that do not have suite tickets?
Only guests with suite tickets are permitted to enter your Gillette Stadium suite. Venues monitor the capacity of the suites very closely, and inviting guests into the suite without a suite ticket is strictly prohibited.
Do kids need tickets to get in?
At most venues, infants two and under are free! All children 3 and older require a ticket.
How early can I get into the Gillette Stadium suite, and how long after the event is over can we stay?
Each venue differs, but most suites open when the gates to the event open. Generally speaking, you will be able to stay in your suite for one hour after the Gillette Stadium event ends.
Can I use a Gillette Stadium suite to host a meeting before my event?
Leveraging an event is a great way to draw an audience for a meeting, product demonstration, or presentation. Many venues are equipped to host your meeting either in the suite or in a meeting room in the venue. We're happy to help you coordinate these details with the venue!
Is parking included?
Parking details will be outlined in both the Gillette Stadium premium seating listing and suite contract. If you'd like to secure parking for your event, notify your suite expert.
Cancellations, Refunds, & Lost Tickets
What happens if my Gillette Stadium event is canceled?
We follow the same policies as the venue hosting your event. You will receive a full refund for a canceled event that is not rescheduled. For rescheduled events, your tickets for club seats and the suite will be valid for the new date. This is particularly important in the case of a rain cancellation at a baseball game. Please refer to local media to determine if your game is immediately rescheduled.
What is SuiteHop's refund policy?
All suites and premium ticket sales are final.
What happens if I lose my Gillette Stadium tickets?
In most cases, lost suite tickets are unable to be replaced. If you are distributing your VIP tickets to a group of people either in your suite or within premium seating areas, make sure to note the exact ticket that you give to each person. Knowing which tickets you distribute can help when it is possible to get a ticket reprinted. 
Catering
Gillette Stadium Suite Catering Explained
Catering is an additional cost and your SuiteHop customer service expert will assist you with placing the best order for your group. Catering is not required and a wide variety of concession items are available on the club level and main concourse.
Preorder catering is typically available for most events. High-quality menu items will vary depending on the venue, including options for those with allergies or other dietary concerns.
Club seats do not have the option to order catering. Gillette Stadium club seat ticket holders typically have in-seat wait service and access to premium food and beverage options in the exclusive club lounge.
Estimated Gillette Stadium suite catering costs
| Options | Pricing |
| --- | --- |
| Full meal with drinks | $100 - $150 per guest |
| Snacks with beer & wine | $50 - $75 per guest |
| Beer & wine alone | $35 - $50 per guest |
All prices are listed in US Dollars.
Gillette Stadium Sample Catering Menu
feeds 20 guests
Buttered popcorn

Chips & dips assortment

Chicken wings

Pizza

Hot dogs

Scratch-baked brownies and bars

12 non-alcoholic beverages

24 beers
This is a sample menu. Items will differ between venues and are subject to availability.
Pro tip: To lower waste, we recommend ordering fewer beverages upfront. Watch what your guests are consuming and reorder accordingly.