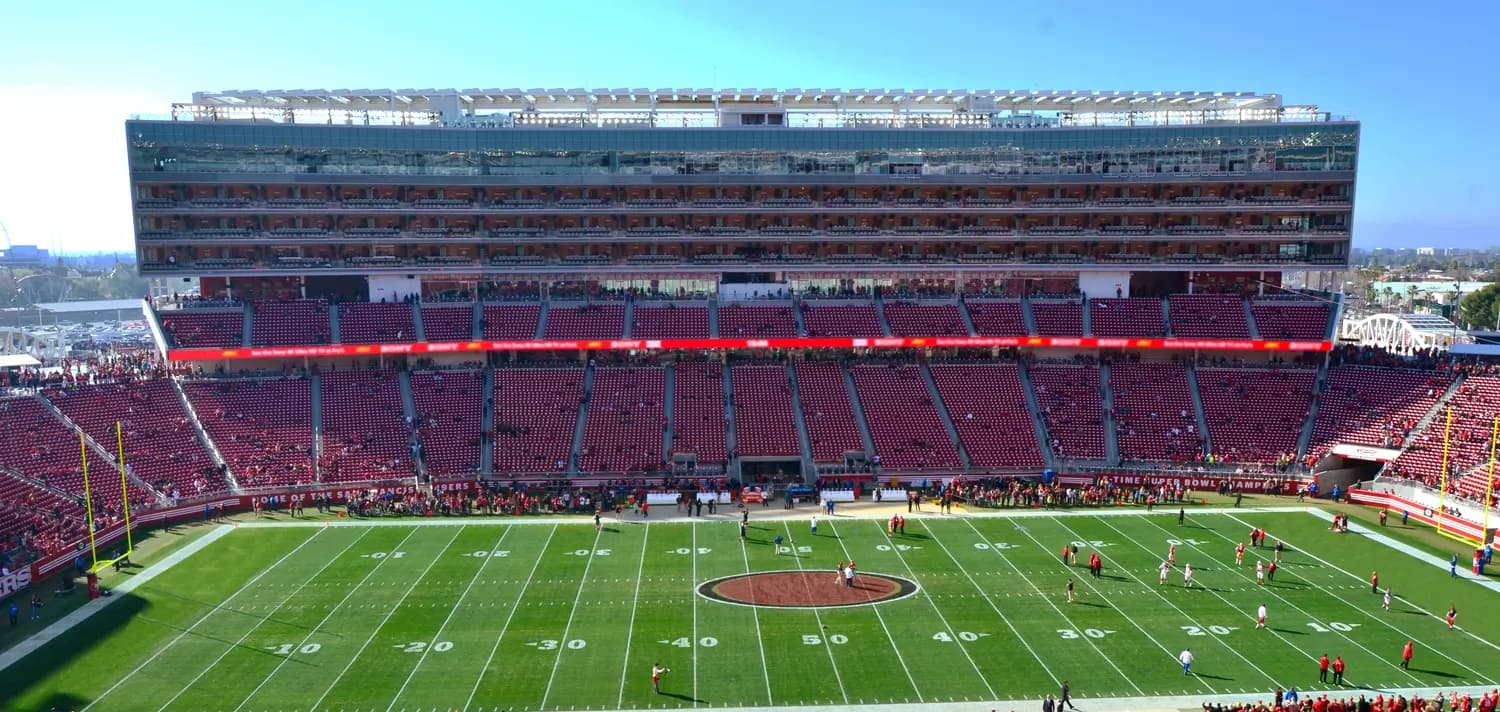 Levi's Stadium
Suites & Premium Seating
Venue Info
Levi's Stadium
4900 Centennial Blvd
Santa Clara, CA
Get Updates
Sign up for our newsletter with offers, updates and featured events at Levi's Stadium.
Suite Pricing
Levi's Stadium Suite Pricing and Amenities
When you are just outside Silicon Valley you expect a certain level of luxury. Levi's Stadium delivers a luxury experience and more. Enjoying a San Francisco 49ers game or concert from a Levi's Stadium suite is an experience you and your guests will talk about for years to come. Levi's Stadium suites are built for networking, with comfortable plush seating and an unparalleled view of the action on the field below. 
How much do Levi's Stadium Suites Cost?
$13,000 - $35,000

Levi's Stadium suites start at around $13,000 and can cost up to $35,000. Prices often rise each season and they vary widely. The price of Levi's Stadium suites varies based on the matchup, location in the stadium, the type of seating option, and the services requested.

Amenities: VIP Parking, Premium Catering, In-Suite Concierge Service, and more
Total Suites at Levi's Stadium: 165 Premium Suites
Suite Capacity: 20-40 guests
| Low Range | Location | High Range |
| --- | --- | --- |
| $22,000 | Owners Club Suites | $35,000 |
| $15,000 | Trophy Club Suites | $25,000 |
| $13,000 | SAP Tower Suites | $25,000 |
Private Suites
Host the perfect party, meeting, or get together in a private Levi's Stadium Suite
Looking to experience the best seats at Levi's Stadium with a group of friends or coworkers? SuiteHop has exclusive access to the premiere shared suite experiences in San Francisco
Private suites are available for parties of 20-40 guests.
What are the options?
49ers Premium Suites
The 49ers Premium Suites at Levi's Stadium are located on the first three levels of the SAP Tower. Each suite offers the best views of the action below along with luxury beyond any suite ticket holder's expectations. Upscale decor, comfortable seating, free wifi, multiple flat-screen HDTVs, and in-suite catering options available to order give every guest the ultimate experience for their 49ers game or other events. Levi's Stadium premium Suites can host 20 to 40 guests.
NRG Sky Suites
The NRG Sky suites at Levi's Stadium are located at the very top of the stadium, offering fans the ultimate bird's eye view. Up to 25 guests can enjoy the NRG Sky Suites along with premium concierge service, in-suite catering options, free wifi, multiple flat-screen HDTVs, and access to club lounges within the SAP Tower.
Mina Luxury Loft
Mina Luxury Loft is the ultimate experience at Levi's Stadium. Fifteen to 25 guests will enjoy the beautiful upscale decor, amazing sightlines, premium concierge service, free wifi, multiple flat-screen HDTVs, and access to the exclusive Levi's 501 Club lounge.
Stadium FAQ
All about the suites at Levi's Stadium
Levi's Stadium is located 45 mins outside of San Francisco in Santa Clara and is home to the San Francisco 49ers as well as several other entertainment events throughout the year. It was named 2015 Sports Facility of the Year and Venue of the Year. It can seat 68,500 guests in regular seating along with the 165 suites and 8,500 club seats. Fans enjoy the ultimate experience in seating, amenities, and convenience when attending a game or event at Levi's Stadium.
How many Levi's Stadium suites are available?
There are 165 Levi's Stadium suites that allow for 20-40 guests to enjoy all your San Francisco 49ers games and other events.
Why should I book Levi's Stadium suites with SuiteHop?
SuiteHop is an online marketplace providing the most comprehensive details and availability for all your games or events at Levi's Stadium. With real-time pricing and high attention to customer service, SuiteHop's suite experts will help you from booking your suite all the way through ordering catering for your event. 
What is included in Levi's Stadium suites?
Levi's Stadium suites are curated to ensure that all guests enjoy any game or event in the comfort and luxury that they deserve. Suite options differ depending on which suite you book. However, each suite includes comfortable seating, amazing sightlines, in-suite catering options, HDTVs, and free WiFi.
How do I get to Levi's Stadium?
Levi's Stadium is located 45 minutes outside of San Francisco at 4900 Marie P. DeBartolo Way in Santa Clara, CA.

Traffic in California can be cumbersome, especially during game days and rush hour. You may wish to consider a ride-share service like Lyft or Uber when planning for your event.

In order to alleviate traffic congestion and to ride safely, there are many public and private transportation options for those attending a game or event at Levi's Stadium:
VTA Light Rail
VTA Bus
ACE
Caltrain
Capitol Corridor
Private Shuttle Service
Where should I park for an event or game at Levi's Stadium?
There are several options for parking at Levi's Stadium. If you would like to purchase parking, Levi's Stadium recommends purchasing parking prior to your arrival. Please ask your Suite Expert for the best option for your group.
Catering
Levi's Stadium Catering Explained
Catering is available to order in all suites at Levi's Stadium. Levi's Stadium offers a wide array of choices and packages that cover snacks, entrees, and desserts. Create your own menu by choosing from their a la carte catering options. The day-of-event menu will be more limited than the pre-ordering menu.
Catering is at an additional cost and your SuiteHop customer service expert will assist you with placing the best order for your group. Catering is not required and your guests are welcome to order their own food from the many establishments or concessions throughout Levi's Stadium.
Estimated Levi's Stadium Suite Catering Costs
| Options | Pricing |
| --- | --- |
| Full meal with drinks | $100 - $150 per guest |
| Snacks with beer & wine | $50 - $75 per guest |
| Beer & wine alone | $35 - $50 per guest |
SuiteHop Recommended Suite Catering Menu
Feeds 20 guests
Planet Popcorn Sampler

Buffalo Nuts & Snack Mix

Chef's Garden Vegetables

Buffalo Chicken Wings

Bay City Roller Dogs

Cookies, Brownies, & Treats

12 non-alcoholic beverages

24 assorted beers
This menu is based on Levi's Stadium Catering presented by Levy Restaurants. Items are subject to availability.

Pro tip: To lower waste, we recommend ordering fewer beverages upfront. Watch what your guests are consuming and reorder accordingly.