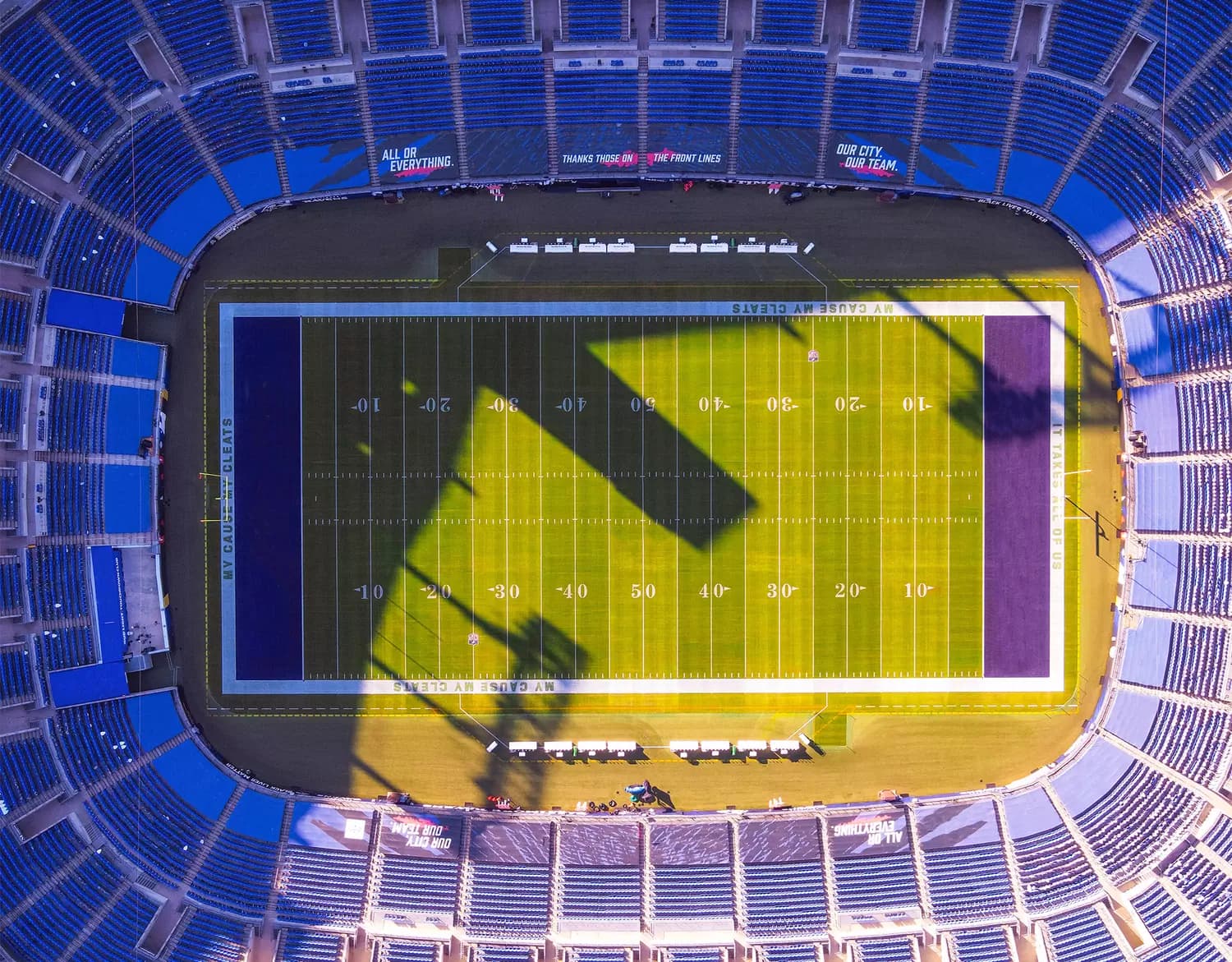 M&T Bank Stadium
Suites & Premium Seating
Venue Info
M&T Bank Stadium
1101 Russell Street
Baltimore, MD
Get Updates
Sign up for our newsletter with offers, updates and featured events at M&T Bank Stadium.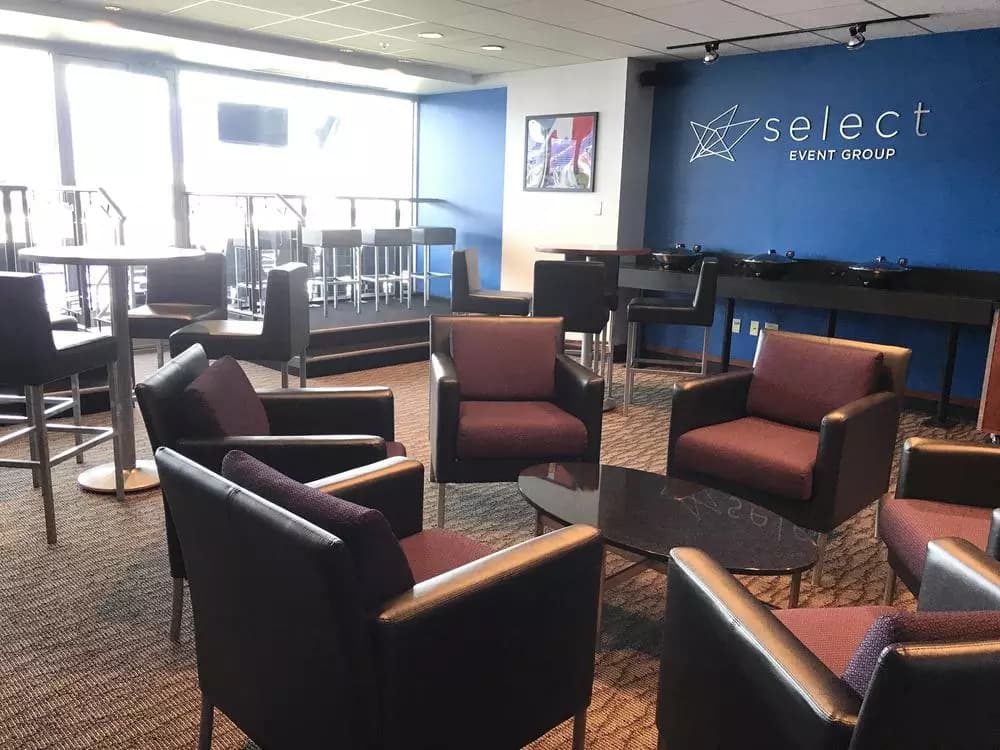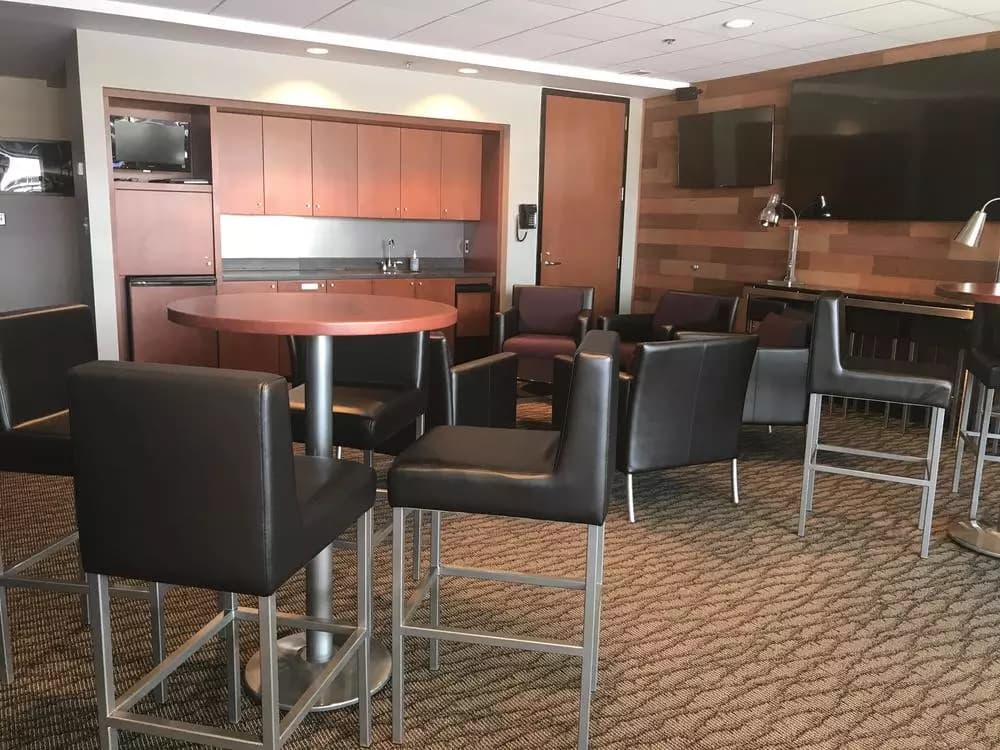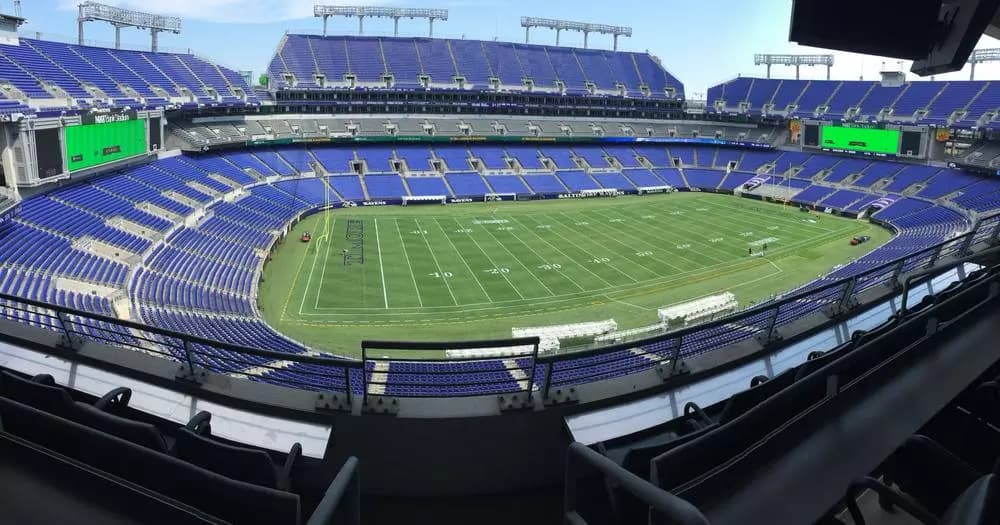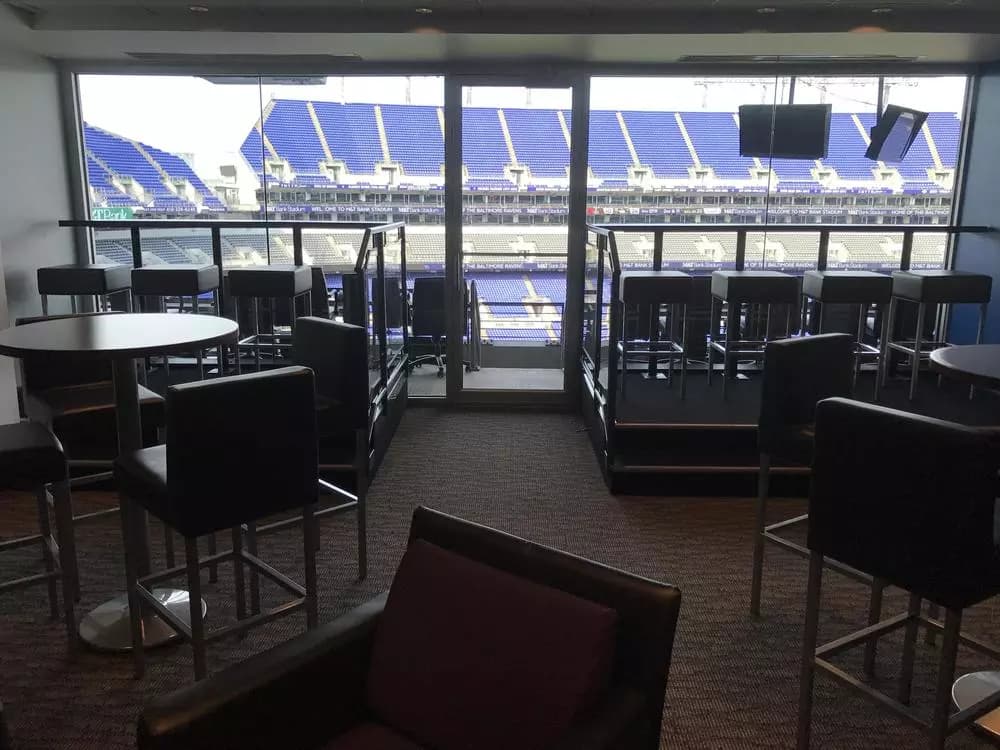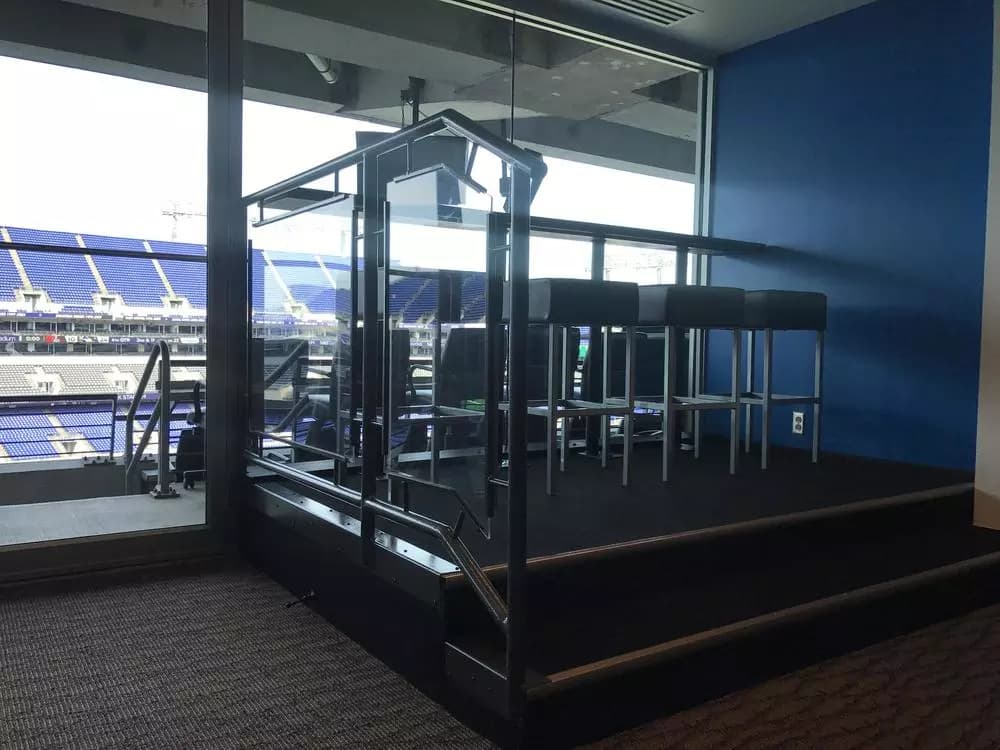 Suite Pricing
M&T Bank Stadium Suite Pricing and Amenities
The premier sports and entertainment venue in Baltimore, Maryland is M&T Bank Stadium. This stadium is home to the Super Bowl Champion Baltimore Ravens. The most popular national concert tours come to M&T Bank Stadium as well.
Planning a private event for a group at a concert or Baltimore Ravens game is so simple when you work with SuiteHop. SuiteHop has exclusive access to luxury suites in M&T Bank Stadium and the know-how to help you plan a party with friends or a corporate event with employees or clients. With plush seating and wonderful perks, you and your guests will leave impressed with memories that last a lifetime.
How much do suites at M&T Bank Stadium cost?
$18,000 -$35,000.
The price of M&T Bank Stadium suites varies based on matchup and location in the stadium. Private suites are available for all Baltimore Ravens home games and concerts with pricing starting at $18,000 and may cost as much as $35,000.
Amenities: Access to VIP Parking, private suite entrance, elevators and lobbies, Indoor and outdoor seating, Catering available to order, Private Restrooms, private club level access.
Total Suites at M&T Bank Stadium: 120+ Suites
Suite Capacity: 20-24 guests
| Low Range | Location | High Range |
| --- | --- | --- |
| $19,000 | 300 Level Suites | $35,000 |
| $18,000 | 400 Level Suites | $28,000 |
Private Suites
Host the perfect party, meeting, or get together in a private M&T Bank Stadium Suite
The perfect mix of luxury and excitement awaits you in a suite at M&T Bank Stadium. With views that thrill and perks that pamper, guests in private suites for Ravens football games and concerts are truly treated like VIPs from the moment you arrive at the event. Impress clients, let your employees know how appreciated they are, or gather with your best friends for a night to remember in a private M&T Bank Stadium suite.
Private suites are available for parties of 20 to 24 guests.
What are the options?
300 Level Suites
The 300 Level Suites in M&T Bank Stadium are located right above the private club level. There are suites on both sides of the stadium, all with unobstructed, panoramic views of the action on the field. Your guests can mingle between the private open-air seating and the climate-controlled indoor lounge area that is luxuriously appointed with a wet bar, televisions, and Wi-Fi. A buffet station is available if you choose in-suite catering. Professional concierge staff and catering staff handle your needs during your event. Suite purchases give you VIP access that includes early entry into the stadium. Access to reserved parking may also be available with your booking making your experience seamless from start to end.
400 Level Suites
The 400 Level Suites are slightly larger than the 300 suites but include all the same perks. Suite guests enjoy comfortable private seating outside and inside a comfortable lounge area. Guests a cared for by an M&T suite concierge and catering attendants. Free Wi-Fi and televisions keep you connected. You avoid waiting in long lines with optional in-suite catering, private restrooms, and private club-level access. Even parking and entry into M&T Bank Stadium are taken care of with on-site VIP parking and private entry into the stadium available to add on for your event. Furnishings in the suites include leather sofas and pub-style tables and stools. The open-air seating is upholstered. 400 Level suites are located on both sides of M&T Bank Stadium, so you can pick the view that you want.
Stadium FAQ
All about the suites at M&T Bank Stadium
M&T Bank Stadium, located in downtown Baltimore, is a state-of-the-art entertainment facility. It is adjacent to Oriole Park at Camden Yards. This neighborhood in Baltimore is amazing. Fans fill the seats here to cheer on the Baltimore Ravens and to sing along to their favorite bands.
This stadium is designed with fans in mind. With seating for 71,008 that includes 8,196 club seats and 128 private suites, the energy here for any event is electric. M&T Bank Stadium opened in 1998 and was recently updated in 2013. The amenities and access for fans have made M&T Bank Stadium a favorite venue.
There are five levels of seating and not a bad seat in the house. The private suites are exceptional and they really do roll out the red carpet for suite guests here. Let SuiteHop grant you exclusive access to the private suites in M&T Bank Stadium for your next group event.
How many suites are available at M&T Bank Stadium?
There are 120+ suites at M&T Bank Stadium distributed between two levels.
Why should I book my M&T Bank Stadium suite with SuiteHop?
SuiteHop is an online marketplace providing the most comprehensive details and availability for events in M&T Bank Stadium. With real-time pricing and high attention to customer service, SuiteHop's suite experts will help you from booking your suite all the way through ordering catering for your event.
What is included in a suite at M&T Bank Stadium?
M&T Bank Stadium is known for its fan-friendly design and when it comes to the ultimate fan experience, the premium suites deliver. Suite guests have access to add on VIP on-site parking, private entry into the stadium, private elevators, and access to the amazing Club level inside the stadium. Suites have private restrooms and your group will be waited on by dedicated suite wait staff throughout your event. Suites are appointed with modern furnishings, plush seating, a wet bar, televisions, free Wi-Fi, and more.
How do I get to the suite level at M&T Bank Stadium?
Private entry access is available on both sides of the stadium. Once inside take the Club Level elevators or escalators. Suites are accessed from the Club Level.
When do suites open for access?
Suite guests can access their suite 2 hours before the start of the event.
Where is M&T Bank located?
M&T Bank Stadium is located at 1101 Russell St, Baltimore, Maryland.
Where should I park for an event or game at M&T Bank Stadium?
Some M&T Bank Stadium suites include a set number of VIP parking passes. Confirm with your suite expert if passes are included with your booking. If so, proceed to the lot indicated on your parking passes for those spots.
For the remainder of your guests, you can reserve parking near M&T Bank Stadium ahead of time with Parking Panda. There are also Park & Ride Options available from several locations. These are run by private charter bus operators. Visit RavensRide.com for more information.
When driving to M&T Bank Stadium, keep in mind that the park is in one of the busiest areas in Baltimore. Traffic before and after events will be high. For weekday events and games, expect to deal with traffic from commuters as well and give yourself plenty of time to arrive prior to the start of your event.
Public transportation is also an option. For schedules and routes specific to events at M&T Bank Stadium please visit Maryland MTA for their special event schedule.
Uber is the preferred rideshare service of M&T Bank Stadium. The pick-up zone is adjacent to gate A at the Home Plate Plaza. Just walk down Ravens Walk to find this location.
Catering
M&T Bank Stadium Catering Explained
Catering in your M&T Bank Stadium is a great perk that always makes for a perfect event. All catering is provided by Aramark. Aramark is a nationwide expert in event dining and their menu options for M&T Bank Stadium will make for an unforgettable night.
Their world-class chefs know what makes for a great event. Order from their preset menus for a great variety of choices to enjoy throughout your event. If you have something special in mind, Aramark has a la carte option to choose from and will work with you to handle any allergies or dietary restrictions.
You do have to order your catering selections before your event. The cost is in addition to your suite purchase. SuiteHop has made making catering choices easy with a catering guide and order form available for you when you purchase your suite. Catering is not required and the private club level M&T Bank Stadium does have premium where your guests can grab drinks, snacks, or a meal.
Estimated M&T Bank Stadium Suite Catering Costs
| Options | Pricing |
| --- | --- |
| Full meal with drinks | $75 - $150 per guest |
| Snacks with beer & wine | $30 - $60 per guest |
| Beer & wine alone | $25 - $40 per guest |
SuiteHop Recommended Suite Catering Menu
Feeds 20 guests
UTZ Kettle Potato Chips

Vegetable Crudites

Cast Iron Chesapeake Crab Dip

Chicken Tenders

Maryland Crab Cakes

Baltimore Pit Beef

Brownies and Blondies

12 Non-Alcoholic Beverages

24 Assorted Beers
This menu is based on M&T Bank Stadium Catering offerings. Items are subject to availability.
Pro tip: To lower waste, we recommend ordering fewer beverages upfront. Watch what your guests are consuming and reorder accordingly.