Minute Maid Park
Suites & Premium Seating
Venue Info
Minute Maid Park
501 Crawford Ste. 400
Houston, TX
Get Updates
Sign up for our newsletter with offers, updates and featured events at Minute Maid Park.
Photos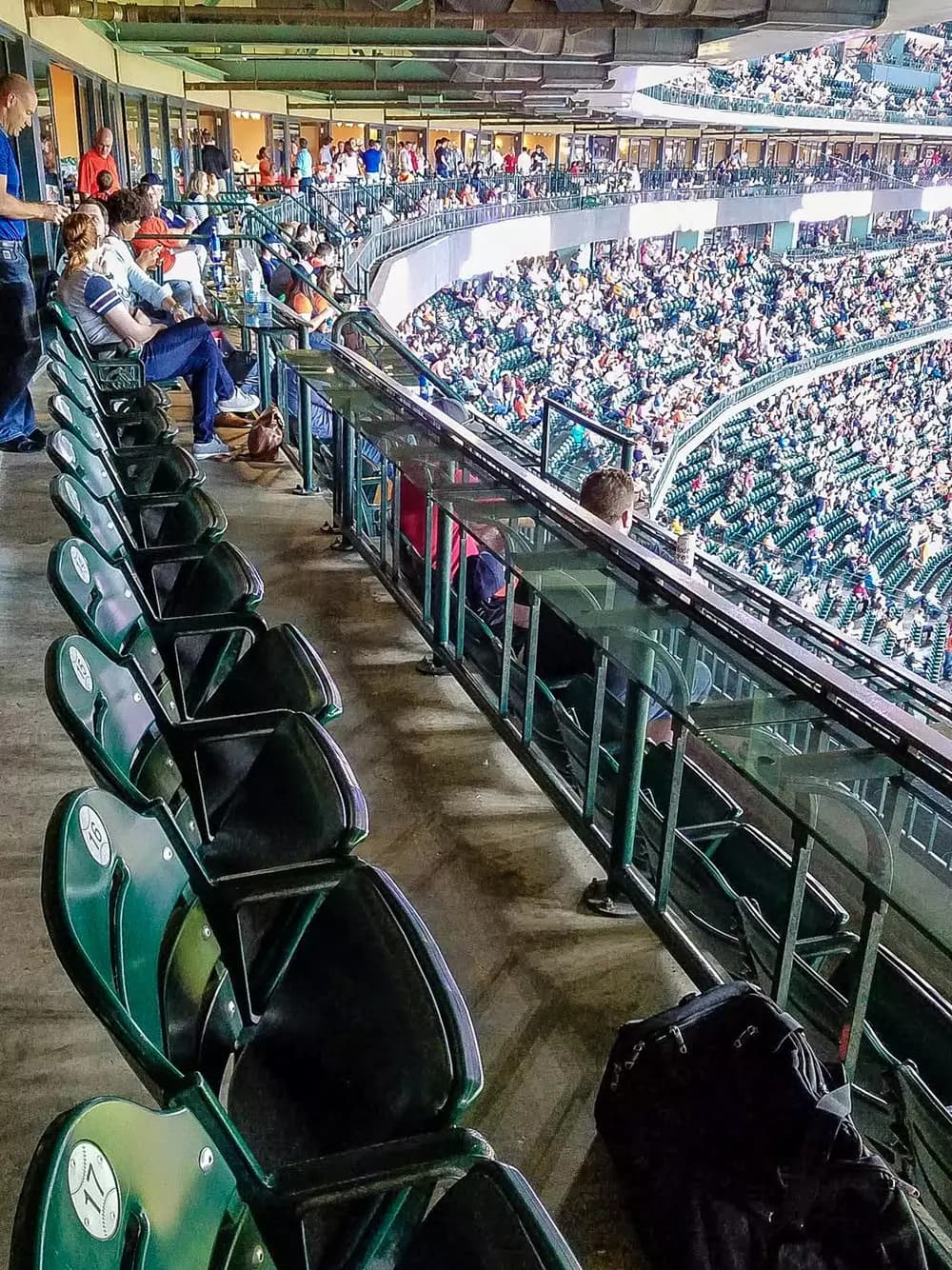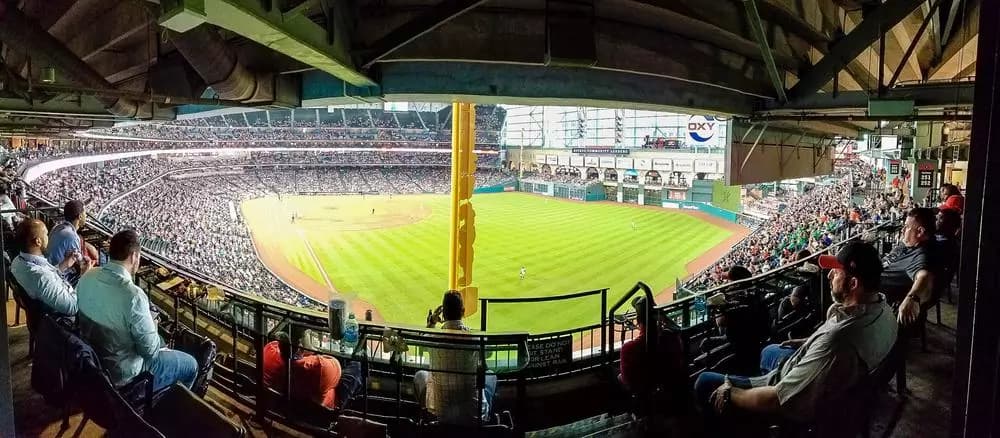 Suite Pricing
Minute Maid Park Suite Pricing and Amenities
SuiteHop is hands-down the best place to book a suite at Minute Maid Park. Minute Maid Park Suites include amazing views of the game or event, access to top-notch catering, comfortable and plush seating, and tons of other VIP amenities that you can count on when reserving your Minute Maid Park suite through SuiteHop's easy online marketplace.
How much do suites at Minute Maid Park cost?
Premium suites are available to reserve through SuiteHop, and range in price as our Listing Partners will determine the pricing of the event or game that they would like to list. Leasing a suite for the day will depend on the concert or event that is taking place.

On average, you can plan on spending between $4,000-$6,000 for Houston Astros (baseball) suites, and $5,000-$15,000 for concerts at Minute Maid Park.

Total Suites at Minute Maid Park: 63
Executive Suite Capacity: 12-25 guests
Party Suite Capacity: 14-125 guests
| Low Range | Location | High Range |
| --- | --- | --- |
| $3,500 | Executive Suites | $7,500 |
| $5,000 | Party Suites | $35,000 |
Minute Maid Parks' party suites are best suited to host large groups of people and are often available for individual games and events.
Confirm if your suite has catering by reviewing the amenities details on the specific listing you are interested in purchasing. If catering is not included, your SuiteHop suite expert will help you place a catering order. We recommend budgeting $50 - $125 per guest for catering.
Private Suites
Host the perfect party, meeting, or get together in a private Minute Maid Park Suite
Planning a family gathering or corporate event in Houston? A private Minute Maid Park suite is the perfect backdrop for an unforgettable evening at the ballpark.
Minute Maid Park Suites are configured with extra-wide, theater-style seats and bar stools. A refrigerator and ice maker come standard in all suites, as do two high-definition flat-screen televisions, granite countertops, and local internet access. Suites are newly remodeled with upscale modern furniture. All suites are climate-controlled with great views of the game action.
What are the options?
Executive Suites
Multiple flat-screen TVs and in-suite phones

Private, enclosed, climate-controlled concourses with lounge areas

First-class catering available to order

Attentive suite wait staff

Large, plush seating.
Party Suites
Multiple flat-screen TVs and in-suite phones

Private, enclosed, climate-controlled concourses with lounge areas

Attentive suite wait staff

Sliding glass walls open to stadium chairs, which are conveniently designed to seat your guests in two rows
Stadium FAQ
All about the suites at Minute Maid Park
Minute Maid Park has been called many names throughout its history: Astros Field, The Ballpark at Union Station, and Enron Field.
Minute Maid Park is a baseball field located in the heart of Houston, Texas, and was opened to the public in 2000. It's Houston's first-ever retractable roof field and is the home stadium for the Major League Baseball team, the Houston Astros. The ballpark was built as a replacement for the historical Astrodome, which opened in 1965. Currently, the park naming rights belong to Minute Maid, whose parent company is the well-known Coca-Cola. They acquired naming rights in 2002.
Minute Maid Park has a seating capacity of 41,168 and has 63 luxury suites and 5,197 club-level seats.
How many suites are available at Minute Maid Park?
There are 63 luxury suites, and an additional 5,000+ executive club level seats or party suite seats available.
Where is Minute Maid Park located?
Minute Maid Park is located at 501 Crawford Street, Houston, TX. 77002
Catering
Minute Maid Park Catering Explained
Aramark Catering is proud to be the exclusive caterers of Minute Maid Park and the Houston Astros. During the season, they are best known for their premium dining options in the Diamond and Insperity Club under their Executive Chef.
Minute Maid Park's Executive Chef holds degrees in both Culinary Arts and Food Service Management from Johnson & Wales University in Providence, Rhode Island, and is certified ProChef II from the esteemed Culinary Institute of America. Their chefs lead a talented team of culinarians with diverse experiences and backgrounds and delights in offering guests top-of-the-line dining experiences while enjoying their favorite event.
Estimated Minute Maid Park Suite Catering Costs
| Options | Pricing |
| --- | --- |
| Full meal with drinks | $75 - $150 per guest |
| Snacks with beer & wine | $30 - $60 per guest |
| Beer & wine alone | $25 - $40 per guest |
SuiteHop Recommended Suite Catering Menu
Feeds 20 guests
Bottomless Popcorn

Chips & Salsa Bar

Grilled & Fried Chicken Wing Sampler

Garden Salad

Beef Hot Dogs

Four-Cheese Mac & Cheese

Double Chocolate Brownies

12 Non-Alcoholic Beverages

24 Assorted Beers

Wine Varieties
This menu is based on Minute Maid Park Suite Catering options. Items are subject to availability. 
Pro tip: To lower waste, we recommend ordering fewer beverages upfront. Watch what your guests are consuming and reorder accordingly.
Learn more about in-suite catering at Minute Maid Park.