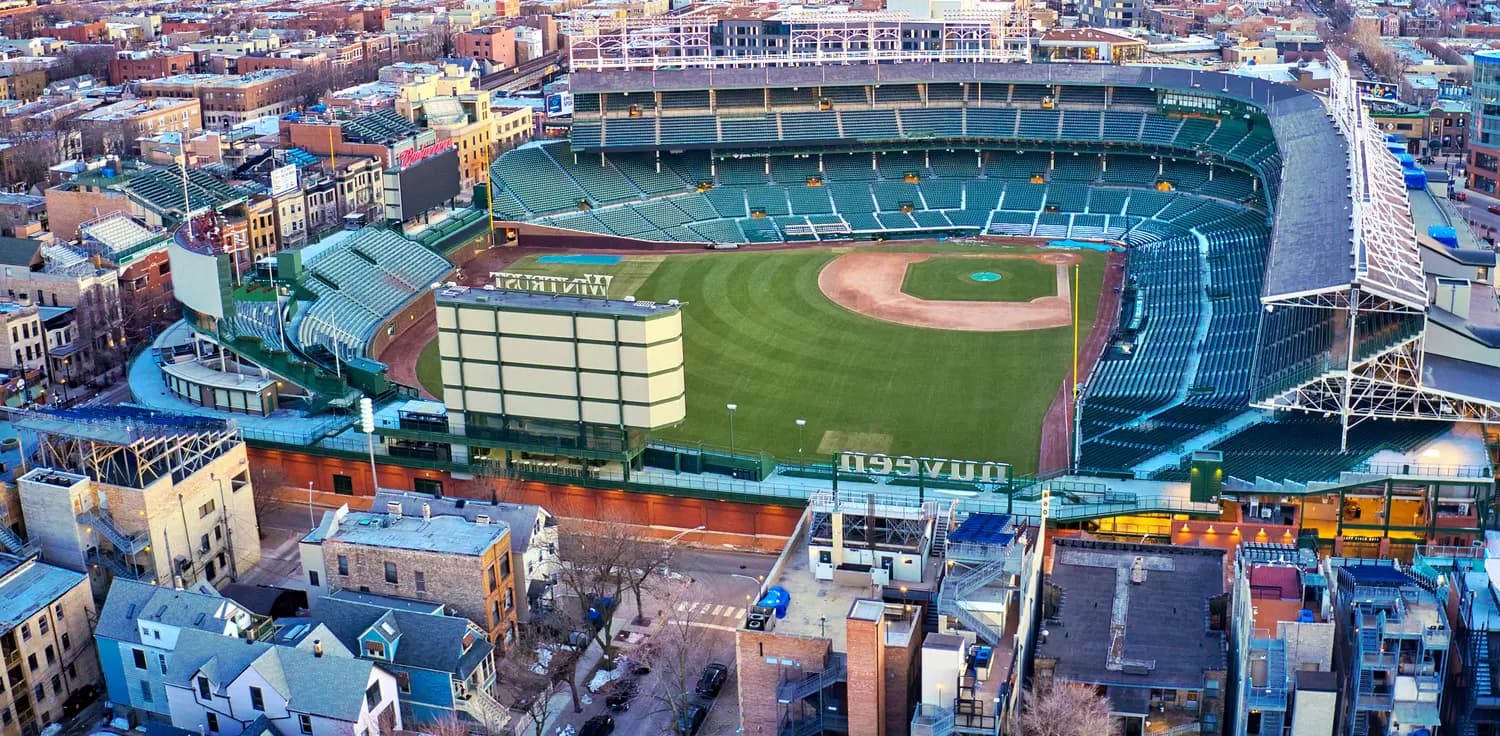 Wrigley Field
Suites & Premium Seating
Venue Info
Wrigley Field
1060 West Addison Street
Chicago, IL
Get Updates
Sign up for our newsletter with offers, updates and featured events at Wrigley Field.
Photos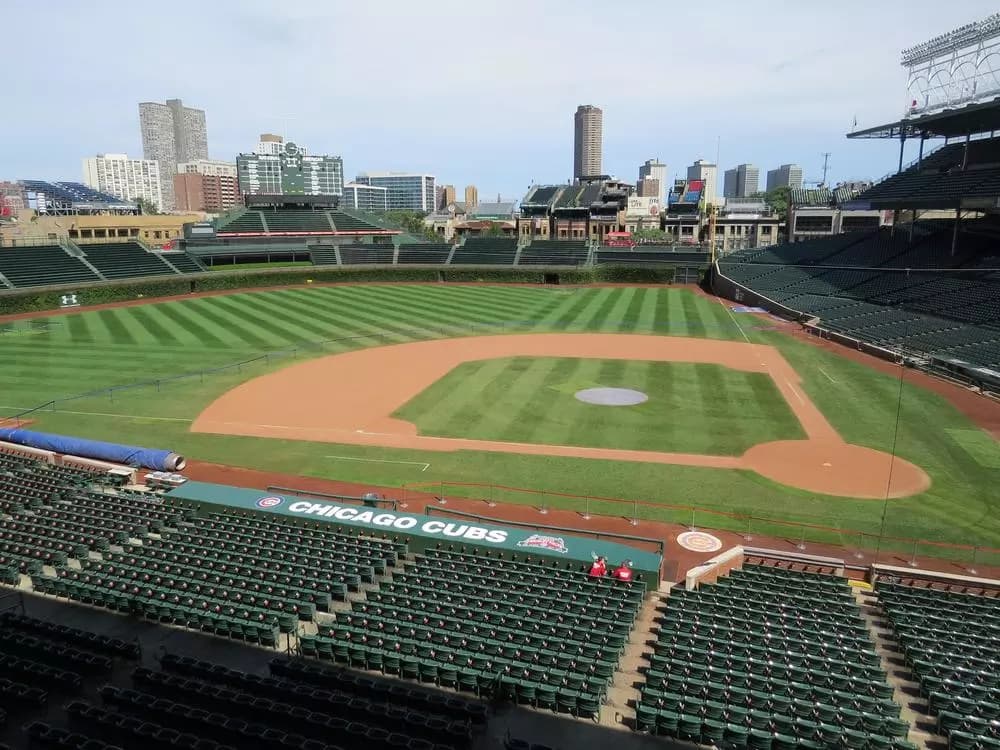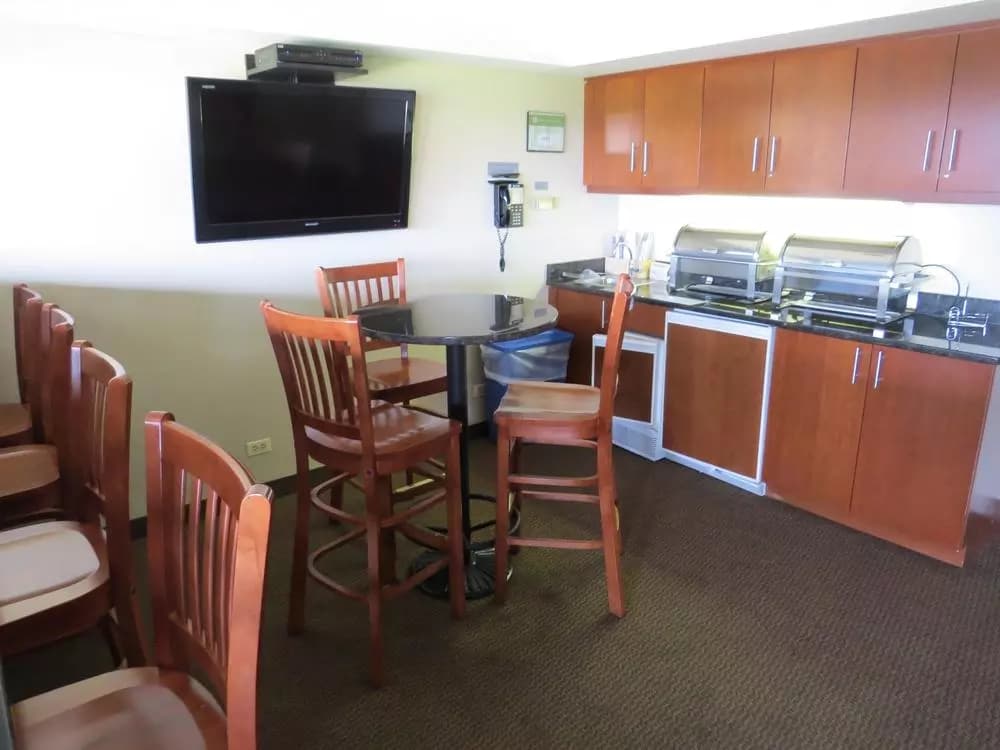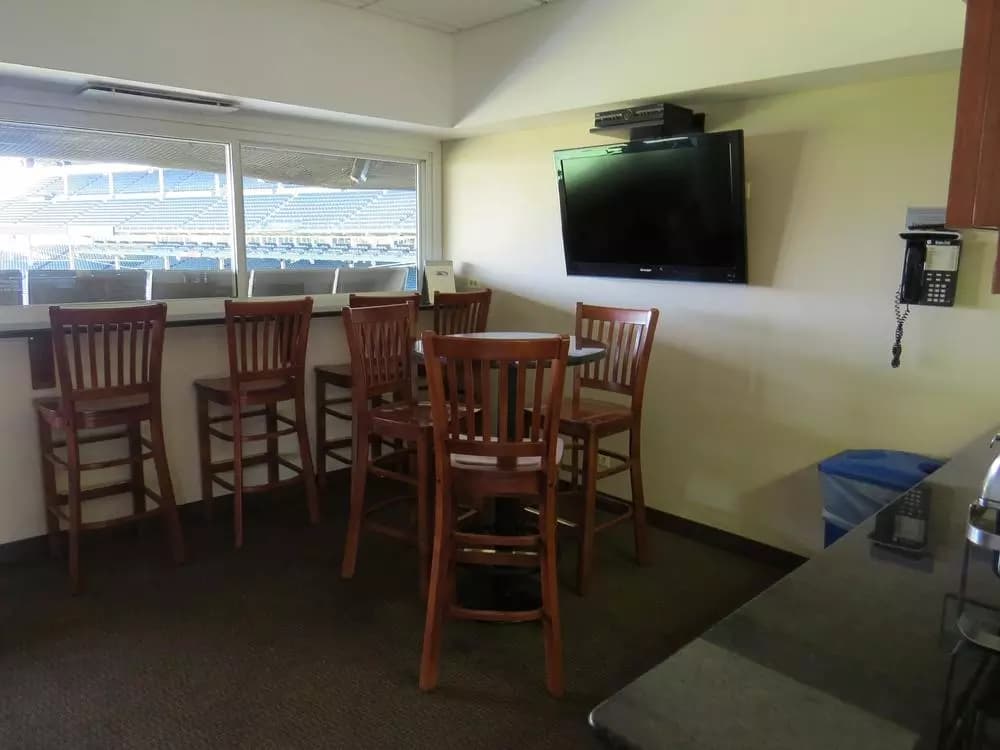 Pricing
Wrigley Field Suite & Club Pricing and Amenities
There may be no other baseball stadium more iconic than Wrigley Field! This ballpark is over 100 years old and fans fill the stadium to cheer on the Chicago Cubs every season. A visit to Wrigley Field is on the bucket list of most baseball fans.
Don't let the age of the stadium fool you. Wrigley Field has undergone renovations for the last few years and baseball fans can expect a spectacular experience when they enter the stadium. As of the 2020 season, the newly renovated IDEAL Suite Level is now on par with the most modern and luxurious suites in MLB. For a true VIP experience beyond the suites, the American Airlines 1914 Club and the Makers Mark Barrel Room offer an unbeatable view of the game with private access to the most exclusive clubs in Wrigley Field.
For larger groups, there are fantastic VIP party areas, like the Budweiser Patio, LG Porch, and Hornitos Hacienda. If you are planning a business event and want to host a meeting before the game, the American Airlines Conference Center is well suited to host a turnkey meeting.
How much do Wrigley Field Suites Cost?
$5,000 -$25,000 Per Private Suite
$250 - $3,000 Per Club Seat

The price of Wrigley Field suites varies based on matchup and location in the stadium. Private suites on the IDEAL Suite Level are available for all home games and events with pricing starting at $8,000 and may cost as much as $20,000. The biggest games and most popular concerts sell out quickly.
Wrigley Field club seats will range in price from $250 per ticket to $3,000 per ticket. Prices varies based on the location of the club seats and the matchup or event.

Suite Amenities: Interior and exterior padded seating, unlimited beer, wine, and non-alcoholic drinks, in-suite catering available, parking passes 

Total Suites at Wrigley Field: 80
Suite Capacity: 15-150 guests
Low Range

Location

High Range

$8,000

IDEAL Suites
Luxury Suite above 100 Level

$20,000

$8,000

Legends Suite
Luxury Suite at 1st & 3rd Baseline

$25,000

$15,000

Fannie May Bleacher Suite
⁠Outfield

$25,000

$10,000

Budweiser Patio
Club Suite down Right-Field Line

$20,000

$10,000

Left Field LG Porch
Club Suite at ⁠Left-Center Field

$20,000

$5,000

Hornitos Hacienda
Above Left-Field Wall

$8,000

$500/ticket

1914 Club Seats
⁠Field Level Behind Home Plate

$3,000/ticket

$500/ticket

Makers Mark Barrel Room
Club Seats on 1st Base Field Level

$2,000/ticket

$250/ticket

Catalina Club
Section 315-318 Behind Home Plate

$400/ticket

$250/ticket

Cree Lighting Club
Club Seats on ⁠IDEAL Suite Level

$500/ticket
VIP Seats
Host the Perfect Party in a Private Suite or a Get-Together in VIP Clubs Seats at Wrigley Field
Cheer on the Cubbies or sing along to your favorite band at Wrigley Field either from the privacy of a luxury suite rental on the IDEAL Suite Level or the unbeatable VIP Club seating in the American Airline 1914 Club or Makers Mark Barrel Room. Spend a night celebrating, connecting, or networking in this historic stadium. Having your own personal space here almost seems unreal but it is very real and very possible when you book a suite or VIP area for an event at Wrigley Field from SuiteHop.
Club seating is best for small groups of 2 to 4 guests. Learn more about the 1914 Club & Makers Mark Barrel Room.
Private suites are available for parties of 15 to 150 guests.
What Are My Wrigley Field VIP Options?
IDEAL Suites
These suites have just been renovated and are among the nicest suites in MLB. Located on IDEAL Suite level, which spans the first-base and third-base sides of the ballpark suites, these private luxury suites accommodate groups of 15 to 55. Guests have indoor climate-controlled seating and outdoor seating, all private to your party. Outdoor heat lamps are used seasonally. You have the option of ordering in-suite catering from the menu from Levy Restaurants. Your suite also includes HD televisions. The view of the action is ideal with the suites located on the mezzanine on the first and third base sides.
Legends Suite
This Wrigley Field Suite is also on the IDEAL suite level and has the same perks as the other IDEAL suites but includes some extra special perks. You and your guests will enjoy a pregame tour and a former Cubs player will visit with you during the game. You can visit with him, learn about his experiences in Wrigley Field, and take photos and get autographs. This suite is for 15 guests. The Legends Suite provides the most immersive experience at Wrigley Field. Included in your booking for the Legends Suite is a food & beverage package with unlimited craft beer, wine, sodas, water, one bottle of liquor, and a fantastic spread of food.
Fannie May Bleacher Sweet
The Fannie May Bleacher Sweet is a great spot for networking or for showing your employees or clients your appreciation to them. With an occupancy of 70-100, the Fannie May Bleacher Sweet is an indoor, climate-controlled spot in the center field above the batter's eye. Features include private restroom and private bar, high top and low top tables with access to the Budweiser Bleachers outside. The Bleacher Sweet is all-inclusive with unlimited beer, wine, and sodas as well as a comprehensive food menu. You can upgrade your catering to include cocktails as well.
Budweiser Patio
Another group option at Wrigley Field in the Budweiser Bleacher area is the Budweiser Patio. This is a semi-private area with all-inclusive food and drinks. Your guests get access to ballpark food, snacks, beer, wine, and non-alcoholic drinks. Order what you want from the private bar on the patio. Groups of 50 to 150 guests will be comfortable here. It's a casual environment perfect for a party or corporate get-together. The view is perfect from this outdoor space in the right-field corner just under the video board.
LG Porch
The LG Porch boasts lounge seating and also has one row of reserved Budweiser Bleacher seating. You and your guests really feel like you are hanging out on a porch but instead of looking at someone's yard, you are overlooking historic Wrigley Field and have a view of the iconic Chicago skyline. Seats here can be purchased in blocks of 50 or 100. Purchase of a block of seats includes access to beer, wine, and non-alcoholic drinks. You can order snacks if desired. There is an area to mingle and the private bar makes it easy to get a drink without missing a moment of the action.
Hornitos Hacienda
The Hornitos Hacienda at Wrigley Field is a very unique experience for a group of 15-50 people. This outdoor space is located above the left-field wall and is in prime homerun catching territory (so you can take part in the long-standing tradition of throwing a homer from the visiting team back on the field!). The seating in the Hacienda is high-top barstools and a drink rail, with plenty of room for standing as well. The Hornitos Hacienda is a catering inclusive area that comes with unlimited beer, wine, sodas, and light snacks.
The American Airlines 1914 Club seats at Wrigley Field are the closest seats to the action. Only steps away from the Cubs field, directly behind home plate, the 1914 Club is an unbeatable view. The view is only the beginning of the luxury experience. Take a step back into historic Wrigley Field as you enter the 1914 Club through your exclusive entrance. With all-inclusive chef-crafted food and beverage options as well as traditional ballpark favorites, you will feel like a true VIP.  
The Makers Mark Barrel Room is located behind the visitor's dugout with exclusive views of the visitor's batting tunnel on the first-base line. Dedicated in-seat vendors offer beer and water options with convenient grab-and-go options for the hardcore Cubs fans. For those Cub fans looking for a more VIP experience, step through the exclusive VIP entrance into the Wrigley Field underground speakeasy known as the Barrel Room. Enjoy the all-inclusive chef-crafted menu to pair with the Barrel Rooms' extensive spirits, high-end wines, and diverse beer selection. 
Stadium FAQ
All about the suites at Wrigley Field
This legendary home of the Chicago Cubs opened in 1914 and the Cubs played their first home game here in 1916 after the former team, the Chicago Whales failed. Wrigley Field is the second oldest park in the MLB and the oldest in the National League.
Coming to a baseball game at Wrigley Field is like participating in a little piece of history. The park is a "jewel box" style stadium. The winds blowing off Lake Michigan are known for sending baseballs bouncing in all different directions. The outfield walls are covered in ivy, a classic ballpark feature.
Throughout the history of Wrigley Field, it has undergone renovations and updates keeping this historic venue relevant. The premium seating options in Wrigley Field are modern and enjoyable and make for the perfect setting for a party, reunion, or business gathering during a Chicago Cubs game or a concert.
How many suites are available to rent at Wrigley Field?
Wrigley Field has 80 suites.
Why should I book my Wrigley Field premium seats with SuiteHop?
SuiteHop is an online marketplace providing the most comprehensive details and availability for Wrigley Field events. With real-time pricing and high attention to customer service, SuiteHop's suite & club experts will help you from booking your premium seats all the way through ordering catering for your event. 
What is included in a suite or club seats at Wrigley Field?
Wrigley Field suites give you an immersive experience and make you feel at home in this historic stadium. Suites have open-air seating and climate-controlled indoor seating. Catering and beverages are not included with the purchase of your suite but may be added at an additional cost. All the amenities ensure that you are comfortable and even pampered during your visit to Wrigley Field. You will have a great view of the game or concert, all from the privacy of your suite.
Club Seats at Wrigley Field offer a unique luxury experience. Wrigely Field club seats are distributed around the entire stadium from behind home plate with the 1914 Club, in the outfield, and on the suite level. Club seats offer amazing sightlines of the game or concert with luxury amenitites like club access and in-seat wait service.
How do I get to the IDEAL suite level at Wrigley Field?
Suites are located throughout the stadium. Please refer to your suite location for where to enter. Your SuiteHop customer service expert can assist you if needed.
When do suites open for access?
Suites open 2 hours prior to the event and stay open for 30 minutes after the end of the event.
Where is Wrigley Field located?
Wrigley Field is located in Chicago at 1060 W Addison Street.
Where should I park at Wrigley Field?
Parking is not easy to come by at Wrigley Field. We recommend using public transportation to navigate to your event if parking passes are not available to purchase with your suite rental.

For those guests using a parking pass, there are three lots; Toyota Camry Lot, Toyota RAV4 Lot, and the Irving Park Lot. Proceed to the lot that matches your parking pass.

The Cubs offer free remote parking. To take advantage of this and avoid the traffic, you park at 3900 N. Rockwell St., just east of the Chicago River and accessed from Irving Park Road. Park here and take the shuttle to and from Wrigley Field for free starting two and a half hours before the first pitch until one hour after the conclusion of the game.

Traffic is very heavy going to and from events and public transportation is highly recommended. The Metra Trains, PACE shuttle buses, and CTA buses and trains are all excellent options to commute to Wrigley Field.
Catering
Wrigley Field Catering Explained
Catering for Wrigley Field suites is provided by Levy Restaurants. For food and snacks, Levy Restaurants offer a wide array of choices. There are packages that cover snacks, entrees, and dessert. Create your own menu by choosing from their a la carte catering options. Choose from classic ballpark fare to incredibly decadent choices.
Dietary restrictions and allergies can be taken into account. In-suite catering is the detail that will really allow your event in a private suite at Wrigley Field to stand out.
Catering is at an additional cost and your SuiteHop customer service expert will assist you with placing the best order for your group. Catering is not required and your guests are welcome to order their own food from the many concessions throughout Wrigley Field.
Estimated Wrigley Field Suite Catering Costs
| Options | Pricing |
| --- | --- |
| Full meal with drinks | $100 - $150 per guest |
| Snacks with beer & wine | $50 - $75 per guest |
| Beer & wine alone | $35 - $50 per guest |
Wrigley Field Recommended Suite Catering Menu
Feeds 20 guests
Market Fresh Vegetables

Spicy Chicken Wings

Chicago-Style Vienna Hot Dogs

Southwestern Nacho Bar

Bottomless Snack Attack

Cracker Jacks

Gourmet Cookies & Brownies

12 non-alcoholic beverages

24 assorted beers
This menu is based on Wrigley Field Suite Catering offerings. Items are subject to availability.
Pro tip: To lower waste, we recommend ordering fewer beverages upfront. Watch what your guests are consuming and reorder accordingly.