Comerica Park
Suites & Premium Seating
Venue Info
Comerica Park
2100 Woodward Avenue
Detroit, MI
Get Updates
Sign up for our newsletter with offers, updates and featured events at Comerica Park.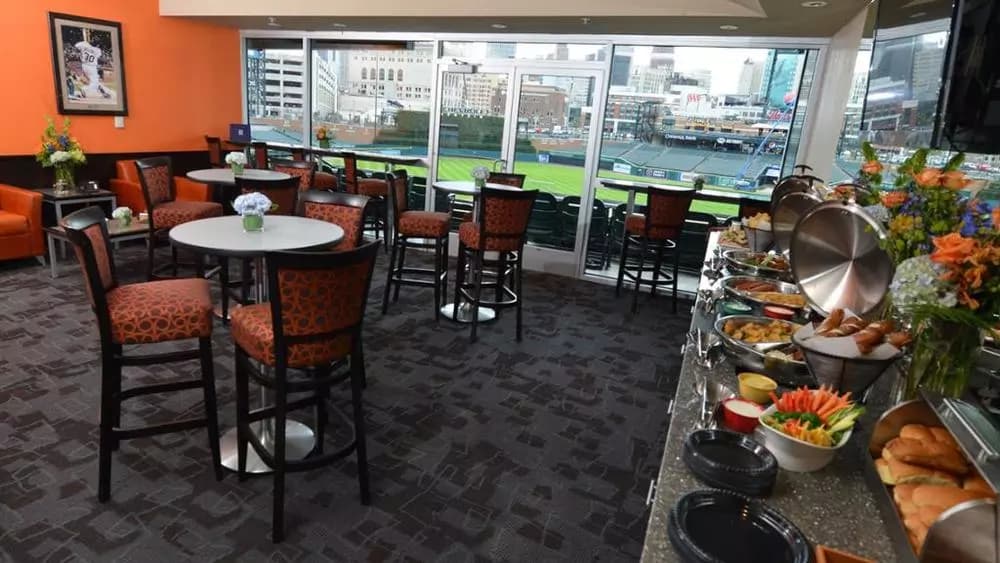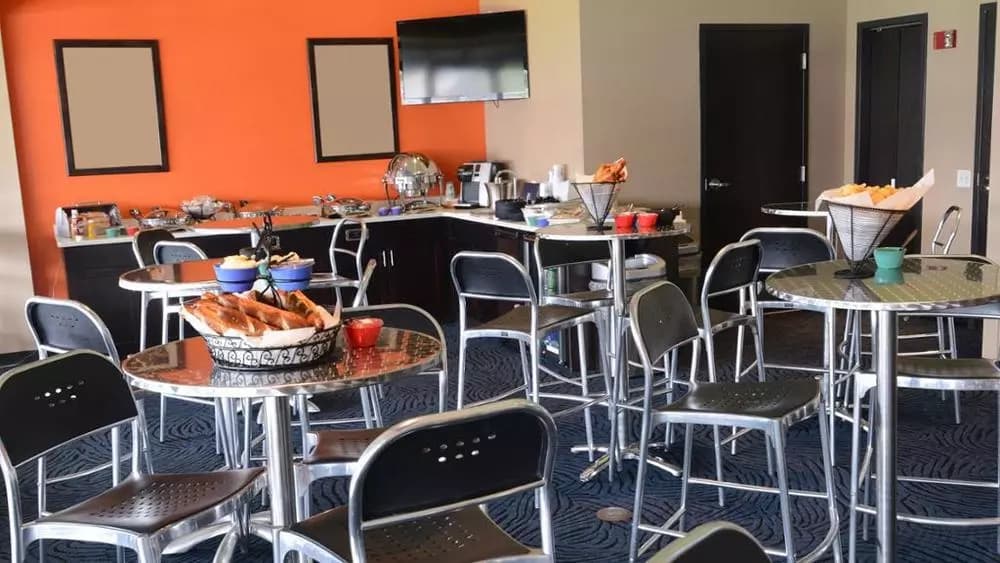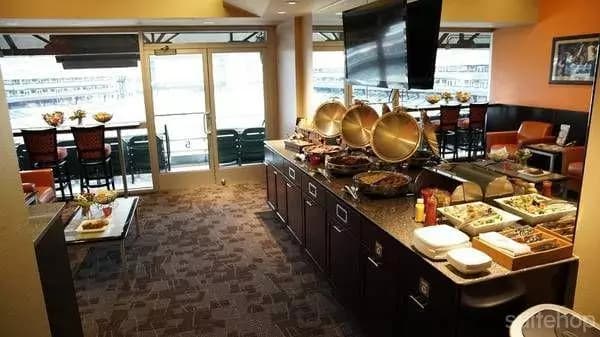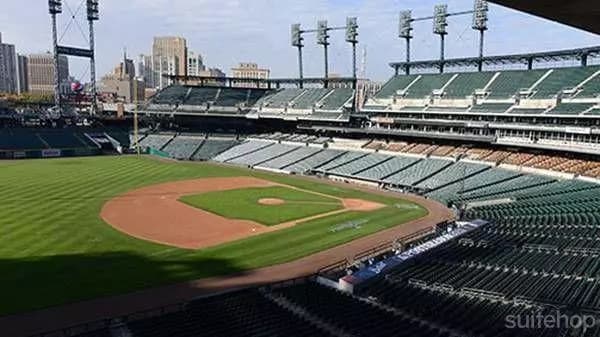 Pricing
Comerica Park Suite & Club Seat Pricing and Amenities
Comerica Park is an outdoor MLB stadium located in the heart of The Detroit District. When it isn't being used as the home field for the Detroit Tigers it is often used for outdoor concerts and events.
Thanks to SuiteHop's easy-to-use online marketplace, purchasing a single game suite or club seats at Comerica Park has never been easier. Catching a game or concert in a luxurious Comerica Park suite or club seat is a truly unforgettable experience, with the perfect combination of high-tech amenities, surrounded by some of the country's richest historical building landmarks.
How much do suites & club seats at Comerica Park cost?
$60 per ticket - $14,000 for full private suite

Comerica Park suite prices typically range from $2,400 - $14,000 for Detroit Tigers games. Club seats range from $60 per ticket to $600 per ticket. Prices vary based on the day of the game, the Tigers' opponent, and the location of the suite or seats in Comerica Park.

Amenities: Indoor and outdoor private seating, in-suite catering available, VIP parking, and entry into the stadium
Total Suites at Comerica Park: 100+ Luxury Suites
Suite Capacity: 15-70 guests

Low Range

Location

High Range

$10,000

Home Plate Suites
Suite Level; ⁠Around Home Plate

$12,000

$6,000

Diamond Suite 
Above Infield; Between 1st & 3rd Base

$10,000

$4,000

Legends Suites
Down Left Field Line; Above the Championship Club

$8,000

$2,400

Party Suites
Down Left Field Line

$14,000

$100 /Ticket

Championship Club
Left Field Line; Below Legends Suites

$600 /Ticket

$100 /Ticket

On Deck Circle
Rows 1-13; Sections 120-135

$500 /Ticket

$150 /Ticket

Tiger Den & Tiger Club
Above the On Deck Circle; ⁠Sections TD120 - TD135

$300 /Ticket

$60 /Ticket

Right Field Balcony & Tables
Beyond the Right Field Wall

$200 /Ticket
Premium Seats
Host the perfect event at Comerica Park with Premium Seating
The Detroit District is a booming 50-square block, chock full of historical landmarks and theaters built at the turn of the century, bars and nightclubs, top-notch casinos, as well as three professional sports arenas: Comerica Park (Detroit Tigers, MLB) Little Caesars Arena (Detroit Red Wings, NHL, and Detroit Pistons, NBA) and Ford Field (Detroit Lions, NFL).
Comerica Park Suite Options
All suites at Comerica Park include:
Outdoor & Indoor seating options

Private Restrooms

HDTVs

Climate-Controlled Environment

Dedicated Suite Attendant

Private Viewing Space

In-Suite Catering Available to Purchase
Home Plate Suite
$10,000 - $12,000 | 20-30 Guests
The most exclusive suites in Comerica Park, Home Plate suites are the best views of the Tigers action and the most luxurious way to attend a ball game in Detroit. Home Plate Suites are located directly behind the home plate on the suite level.
Legend Suites
$4,000 - $8,000 | 20-35 Guests
Legends Suites at Comerica Park are the ideal space for your next premium event. With ample space to move around and the ability to order premium catering to your suite, you'll love experiencing the Suite Life in Detroit in these exclusive boxes. Legends suites are located above the Champions Club and offer an intimate atmosphere in an otherwise busy stadium.
Diamond Suites
$6,000 - $10,000 | 18-25 Guests
Diamond Suites at Comerica Park provide an infield vantage point and seating for up to 20 guests. These suites have a luxurious interior space to enjoy with your group and outdoor seating that accommodates up to 12 guests.
Party Suites
$2,400 - $14,000 | 20-70 Guests
Comerica Park offers a wide range of party suites to fit all entertainment needs. Located down the left-field line, these suites are perfect for corporate events or exclusive parties. Within each Party Suite at Comerica Park, you can expect to find high-top tables, stool seating, lounge chairs, and a kitchenette.
Comerica Park Club Seat Options
Championship Club
$100 Per Ticket - $600 Per Ticket
The Jim Bean Championship Club is located directly below the Legends Suites and offers an open lounge atmosphere. Championship Club ticket holders at Comerica Park can expect to find all-inclusive food and non-alcoholic beverages, a private full-bar to purchase any alcoholic beverages, and private restrooms. Guest are encouraged to enter Comerica Park 2 hours prior to the Detroit Tigers first pitch through a private entrance.
On Deck Circle
$100 Per Ticket - $500 Per Ticket
Considered the most desired tickets in Comerica Park, the On Deck Circle seats offer amazing views of the field from directly behind home plate. On Deck Circle seats offer guests unique views of the field and dugouts. Ticket holders within the On Deck Circle can enter Comerica Park through a private entrance, enjoy in-seat wait service, and access the exclusive Tiger Den & Club Lounge.
Tiger Den & Tiger Club
$150 Per Ticket - $300 Per Ticket
The Tiger Den at Comerica Park is composed of 8 rows, A-H, in sections TD120 - TD135 above the On Deck Circle seats. This fully covered club section within Comerica Park offers padded seats and small tables for food and beverages. During Detroit Tigers games, Tiger Den ticket holders can enjoy in-seat wait service. For all events, guests of the Tiger Den can enter Comerica Park through a private entrance and have access to the exclusive Tiger Den & Club Lounge.
Right Field Balcony & Tables
$60 Per Ticket - $200 Per Ticket
Beyond the right-field wall on the second tier of seating, you can find the Right Field Balcony and Tables. The balcony offers one of the most comfortable seating options within Comerica Park. Besides an incredible view, ticket holders within the Right Field Balcony & Tables have access to an upscale bar located directly behind the seats.
Stadium FAQ
All about the suites at Comerica Park
Comerica Park is an open-air baseball park located in downtown Detroit. Built in 2000, it serves as the home field for the Major League Baseball team, Detroit Tigers. The park is named after Comerica Bank, which was founded in Detroit, and has a large Detroit presence.
Comerica Park sits on the former site of the Detroit College of Law and is located across the street from the historic Fox Theater, and between two historic churches. Outside the main entrance is a 15' tall Tiger statue, and there are 8 other Tiger statues located within the park itself, and the eyes light up after a Tiger victory or home run. Along the brick walls outside of the park are 33 tiger heads with lighted baseballs in their mouths.
How many suites are available at Comerica Park
Comerica Park has 102 suites throughout the stadium. Suites are perfect for large groups of 20-35+ guests. For smaller parties, SuiteHop recommends booking club seats.
Why should I book my Comerica Park suite or club seat with SuiteHop?
SuiteHop is an online marketplace providing the most comprehensive details and availability for games at Comerica Park. With real-time pricing and high attention to customer service, SuiteHop's suite and club seat experts will help you from booking your premium seats all the way through ordering catering for your event.
What is included in a suite at Comerica Park?
Comerica Park suites are the best way to attend a baseball game in Detroit! With two levels of suites to enjoy all suites have a dedicated suite attendance, the best vantage points in the stadium, private restrooms, and a climate-controlled environment.
What is included with club tickets at Comerica Park?
Comerica Park club tickets offer the best views of the stadium from traditional stadium-style seating with an upscale atmosphere. Club tickets typically offer in-seat food and beverages service, private entrances and bathrooms, and access to exclusive clubs throughout Comerica Park like the Tigers Den & Club Lounge.
When do Comerica Park suites open for access?
Typically, suites open 2 hours prior to the event start time. Champions Club ticket holders are also encouraged to enter the stadium 2 hours prior to the first pitch.
Where should I park for an event at Comerica Park?
Comerica Park is situated perfectly downtown and is minutes from the Detroit Metro Airport, as well as all the surrounding Detroit suburbs. The best way to get to Comerica Park is to plan ahead and consider all the transportation options available to you.

Your suite booking may include access to VIP parking passes. Confirm with your SuiteHop event expert if parking is a part of your reservation or not.
Comerica is accessible via public transportation (the bus, or the Q-Line), cars, or walking. QLINE is a 6.6-mile circulating streetcar loop serving 12 locations on Woodward Ave. from Downtown Detroit through Midtown, New Center, and the North End.
Catering
Comerica Park Catering Explained
Delaware North is the exclusive partner for Comerica Park in-suite dining and is committed to offering you the classic all-time baseball culinary favorites, as well as creative and new food and beverage options, sure to please everyone on your guest list.
Catering is an additional cost and your SuiteHop customer service expert will assist you with placing the best order for your group. Catering is not required for all suite events and is not available in club seats. Comerica Park has a wide variety of concession stands and bars that guests will be able to access throughout the event.
Estimated Comerica Park Suite Catering Costs
| Options | Pricing |
| --- | --- |
| Full meal with drinks | $75 - $125 per guest |
| Snacks with beer & wine | $50 - $75 per guest |
| Beer & wine alone | $30 - $50 per guest |
Recommended Comerica Park Suite Catering Menu
Feeds 20 guests
Kettle Chips & Dip

Classic Popcorn

Farmers Market Crudites

Potato Salad

Chicken Wings

Ballpark Hotdogs

Ballpark Sliders

Fresh Baked Cookies

12 non-alcoholic beverages

24 assorted beers
This menu is based on Comerica Park & Delaware North suite catering options. Items are subject to availability.
Pro tip: To lower waste, we recommend ordering fewer beverages upfront. Watch what your guests are consuming and reorder accordingly.
Learn more about in-suite catering at Comerica Park.