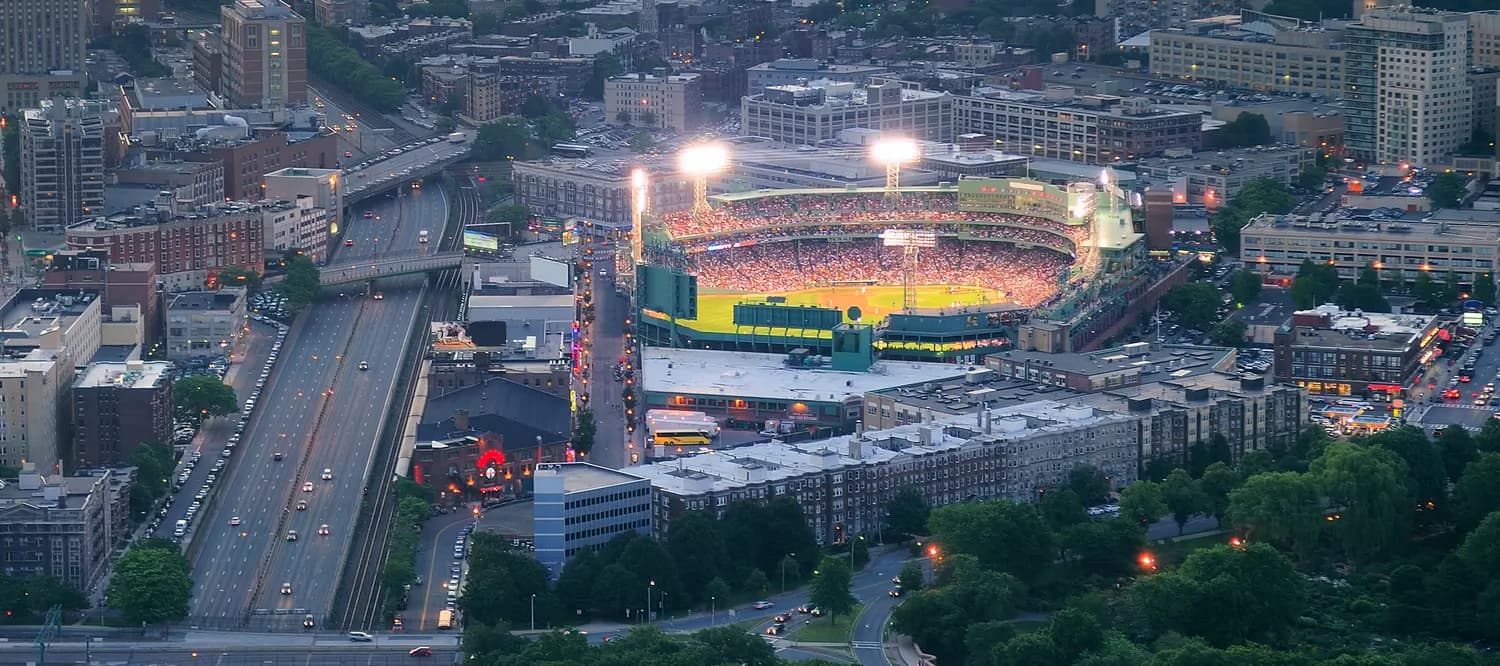 Fenway Park
Suites & Premium Seating
Venue Info
Fenway Park
4 Yawkey Way
Boston, MA
Get Updates
Sign up for our newsletter with offers, updates and featured events at Fenway Park.
Photos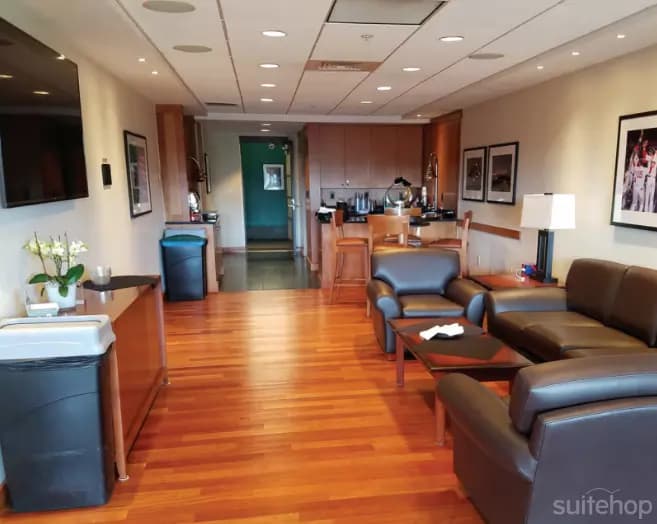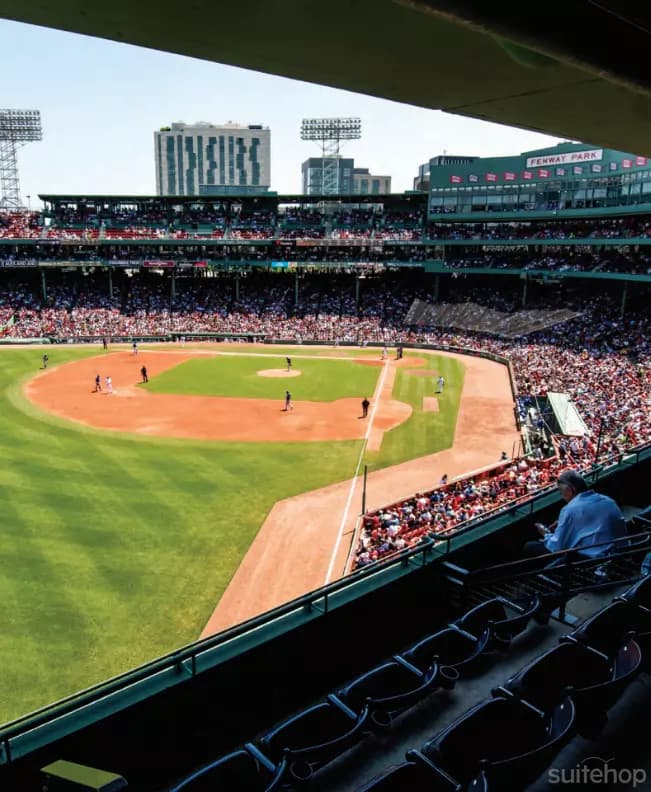 Suite Pricing
Fenway Park Suite Pricing and Amenities
Fenway Park is considered the most beloved baseball park and a Meca for all sports fans. Enjoy luxury amenities and VIP service with one of Fenway Park's luxury suites. SuiteHop has the expertise and exclusive access to the most premium seats in Fenway Park. 
How much do suites at Fenway Park cost?
$5,000 -$18,000 
Fenway Park suite prices vary based on the matchup and location in the stadium. Private suites are available for Boston Red Sox home games, concerts, and events with pricing starting at $5,000 and may cost as much as $18,000.

Amenities: Private indoor and outdoor seating, optional in-suite catering, best sightlines, Boston skyline views, indoor and outdoor televisions
Total Suites at Fenway Park: 52
Suite Capacity: 12-25 guests
Low Range

Location

High Range

$5,000

Pavilion Suites
Along First & Third Baseline

$12,000

$7,000

Dell Technology Suites
Dell Technology Suite Level; First & Third Baseline

$18,000
Private Suites
Host the perfect VIP event in a private Fenway Park suite
Experience all the premium Fenway Park amenities and unbelievable views with friends, family, clients, or coworkers. Fenway suites are available for Red Sox games, summer concerts, and other events.
Private suites are available for parties of 12 to 25 guests.
What are the suite options at Fenway Park?
Pavilion Suites
$5,000 - $12,000 | 12 - 25 Guests
Fenway Park Pavilion Suites are ideal for smaller groups who desire a VIP experience. Choose your view with six "K" suites on the third base side and five "B" suites on the first base side of the field. No matter the side your group selects, both have amazing sightlines of the action and unbelievable views of the Boston skyline. 
Dell Technology Suites
$7,000 - $18,000 | 20 - 22 Guests
All of the suites on the Dell Technology Suite Level, along with The Legends Suites, are the newest suites at Fenway Park. The private seating located outside the Dell Technology Suites is perched over other seating giving your guests an unobstructed view. These Fenway Park luxury suites are one of the few that include private restrooms located in the suite.
Fenway Park Suite Amenities
Private indoor & outdoor seating

Comfortable lounge-style seating

In-suite attendant & server

Glass viewing wall with the option to lift up for an open-air atmosphere

Climate-controlled environment

Suite catering available to purchase

Suite access 2 hours prior to game time
Stadium FAQ
All about the suites at Fenway Park
In the heart of Boston, sports fans from all over the world come to visit the MLB's oldest ballpark. Fenway Park opened over 100 years ago in 1912. Though it has been expanded and updated over the years, Fenway maintains its historical charm and provides visitors with an incredibly unique experience from the moment they arrive.
In addition to Boston Red Sox home games, Fenway is known for its summer concert series featuring the biggest names in music playing on the field. Private Fenway Park suites offer the most exclusive experience for a Red Sox Game or a concert. You and your guests will be pampered with all the luxury perks and amenities.
How many suites are at Fenway Park?
Fenway Park has 52 Pavilion and Dell Technology suites.
Why should I book my Fenway Park suite with SuiteHop?
SuiteHop is an online marketplace providing the most comprehensive details and availability for Fenway Park events. With real-time pricing and high attention to customer service, SuiteHop's suite experts will help you from booking your suite all the way to purchasing catering for your event.
What is a suite at Fenway Park?
Every fan with a ticket to an event at Fenway Park expects a unique experience. However, fans attending a Red Sox game or concert in a private suite know they will be treated like celebrities. Fenway Park suites offer private seating, a climate-controlled atmosphere, and a dedicated suite attendant.
How do I get to the suites at Fenway Park?
Fenway Park suites are located throughout the park on a couple of different levels. Refer to the Fenway Park seating chart for your specific suite listing to decide the best way to get to your suite.
When do Fenway Park suites open for access?
Fenway Park suites open two hours before a baseball game or event.
Where is suite parking at Fenway park?
Parking is extremely limited at Fenway Park. Suite parking is an additional cost and is not always available for all events. In fact, there are only 2 official lots with only 4,000 spots. You can purchase parking passes in these lots ahead of time. 
If you choose to drive to your event at Fenway you can park at a public garage close to the park. There are several hotels within walking distance of Fenway Park. If you choose to stay at one of those hotels you can easily walk to your event. 
Public transportation is a great way to get to Fenway Park. Take the MBTA Subway to the Kenmore T Station and you are right around the corner from Fenway! Using a rideshare service like Uber is a great transportation option. Uber has multiple drop-offs and pick-up points for guests choosing to use their services. There are spots near Brookline Avenue, Boylston Street, or Ipswich Street.
Where is Fenway Park Located?
Fenway Park is located at 4 Yawkey Way, Boston, Massachusetts. Boston is an incredibly vibrant city, full of incredible American history, and continues to hold its place as one of the best cities to visit in the world. Tucked in Boston Harbor, the city views are breathtaking.
Catering
Fenway Park Catering Explained
Catering at Fenway Park is exclusively provided by Aramark. The chefs at Aramark have carefully crafted their suite menus to incorporate local, sustainable, and organic options. Snacks, entrees, desserts, and drinks served right in your suite will impress your guests and give you the most relaxing experience possible.
Catering is an additional cost on top of your Fenway Park suite purchase and must be received at least 2 days before your event. SuiteHop can assist in ordering catering before your event's catering deadline. 
If you desire to order catering, SuiteHop recommends the preset menus to make ordering simple. These menus have everyone covered and Aramark even has suggested add-ons to their menus if you are craving a little more. For those who want to plan their own menu from start to finish, choose from the a la carte options. Beverages are available in packs or choose one of the bar packages for a variety of choices. Food allergies and other dietary issues are not a problem, just indicate those when you place your order.
Catering is not necessary for all suite events, guests can browse and purchase the many food and beverage vendors throughout Fenway Park.
You can find more information about catering at Fenway Park, suite menus, order forms, and contact information here.
Estimated Fenway Park Suite Catering Costs
| Options | Pricing |
| --- | --- |
| Full meal with drinks | $100- $150 per guest |
| Snacks with beer & wine | $50 - $100 per guest |
| Beer & wine alone | $35 - $50 per guest |
Fenway Park Recommended Suite Catering Menu
Feeds 20 guests
Red Sox Souvenir Popcorn Tin

Grilled Kayem Italian Sausages

Kayem Fenway Franks

Regina Pizzeria Pepperoni Pizza

Brisket Sliders

Red Sox Ice Cream Cooler

12 Non-Alcoholic Beverages

24 Assorted Beers
This menu is based on Fenway Park Suite Catering offerings. Items are subject to availability.
Pro tip: To lower waste, we recommend ordering fewer beverages upfront. Watch what your guests are consuming and reorder accordingly.