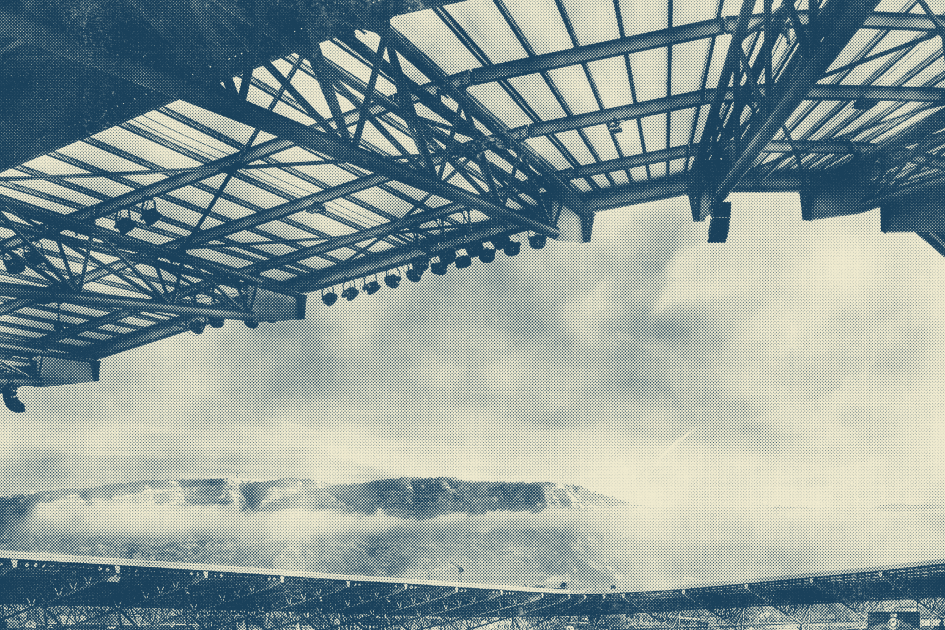 Highmark Stadium
Suites & Premium Seating
Venue Info
Highmark Stadium
1 Bills Drive
Orchard Park, NY
Get Updates
Sign up for our newsletter with offers, updates and featured events at Highmark Stadium.
Suite Pricing
Highmark Stadium Suite Pricing and Amenities
Highmark Stadium (formerly New Era Field) is a football field that puts players to the test. When the winds blow in off Lake Erie, many NFL kickers don't stand a chance against the Highmark Stadium home team, the Buffalo Bills. However, you can enjoy a Buffalo Bills home game in comfort when you purchase a private suite inside Highmark Stadium.
In Buffalo's frigid weather, football's best compete year after year in the elements and you can be a part of it from the comfort of a luxury suite. Highmark Stadium suites are climate-controlled with excellent sightlines of the field. This stadium is full of history and you can feel like you own a little piece of it with your private suite.
SuiteHop has the most access to private suites inside Highmark Stadium for Buffalo Bills football games and concerts. Invite friends, family, or clients to enjoy the suite life with you. SuiteHop can guide you through the whole process with their expert knowledge of in-suite events and venues.
How much do suites at Highmark Stadium cost?
$15,000 -$25,000
The price of Highmark Stadium suites is determined by matchup and location in the stadium. Private suites are available for all home games and events with pricing starting at $15,000 and may cost as much as $25,000.
Amenities: Climate-controlled interior, HDTV and Wi-Fi, suite attendant for optional in-suite catering, access to buy VIP parking, private entry into New Era Field, concierge services, access to the private club areas.
Total Suites at Highmark Stadium: 121
Suite Capacity: 20 guests
| Low Range | Location | High Range |
| --- | --- | --- |
| $15,000 | Upper-Level Suites | $20,000 |
| $16,000 | Lower-Level Suites | $25,000 |
Private Suites
Host the perfect party, meeting, or get together in a private Highmark Stadium Suite
Purchasing a Highmark Stadium suite is a great way to celebrate a birthday, impress clients, or just gather with your fellow Buffalo Bills fans. Highmark Stadium Suites are luxuriously appointed and give you climate-controlled, private spaces to gather. Even in the middle of a Buffalo snowstorm, your guests will comfortably watch the Bills battle it out with great views of the field.
SuiteHop is here to help you plan your event in a Highmark Stadium suite with their expertise and exclusive access to this venue. A party or event in a suite lets you connect with a group of about twenty fellow fans with perks like in-suite catering, VIP parking, and private entry that give you a break from the crowd.
Private suites are available for parties of up to 20 guests.
What are the options?
Luxury Suites
With over 120 private suites to choose from in Highmark Stadium, you are sure to be able to plan your dream event here. Each suite is luxuriously appointed and climate-controlled. If you want an open-air experience, suites include full-sized windows that can be opened and closed at your discretion.
You have access to concierge services and a dedicated suite attendant. Each suite has HDTVs to keep you up plugged in. Catering can be ordered in advance to be served in-suite so you never have to leave and wait in line for anything. Enjoy VIP entry to the stadium and VIP parking upon arrival. There are private club areas in the stadium and Highmark Stadium suite ticket holders can enjoy those areas as well.
Stadium FAQ
All about the suites at Highmark Stadium
Highmark Stadium, home of the Buffalo Bills, has welcomed football fans since 1973. This stadium is well known for the harsh conditions on the players, making private suites the perfect way to enjoy the game. The weather can get cold, wet, and windy in this open-air stadium. If you book a suite, you and your guests are comfortable no matter what.
The winds from nearby Lake Erie add a unique challenge to the game even for the best professionals. Formerly Ralph Wilson Stadium then changed to New Era Field, and now as Highmark Stadium, more than the name has changed. Highmark Stadium underwent renovations that were completed in 2017. With new HD video boards, new concession options, scoreboards, and redesigned areas like the entrance gates, Highmark Stadium is a pleasure to visit.
Fans fill the over 71,000 seats for Buffalo Bills home games and the occasional concert. You and your guests will have privacy in the middle of the excitement in your premium seating with all the perks!
How many suites are available to rent at Highmark Stadium?
New Era Field has 121 private luxury suites.
Why should I book my Highmark Stadium suite with SuiteHop?
SuiteHop is an online marketplace providing the most comprehensive details and availability for Highmark Stadium events. With real-time pricing and high attention to customer service, SuiteHop's suite experts will help you from booking your suite all the way through ordering catering for your event. We can even provide a SuiteHop concierge to assist with day-of-game logistics at your suite event!
What is included in a suite at Highmark Stadium?
At Highmark Stadium, you and your guests will be comfortable and pampered in one of the private suites available for Buffalo Bills home games other events. The private climate-controlled area is spacious and has room for a group of twenty. Each suite is equipped with HDTVs. You will have a dedicated suite attendant and concierge services.
How do I get to the suite level at Highmark Stadium?
Use one of the suite holder entrances to enter the stadium. Those VIP entrances are all around so you can choose the one closest to your Highmark Stadium Suite. Suites are located throughout two levels in the stadium. There are Club and Suite entrances around the stadium.
When do suites open for access?
Highmark Stadium suites open two hours prior to kickoff and you can stay in your suite for up to 90 minutes after the end of the game.
Where is Highmark Stadium?
The address for New Era Field is 1 Bills Dr, Orchard Park, NY 14127
Where should I park at Highmark Stadium?
If your suite purchase includes a limited number of VIP Parking passes, the Preferred parking is in Lot 1.

For other guests needing to park without a parking pass, there are other lots with paid parking available. They open four hours before kickoff. All spaces are first come first served.

Traffic is very heavy going to and from events. Plan for extra time to arrive and expect some delay when you are leaving your event.

If you want to take public transportation, we recommend using Moovit to plan a trip to and from New Era Field by bus.
Catering
Highmark Stadium Catering Explained
Gourmet catering is available to order in all Highmark Stadium suites. Delaware North Sportservice is the exclusive caterer for Highmark Stadium and the menu choices do not disappoint. Catering is not included in the cost of your suite rental.
If you want classic football game food, they've got you covered. If you desire something a little more unexpected, you can do that as well. Choose from a la carte options for every course or just order snacks and drinks, the preset menus are crowd-pleasers.
Beverages are available by the 6 pack or choose a package. The Premium Bar Package is a splurge that your guests will love.
You choose what you want to be served based on the type of gathering you are planning in your private suite. Don't miss out on this perk. In-suite catering is the detail that will really allow your event in a Highmark Stadium suite to stand out. You and your guests never wait in line for food or drinks so you don't miss an instant of the game or event. In-suite catering allows you to enjoy what you came to enjoy!

Your SuiteHop customer service expert will assist you with placing the best order for your group. If you choose to skip the in-suite catering, you and your guests will have plenty of options throughout Highmark Stadium for concessions.
Estimated Highmark Stadium Suite Catering Costs
| Options | Pricing |
| --- | --- |
| Full meal with drinks | $75 - $150 per guest |
| Snacks with beer & wine | $30 - $60 per guest |
| Beer & wine alone | $25 - $40 per guest |
SuiteHop Recommended Suite Catering Menu
Feeds 20 guests
Kettle Chips and French Onion Dip

Yancey's Fancy Artisan Cheese and Charcuterie

Duff's Famous Wings

Dinosaur Bar-B-Que Pulled Pork Sliders

Sahlen's Hot Dogs

Fresh Baked Cookies

12 Non-Alcoholic Beverages

24 Assorted Beers
This menu is based on New Era Field Suite Catering offerings. Items are subject to availability. 
Pro tip: To lower waste, we recommend ordering fewer beverages upfront. Watch what your guests are consuming and reorder accordingly.
Learn more about Highmark Stadium catering.