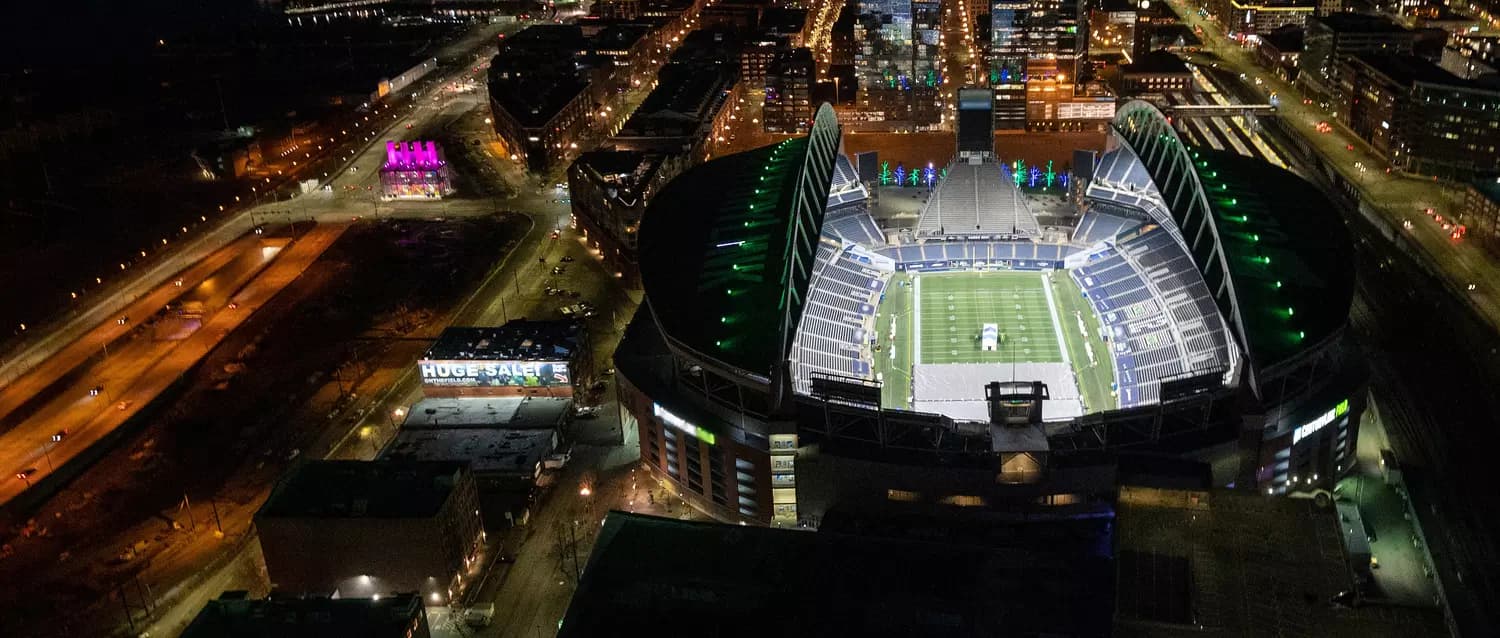 Lumen Field
Suites & Premium Seating
Venue Info
Lumen Field
800 Occidental Ave S
Seattle, WA
Get Updates
Sign up for our newsletter with offers, updates and featured events at Lumen Field.
Suite Pricing
Lumen Field Suite Pricing and Amenities
Lumen Field is a multi-purpose stadium located in the heart of Seattle, Washington. It is home to the NFL's Seattle Seahawks and the MLS's Seattle Sounders. In addition to the football and soccer action, fans fill up the stands and suites for the most popular concert tours and other entertainment events.
The private suites in Lumen Field give sports and entertainment fans the best in luxury and excitement. When you work with SuiteHop to purchase a private suite you know you are benefitting from their exclusive access to the suites you desire. Plan a party or event in a private suite at Lumen Field for an experience that you and your guests will never forget.
How much do suites at Lumen Field cost?
$25,000 -$40,000

The price of Lumen Field Suites suites varies based on the matchup, event, and location in the stadium. Private suites are available for all home games and events with pricing starting at $25,000 and may cost as much as $40,000.

Amenities: Indoor and outdoor private seating, in-suite catering available, VIP parking, and VIP entry into the stadium.
Total Suites at Lumen Field: 112
Suite Capacity: 18-50 guests
Low Range

Location

High Range

$25,000

Luxury Suites

 Below 300 level

$35,000

$25,000

Club Level Suites

Above 200 level

$38,000

$25,000

Red Zone Suites

End zone view

$40,000
Private Suites
Host the perfect party, meeting, or get together in a private Lumen Field Suite
Lumen Field is the premier sports and entertainment destination in the pacific northwest. Enjoy a game, concert, or event here with all the benefits of a private suite. You and your guests receive VIP treatment as you enter the stadium through the private VIP entrance.
With access to private clubs inside and available in-suite catering, you won't be waiting in line for concessions. Private suites in Lumen Field are ideal for parties or business gatherings because you can enjoy socializing as a group in a private space. You and your guests connect through the fun of your event all while being treated like VIPs.
Private suites are available for parties of 12 to 30 guests.
What are the options?
Luxury Suites
The Luxury suites found all around Lumen Field, are just above the Club Level suites. Here you can cheer on the Seahawks or enjoy your favorite band in the comfort of your own space. With indoor and outdoor seating and optional in-suite catering, you will quickly see why these are called "luxury suites." Your suite attendant ensures everything runs smoothly throughout your event. You and your guests are given special treatment upon arrival with VIP entrance into Lumen Field. Stay connected to everything with HDTVs and Wi-Fi in the suite. You and your guests can also enjoy the private VIP lounges.
Club Level Suites
Get a fantastic view of all the action on Lumen Field from the Club Level Suites. Located just above the 200 level seats, your suite allows you to see everything from a private space while still feeling close to the action. You really are right in the middle of it all. Choose from suites on both sides of the stadium as well as the southwest end of the field. Enjoy amenities like VIP entry, suite attendants, private restrooms, in-suite catering, and more. There are HDTVs and Wi-Fi in the suite so you stay connected in more ways than one. With in-suite catering, you never have to leave your suite but if you want to, you have exclusive access to VIP lounges.
Red Zone Suites
The Red Zone suites are the closest suites to the field. They are located front and center in the red zone with nothing between you and the field. You get all the benefits of a suite like catering and comfortable seating in your own private space but you are right on the field. The VIP lounges in Lumen Field are open to Red Zone Suite guests. These suites are for groups of 14-18 fans.
Stadium FAQ
All about the suites at Lumen Field
Lumen Field is a famous stadium that the Seattle Seahawks and Seattle Sounders call home. The crowds here get loud! In fact, Lumen Field was recognized by the Guinness Book of World Records twice for breaking the crowd noise level record. This crowd noise is actually an advantage to the home teams and something every sports fan should experience.
Lumen Field opened in 2002 and welcomes 69,000 fans for football games and 39,419 for soccer games. Because this stadium had to fit on a smaller piece of property than most, the seating was designed to give a better view even from the top. In addition to the action on the field, fans can see Mount Rainier to the southeast.
A visit here is a great way to take in the sights of Seattle. With wide concourses and lots of dining options, this stadium is more comfortable for all fans. Enjoying any of the events in Lumen Field from a private suite allows you to be a part of the unique experience this stadium provides all while enjoying luxurious amenities and perks.
How many suites are available at Lumen Field?
Lumen Field has 112 suites available on three different levels.
Why should I book my Lumen Field suite with SuiteHop?
SuiteHop is an online marketplace providing the most comprehensive details and availability for Lumen Field events. With real-time pricing and high attention to customer service, SuiteHop's suite experts will help you from booking your suite all the way through ordering catering for your event.
What is included in a suite at Lumen Field?
If you want a premium experience at Lumen Field, all three types of suites will provide that. No matter which suite you choose, your view will be ideal. Nothing will come between you and the game or concert. Enjoy in-suite catering if you choose. Suite attendants are on staff to take care of your needs during the game. There are even private restrooms for suite guests! Every suite is appointed with high-end furnishings and if suite guests do want to leave the suite they have access to exclusive VIP clubs on site.
How do I get to the suite level at Lumen Field?
Lumen Field has four VIP entrances. You simply enter through the VIP entrance closest to your suite.
When do suites open for access?
Normally suites open at least 2 hours prior to the event start time.
Where should I park at Lumen Field?
Lumen Field is located at 800 Occidental Ave S, Seattle, WA 98134.

For those guests using a VIP parking pass, refer to your pass for the correct parking garage for your reserved spot.

In addition to the reserved spots on the property, there are many parking garages near Lumen Field. SpotHero lets you find parking before you arrive saving you from the hassle of searching for a spot.

Lumen Field is located south of downtown Seattle. Traffic will be heavy before and after games and events. If an event is starting during normal commuting hours, traffic will be even heavier. You are already driving in a busy metropolitan area and a large number of people commuting to and from the stadium always causes a slowdown.

Public transportation is a great option. You can take a bus, train, or ferry. The Sounder Train and Link Light Rail have stations near the stadium. Amtrak Cascades has a station right next to Lumen Field. F
If you have a car dropping you off for your event, the passenger drop-off location is at the intersection of Railroad Way S. at Occidental Ave. (across from the Lumen Field Pro Shop), which can be accessed from 1st Ave. S.

If you prefer to use a rideshare service, Uber is the preferred rideshare program of Lumen Field. Just be sure you are not inside the stadium when you request your Uber. You need to be outside where a car can actually pick you up.
Catering
Lumen Field Catering Explained
Fans who have enjoyed an event from a Lumen Field suite will tell you that one of the nicest things about the Suite Life is having in-suite catering. You never miss a second of the action by waiting in line for food. Gourmet snacks, meals, and beverages can all be served right in your suite. First & Goal Hospitality is a local Seattle company that provides catering for private suites in Lumen Field. They combine local flavors and ingredients to create a culinary experience in your suite that will blow you away.
Choose from packages designed by their famous chefs or create your own menu from the a la carte options. Dietary restrictions and allergies can be handled and all you and your guests have to do is relax and enjoy your event without ever leaving the suite.
Catering is an additional cost and your SuiteHop customer service expert will assist you with placing the best order for your group. Catering is not required and Lumen Field does have bars and restaurants where your guests can grab drinks, snacks, or a meal.
Learn more about Lumen Field catering.
Estimated Lumen Field Suite Catering Costs
| Options | Pricing |
| --- | --- |
| Full meal with drinks | $100 - $150 per guest |
| Snacks with beer & wine | $50 - $100 per guest |
| Beer & wine alone | $25 - $50 per guest |
SuiteHop Recommended Suite Catering Menu
Feeds 20 guests
Popcorn

Pasta Salad

Crispy Chicken Wings

Eisenberg Hot Dogs

Chicken Club Sandwiches

Cookie and Brownie Tray

12 non-alcoholic beverages

24 assorted beers
This menu is based on Lumen Field Suite Catering offerings. Items are subject to availability. 

Pro tip: To lower waste, we recommend ordering fewer beverages upfront. Watch what your guests are consuming and reorder accordingly.