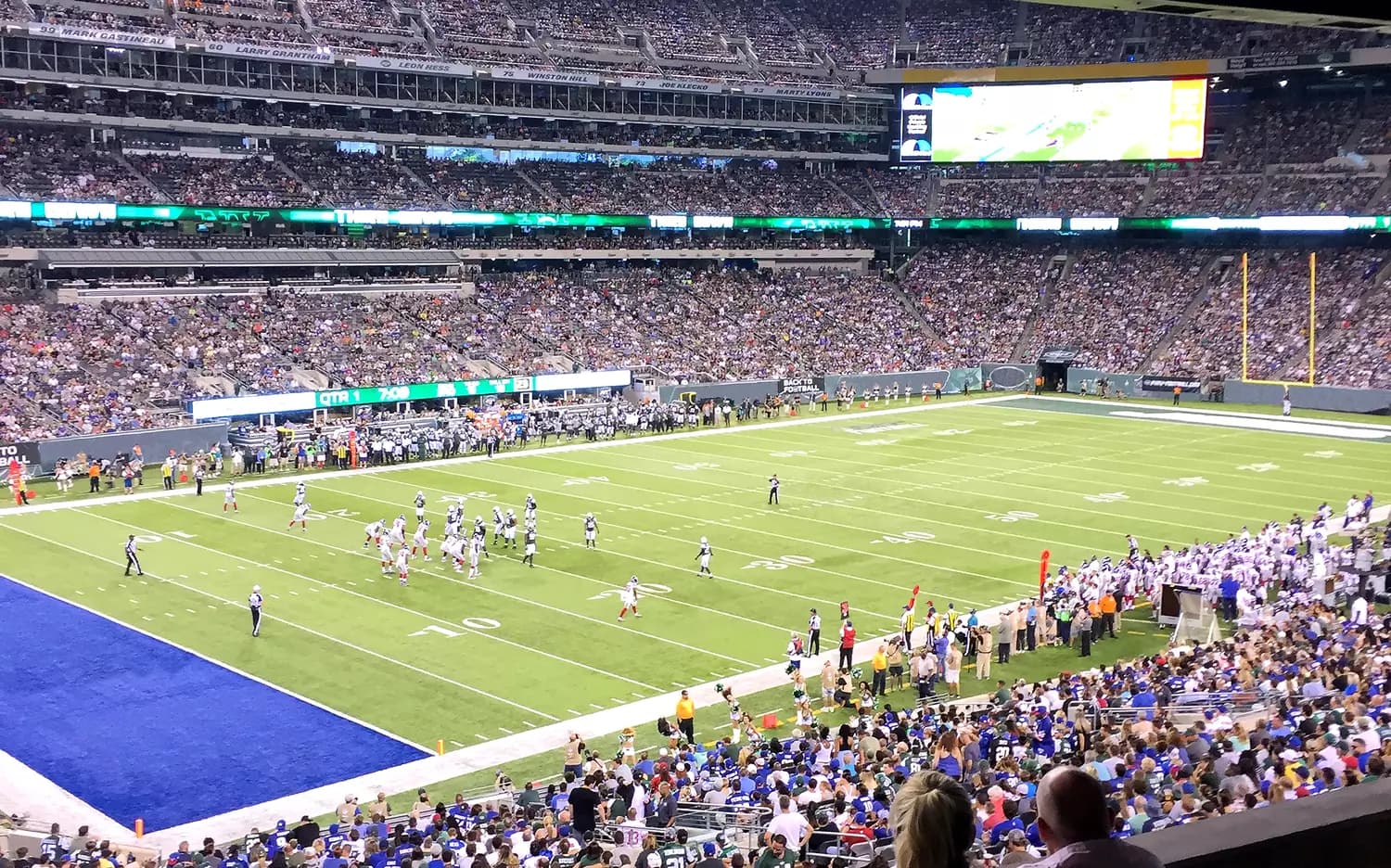 MetLife Stadium
Suites & Premium Seating
Venue Info
MetLife Stadium
102 Route 120
East Rutherford, NJ
Get Updates
Sign up for our newsletter with offers, updates and featured events at MetLife Stadium.
Photos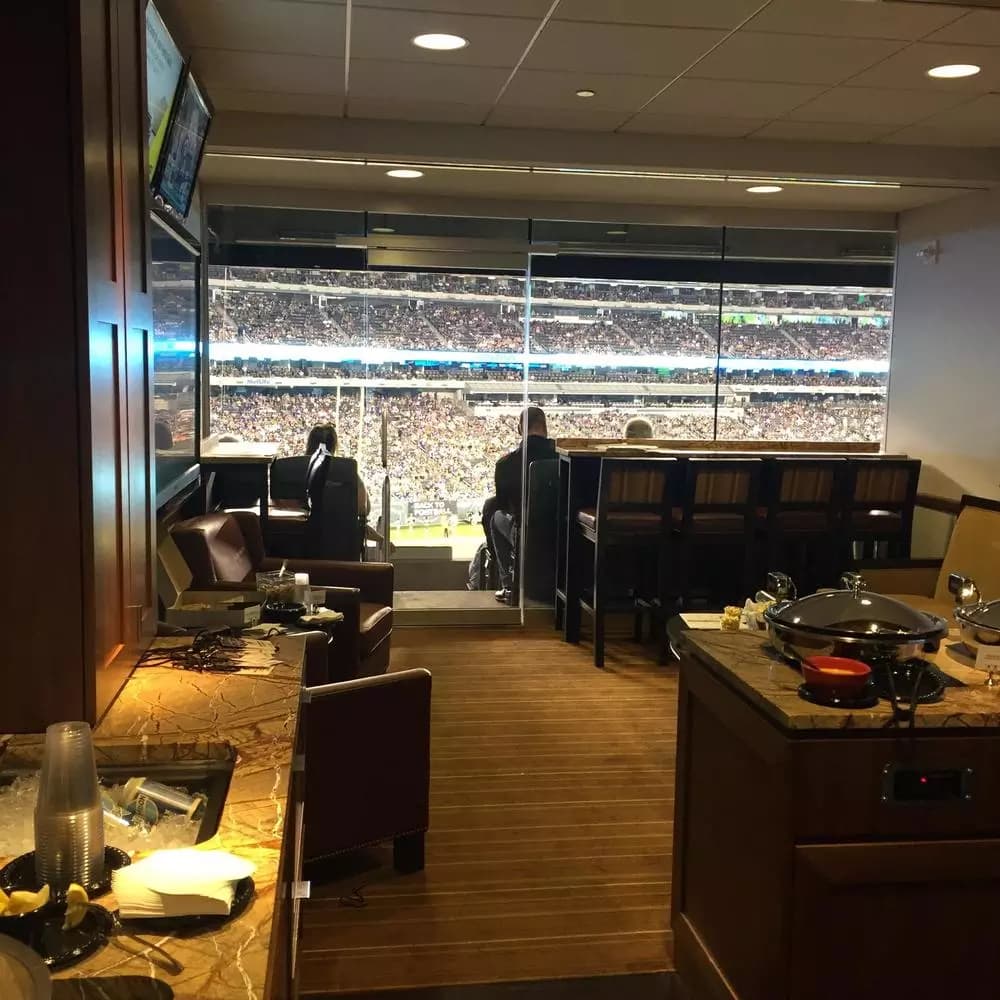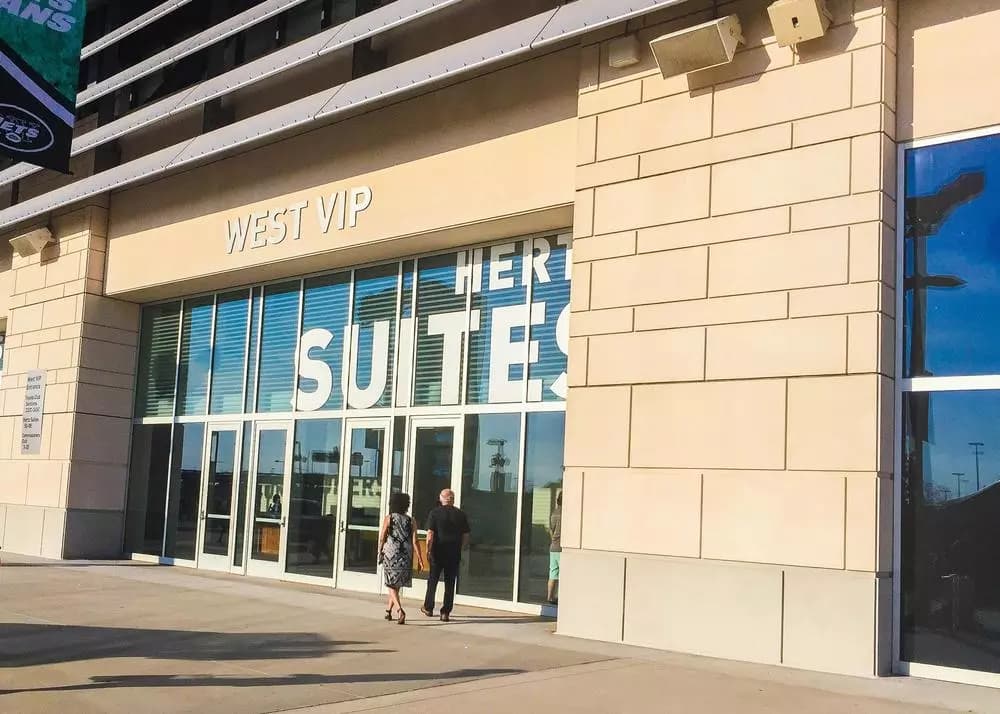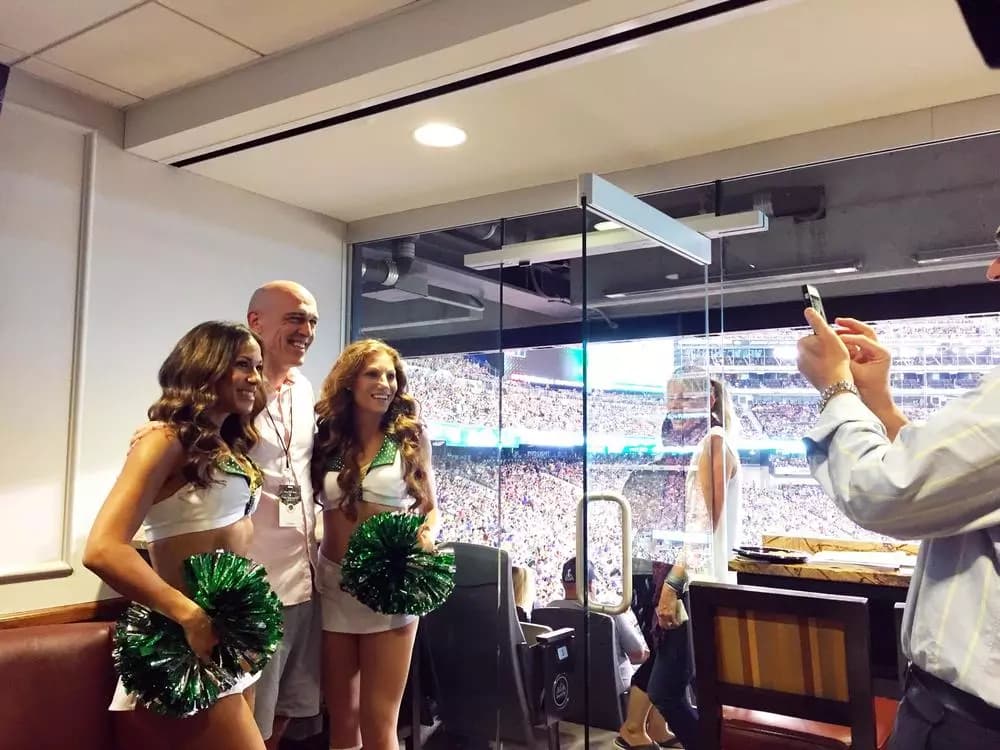 Suite Pricing
MetLife Stadium Suite Pricing and Amenities
MetLife Stadium is home to the New York Giants and the New York Jets and a premier sports and entertainment venue. The biggest names in entertainment stop here, many for more than one night. The stadium is consistently filled with fans expecting the best experience and MetLife Stadium always delivers.
MetLife Stadium combines the best in modern entertainment technology with a classic feel that makes it a pleasure to attend an event here. If you are looking for a premium experience at MetLife Stadium, purchase a private suite from SuiteHop for your desired event.
With world-class amenities, you will feel like a true VIP throughout your entire visit in a suite. A MetLife Stadium Suites are the ideal environment for a party or business gathering and SuiteHop's experienced experts can assist you with setting up your dream experience.
How much do suites at MetLife Stadium cost?
$15,000 -$40,000

The price of MetLife Stadium Suites suites varies based on matchup, event, and location in the stadium. Private suites are available for all home games and events with pricing starting at $15,000 and may cost as much as $40,000.
Amenities: Indoor and outdoor private seating, in-suite catering available, VIP parking, and entry into the stadium
Total Suites at MetLife Stadium: 230+ Suites
Suite Capacity: 12-30 guests
| Low Range | Location | High Range |
| --- | --- | --- |
| $15,000 | President's Circle Suites | $22,000 |
| $15,000 | Five Star Suites | $30,000 |
| $15,000 | Gold Plus Rewards Suites | $35,000 |
| $20,000 | Commissioner's Club Suites | $40,000 |
Private Suites
Host the perfect party, meeting, or get together in a private MetLife Stadium Suite
MetLife Stadium is the most in-demand venue for exciting NFL football and mind-blowing concerts and events. Don't miss out on a chance to experience the action from the luxury of a private suite.
Impress clients, celebrate with friends, or treat your employees to an unforgettable night in a luxurious suite in the greatest city in the world! With panoramic views, you feel like you are on top of the world from MetLife Stadium.
Private suites are available for parties of 12 to 30 guests.
What are the options?
President's Circle Suites
Located just above the 100 level seating, the President's Circle suites get you close to the field with the benefit of privacy and indoor and outdoor seating. There are 60 President's Circle Suites available in slightly different sizes across the east and west sides of MetLife Stadium. Suites include 24 seats with the option of adding 6 standing-room-only tickets. You enter the stadium through a VIP entrance. Guests use private restrooms on the suite level. Each suite has a wet bar and refrigerator and in-suite dining is available.
Five Star Suites
If you want a panoramic view right in the middle of MetLife Stadium, the Five Star suites are perfect. Situated just above the 200 level seats, you are in the center of it all. With interior and exterior private areas, you and your guests can cheer on your team or sing along to your favorite artist in your own space. At an additional cost, order gourmet catering to be served in-suite to complete the true suite experience. Your interior lounge-like space has a wet bar and refrigerator. There are also HDTVs and WiFi. When you arrive at MetLife Stadium you'll enter through a VIP entrance and head directly to your event space.
Gold Plus Rewards Suites
Gold Plus Rewards Suites are best suited for groups of 18-24 guests and are located between the 200 and 300 level seating. Gold Plus Rewards guests enjoy a wet bar and refrigerator in the suite. All seats in these suites are interior and climate-controlled. Sweeping views allow you to take in every moment of your game or event. Order in-suite catering and drinks and you never have to leave your suite when you get hungry! The Gold Plus Rewards suite level includes restrooms for suite guests only.
Commissioners Club Suites
You know you have arrived when you walk into your Commissioners Club Suite in MetLife Stadium. This is the exclusive experience at its finest. Entertain groups of up to 20 people in one of these suites located directly behind the 100 level seats, only 32 rows off the field, 50-yard line. These suites feature the fabulous perk of being connected to the Commissioner's Club which is an all-inclusive club in MetLife Stadium. Eat, drink, and be merry here all night long. The club and your suite are upscale and swanky. Private entry into the stadium and a suite attendant are included.
Stadium FAQ
All about the suites at MetLife Stadium
MetLife Stadium is located in East Rutherford, New Jersey, right outside of New York City. Two NFL teams call this stadium home, the New York Jets and the New York Giants.
MetLife Stadium is massive with seating for 82,500 and is designed with fans of both football teams in mind. The famous skyscrapers of New York were also an inspiration in the design of this stadium, giving it an iconic look.
Since opening in 2010, fans have been filling up the stands here for every game or event. The first concert at MetLife Stadium was New Jersey's own, Bon Jovi, and the most popular acts book more than one night here due to the popularity of their shows in this state-of-the-art, open-air stadium. MetLife Stadium has also hosted the Super Bowl in 2014.
The premium seating options at MetLife Stadium include luxurious seating with fantastic amenities and once you enjoy a football game or event from a private suite, you will never want to experience MetLife Stadium the same way again.
How many suites are available to rent at MetLife Stadium?
MetLife Stadium has over 230 suites on three levels.
Why should I book my MetLife Stadium suite with SuiteHop?
SuiteHop is an online marketplace providing the most comprehensive details and availability for MetLife Stadium events. With real-time pricing and high attention to customer service, SuiteHop's suite experts will help you from booking your suite all the way through ordering catering for your event.
What is included in a suite at MetLife Stadium?
If you want a premium experience at MetLife Stadium, there are over 200 suites to choose from. All suites have perfect views and there are lots of locations throughout the stadium to choose from with suites on three levels of the stadium. All suites are luxuriously outfitted with plush seating. You and your guests will feel pampered with suite attendants, VIP entry into the stadium, optional in-suite catering, access to buy VIP parking, and more.
How do I get to the suite level at MetLife Stadium?
There is an East VIP entrance and a West VIP Entrance at MetLife Stadium. You enter on the side where your suite is located.
When do suites open for access?
Normally suites open 2 hours prior to the event start time.
Where is MetLife Stadium Located?
MetLife Stadium is located at 1 MetLife Stadium Dr, East Rutherford, NJ 07073.
Where should I park for an event or game at MetLife Stadium?
For guests using a VIP parking pass, you can park in the private lots labeled Lots E, F, or G. Parking lots open 5 hours before the start of an event.
If you book a limousine or taxi to bring you to your event, the drop-off area is between parking lots E and D.

Guests without a VIP parking pass can purchase passes ahead of time from the NFL Ticket Exchange. All parking on MetLife Stadium property requires a parking pass to be purchased in advance.

Traffic will be heavy before and after games and events at MetLife Stadium. You are already driving in a busy metropolitan area and a large number of people commuting to and from the stadium always causes a slowdown.

Public transportation is a great option. The Meadowlands Rail Service drops you off directly at MetLife Stadium. There is a park and ride option that leaves from the Frank R. Lautenberg Train Station in Secaucus, NJ.

If you prefer to use a rideshare service, Uber is the preferred rideshare program of MetLife Stadium. There is a large drop-off and pick-up zone for Uber off of parking lot E off of West Peripheral Road, right outside of the Verizon Gate.
Catering
MetLife Stadium Catering Explained
One of the best perks of purchasing a suite in MetLife Stadium is having all your dining needs brought to you in your suite. Delaware North Sportservice provides gourmet catering in these suites and will help you design the perfect menu to please your guests throughout your event.
We recommend choosing one of the catering packages put together by Delaware North's award-winning chefs. If you have something specific in mind, you can create a custom menu with a wide array of choices from decadent options like a raw bar to stadium classics.
MetLife Stadium catering is anything but ordinary and even the pickiest foodie will be impressed with the service in the luxury suites. Beverages are available for purchase by the 6 pack, case, or bottle. There are also specialty cocktail packages like the All-Pro Bar that feature a variety of top-shelf spirits and mixers.
Catering is an additional cost and your SuiteHop customer service expert will assist you with placing the best order for your group. Catering is not required. MetLife Stadium has many bars, restaurants, and concessions where your guests can grab drinks, snacks, or a meal and bring back to the suite to enjoy.
Estimated MetLife Stadium Suite Catering Costs
| Options | Pricing |
| --- | --- |
| Full meal with drinks | $125 - $175 per guest |
| Snacks with beer & wine | $75 - $100 per guest |
| Beer & wine alone | $50 - $75 per guest |
SuiteHop Recommended Suite Catering Menu
Feeds 20 guests
Classic Popcorn

Soft Pretzels

Layer Dip

Chicken Tenders

Potato Salad

BBQ Pulled Pork

Thumann's Hot Dogs

Gourmet Chocolate Chip Cookies

12 non-alcoholic beverages

24 assorted beers
This menu is based on MetLife Stadium Suite Catering offerings. Items are subject to availability. 

Pro tip: To lower waste, we recommend ordering fewer beverages upfront. Watch what your guests are consuming and reorder accordingly.
Learn more about MetLife Stadium catering.