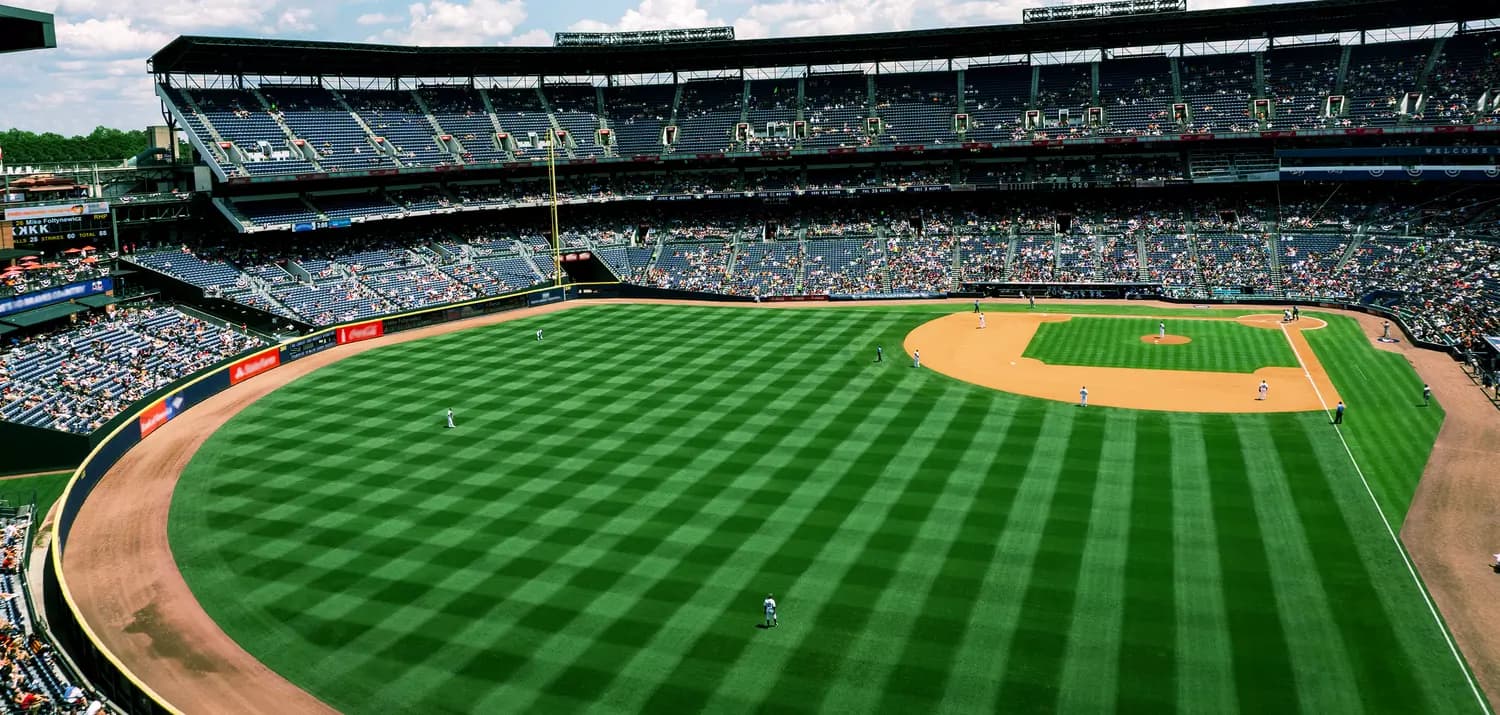 Truist Park
Suites & Premium Seating
Venue Info
Truist Park
755 Battery Avenue Southeast
Atlanta, GA
Get Updates
Sign up for our newsletter with offers, updates and featured events at Truist Park.
Pricing
Truist Park Suite & Club Pricing and Amenities
If you're looking for a more comfortable and luxurious MLB game-day experience, the Atlanta Braves offer suites and club seats at Truist Park. With modern amenities and a great location in downtown Atlanta, these premium tickets are perfect for hosting clients, coworkers, or friends and family.
How much do suites & club seats at Truist Park cost?
Truist Park suites range from $5,800 to $12,000 per private suite. Club seats at Truist Park will range from $100 per ticket to $1,000 per ticket.
The price of Truist Park suites and clubs varies based on the matchup, location in the stadium, the type of seating option, and the services requested.
Suite Amenities: VIP Parking, Premium Catering, Concierge Service, and more

Total Suites at SunTrust Park: 46 Premium Suites

Suite Capacity: 12-52 guests
Low Range

Location

High Range

$10,000

Championship Suites
Lower Level; closest suite to the field

$12,000

$7,000

Infiniti Suites
Terrace Level/Xfinity Level; Third Baseline

$9,000

$5,800

Party Suites
Above 200 Level; Overlooking the Right Field

$12,000

$550 /Ticket

Truist Club
Section 1-9; Directly behind Home Plate

$1,000 /Ticket

$250 /Ticket

Chairman Seats
Section 22-30; Behind Truist Club

$800 /Ticket

$200 /Ticket

Executive Seats
Sections 122-130; behind Chairman Seats

$700 /Ticket

$100 /Ticket

Infinity Club Seats
200 Level; Sections 220-231

$500 /Ticket

$150 /Ticket

Infinity Tables
200 Level/Terrace Level

$500 /Ticket
Premium Seating
Host an event in a Truist Park suite
Looking to experience the best seats at Truist Park (formally SunTrust Park) with a group of friends, family,  or coworkers? SuiteHop has exclusive access to the premiere private suite and exclusive club experiences in Atlanta
Private suites are available for parties of 12-52 guests. SuiteHop recommends booking club seats at Trust Park for parties of 2-8 guests.
Truist Park Suite Options
Championship Suites
$10,000 - $12,000 | 20 - 24 Guests
The Championship Level Suites at Truist Park (formally SunTrust Park) get you as close to the action as possible. These Truist Park suites provide you with the closest view behind the dugout and the best opportunities to get in on the game. To get to the Championship Suites, locate one of the two Championship Suite access doors on the Lower Level. These access doors will be located within the Monument Garden near home plate. Once inside, you will be asked to provide your ticket and escorted to your suite.
HDTVs

Luxurious, comfortable outdoor seating

In-suite catering is available for purchase

VIP Parking Passes (depending on specific listings)
Infiniti Suites
$7,000 - $9,000 | 20 - 24 Guests
Infiniti Level Suites are located on the 200 Level, also known as the Terrace Level of Truist Park. To find your Infinity Suites; take the elevators near section 122 or 130 on the Lower Level to the Terrace Level. Once on the Terrace Level, move toward the third baseline to find your suite.
Amazing sightlines of the entire Truist Park diamond

Option to purchase additional SRO (Standing Room Only) tickets

HDTVs

Wet bar

Kitchenette

Indoor & Outdoor seating options

In-suite catering available to purchase

Retractable windows
Party Suites
$5,800 - $12,000 | 20-229 Guests
If you have a large party of 24 or more Atlanta Braves fans, Truist Park party suites are the way to go. These suites can hold 24 to 52 people, with the option of combining two or more suites for a total capacity of 229. If you plan to use a party suite at Truist Park for a corporate event, you have the option to rent the conference room prior to the game or event. Guests with party suite tickets will take the escalator near Guests Services/Section 111 to the Terrace Level. They will find glass doors behind section 213 where they will present their tickets and enter to find their exact party suite.
Upscale decor

Plenty of space to mingle

Indoor & outdoor seating

65' HDTVs

In-suite catering options to fit all party sizes and needs
Truist Park Club Seating Options
Truist Club
$550 Per Ticket - $1,000 Per Ticket
Truist Club seats at Truist Park are the closest seats to home plate than anywhere else in the stadium. Located within rows 1-9 behind home plate, there are only 80 seats in the exclusive club. Within the Truist Club Lounge, you and your guests will find all-inclusive food and beverage options with a carving station, fresh charcuterie, seafood options, and a full bar. Because of the premium amenities and location within Truist Park, these seats are in very high demand.
Extra-wide, plush leather seats

In-seat food & beverages service

Club access: Delta Sky360 Club, Truist Club Lounge, Infinity Club
Chairman Seats
$250 Per Ticket - $800 Per Ticket
Chairman Seats are located directly behind the Truist Club seats within sections 22-30. Guests with Chairman Seat tickets can enjoy amazing views of the field below. For those who need a break from the hot Atlanta heat, Chairman Seat ticket holders have access to the climate-controlled Delta Sky360 Club Lounge with world-class food and beverage options.
Extra-wide, padded seats

In-seat food & beverage service

Club access: Delta Sky360 Club Lounge
Infinity Club Seats & Tables
$100 Per Ticket - $500 Per Ticket
The Infinity Club within Truist Park is located on the 200 Level/Terrace Level behind the Chairman Seats in sections 220-231. There are 88 half-moon-shaped four-top Infinity Tables/Terrace Tables which are comparable to mid-level loge boxes. Both the Infinity Club Seats & Tables offer guests access to the climate-controlled Terrace Club Lounge with upscale food options, multiple full-service bars, and traditional ballpark grab-and-go favorites.
Padded seating

Amazing views from behind home plate

Four-top tables

climate-controlled

upscale food & beverage options

multiple full-service bars

Traditional ballpark grab-and-go favorites
Stadium FAQ
The answers to your top Truist Park premium seating questions
Truist Park opened in 2017 as SunTrust Park and is home to the Atlanta Braves. This MLB stadium is a combination of the classic ballpark feel with modern, upscale amenities.
Truist Park seats 41,000 guests and is considered one of the more intimate MLB ballparks. Each seat has amazing sightlines and fans are thrilled by the modernness of the stadium. Truist Park makes experiencing a baseball game that much more comfortable and enjoyable.
How many Truist Park suites are available?
Truist Park has 46 suites that allow for 12-52 guests to enjoy the Atlanta Braves.
Why should I book premium tickets at Truist Park with SuiteHop?
SuiteHop is an online marketplace providing the most comprehensive details and availability for all your Truist Park events. With real-time pricing and high attention to customer service, SuiteHop's suites & club seat experts will help you from booking your premium seats all the way through ordering catering for your event.
How do I get to Truist Park?
Truist Park is located at 755 Battery Avenue SE, Atlanta, GA 30339. Traffic in Atlanta can be cumbersome, especially during game days and rush hour. In order to alleviate traffic congestion and to ride safely, there are several public and private transportation options for those attending an Atlanta Braves game:
Uber - Uber is the official ride-sharing partner of Truist Park. The pickup and drop-off zone at Windy Ridge Parkway makes for easy access to and from the ballpark.
CobbLinc - The CobbLinc bus line takes you just a 4 to 10-minute walk away from Truist Park.
MARTA - There are several MARTA stops that are a 15-minute car ride away from Truist Park. You can either call an Uber or other car service or take the CobbLinc bus to the stadium.
Where should I park for an event or game at Truist Park?
There are several options for parking at Truist Park.
Truist Park suggests purchasing parking prior to your arrival. Contact your Suite Expert to assist in purchasing your parking passes in advance.
General Parking Day of Event: $10 for A-List Members, $18 for single-game ticket holders
RV and Oversized Vehicles: $20-$30 depending on the lot.
Another great option for parking is Murph's restaurant which is a short walk to the ballpark and parking is cheap and or free when you eat at Murph's before the game. 
Catering
Truist Park Catering Explained
Suite catering for all Truist Park suites is available to order through Deleware North. Day-of-order options are available but offer a more selected menu. Catering is an additional cost for suite events. Your SuiteHop Customer Service Expert will be able to assist you in the perfect catering package and assist in ordering.
In-suite catering is not necessary for every suite event and is not offered for club seats. There are many concessions throughout Truist Park where your guests can pick up their food and drinks and bring them back into the suite to enjoy. Truist Park club ticket holder has access to many exclusive clubs throughout the stadium like the Infinity Club with upscale dining options.
Estimated Truist Park Suite Catering Costs
| Options | Pricing |
| --- | --- |
| Full meal with drinks | $75 - $150 per guest |
| Snacks with beer & wine | $40 - $75 per guest |
| Beer & wine alone | $25 - $50 per guest |
Recommended Truist Park Suite Catering Menu
Feeds 20 guests
Classic Popcorn

Chips and Dip

Farmers Market Crudites

Texas Chili Hot Dogs

Pulled Pork Sliders

Tiff's Treats Warm Cookie Experience

12 non-alcoholic beverages

24 assorted beers

1-2 Bottles of Wine
This menu is based on recommended items SuiteHop customers typically order at Truist Park. Items are subject to availability. 

Pro tip: To lower waste, we recommend ordering fewer beverages upfront. Watch what your guests are consuming and reorder accordingly.
Learn more about in-suite catering at Truist Park.