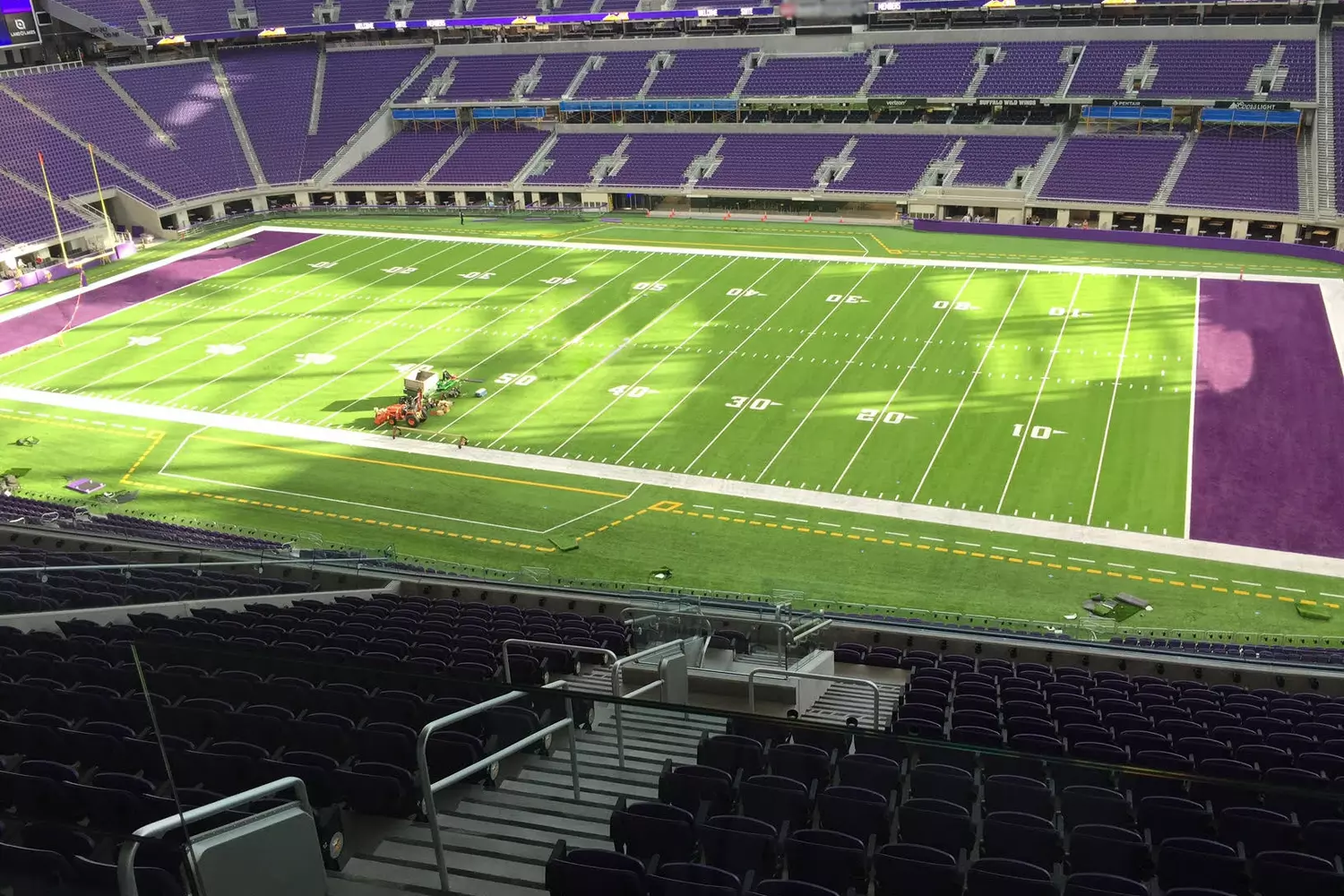 US Bank Stadium
Suites & Premium Seating
Venue Info
US Bank Stadium
401 Chicago Avenue
Minneapolis, MN
Get Updates
Sign up for our newsletter with offers, updates and featured events at US Bank Stadium.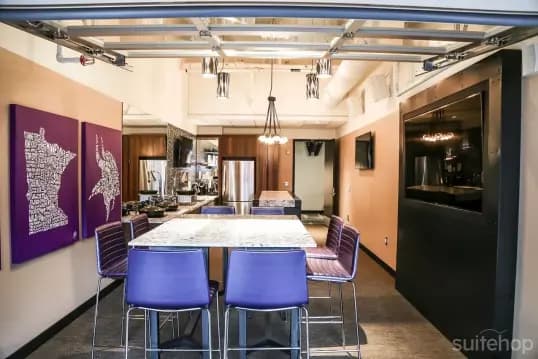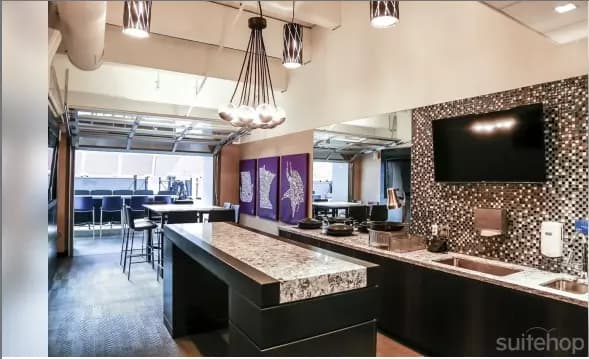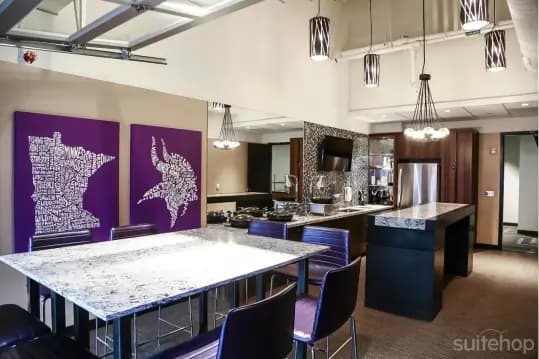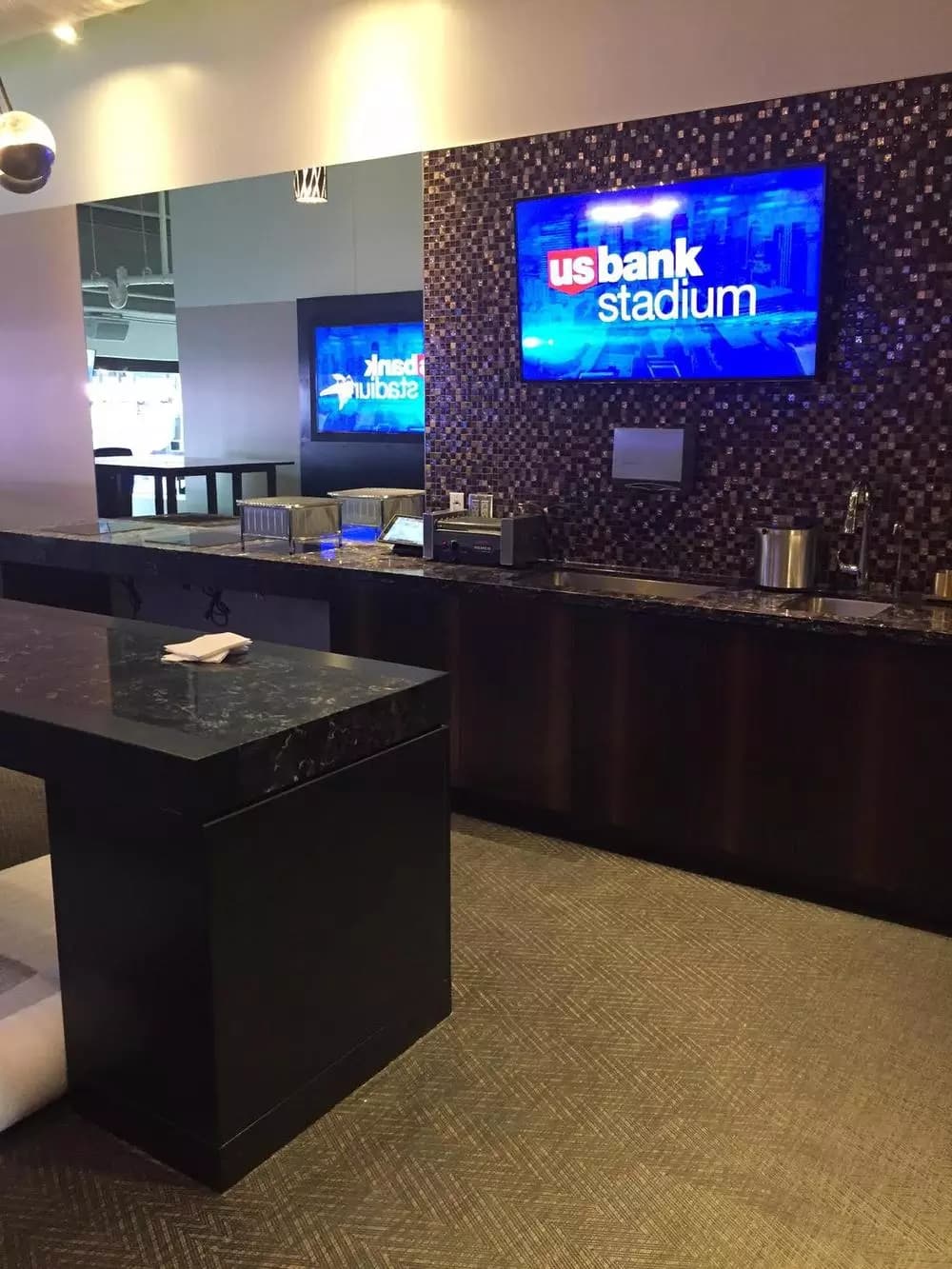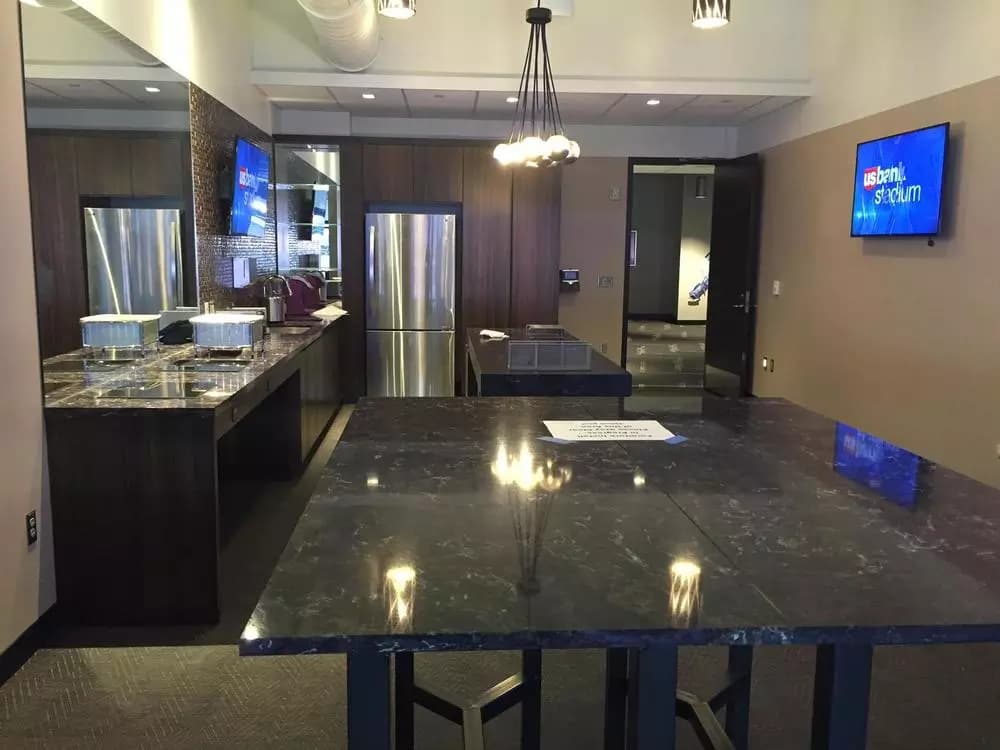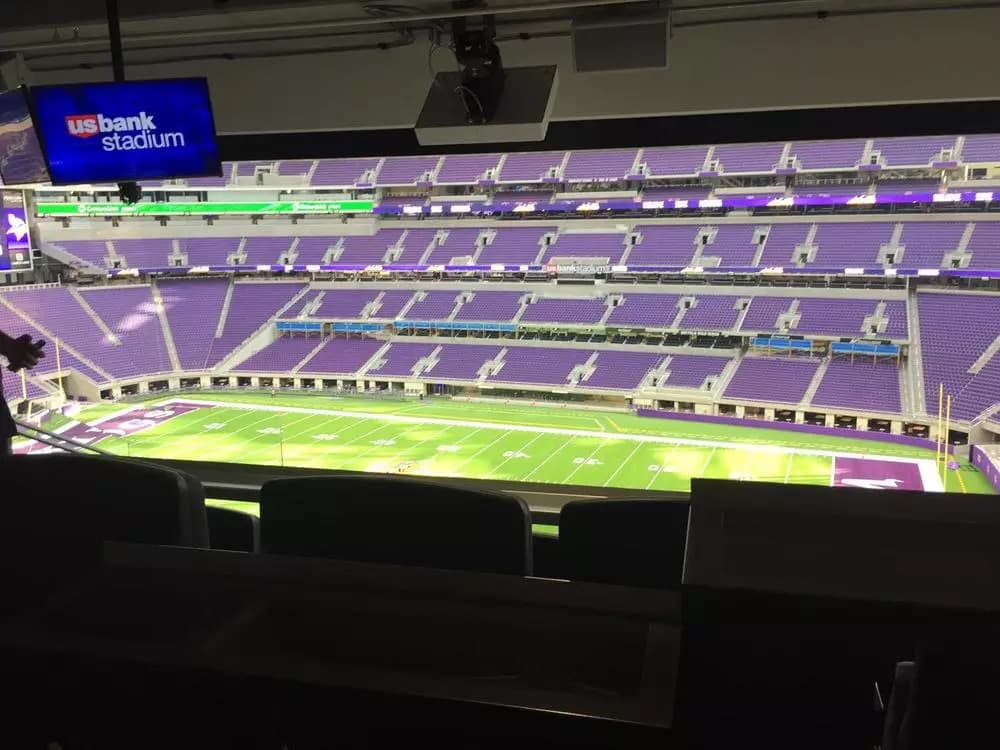 Suite Pricing
US Bank Stadium Suite Pricing and Amenities
Experience a night to remember when coming to Minnesota by booking a US Bank Stadium suite for your family, co-workers, or clients. US Bank Stadium suites are luxurious, comfortable, and offer plenty of space for you to entertain and mingle with your guests.
The sightlines are unlike any other suite experience as these suites are boasted as being the closest to the action compared to any other NFL team stadium. In-suite catering at an additional cost will bring your event over the top, ensuring that all guests have an amazing time.
How much do suites at US Bank Stadium cost?
$16,000 - $45,000

With only eight regular-season games, Minnesota Vikings suites typically cost the most ranging from $20,000 - $45,000 depending on the opponent. For other events, including concerts, suite renters should expect to spend $15,000 - $25,000.
How many US Bank Stadium suites are available?
US Bank Stadium has several different levels of suites to accommodate parties of different sizes.
There are 141 total suites available at US Bank Stadium. They are broken down into the following options:
Loft Suites- 18 guests

Norseman Suites- 18 to 22 guests

Norseman Lounge Suites- 12 guests

Touchdown Suites- 24 guests

Turf Suites- 14 to 24 guests

Valhalla Suites- 24 to 32 guests
Amenities: Luxury seating, amazing sightlines, in-suite catering available to order, access to buy VIP parking passes, in-suite concierge services, and more
Total Suites at US Bank Stadium: 141 Suites
Suite Capacity: 12-32 guests
Low Range

Location

High Range

$20,000

Loft Suites 3

00 level

$30,000

$25,000

Norseman Suites 

club level

$40,000

$25,000

Touchdown Suites 

end zone

$40,000

$25,000

Turf Suites 

home bench

$40,000

$30,000

Valhalla Suites 

center field, club level

$45,000
Private Suites
Host the perfect party, meeting, or get together in a private US Bank Stadium Suite
Whether you are inviting family and friends out for a party, planning a company event, or entertaining guests, SuiteHop has the best access to US Bank Stadium Suites for your group.
With access to all the premier locations, SuiteHop will make your Minnesota event one to remember.
Private US Bank Stadium suites are available for parties of 12 to 32.
What are the options?
Loft Suites
The Loft Suites are located on the Mezzanine level of the US Bank Stadium, right below the upper deck. Each of the 46 available Loft Suites seats 18 guests. The suites are comfortable, spacious, and luxurious with high-end decor throughout the suite along with comfortable seating.
Norseman Suites
The Norseman Suites are one of the closest suites to the field. Located only 36 rows from the sidelines, these suites bring you right up into the action. They are located between the 20-yard lines on the south side of the stadium. Each of these 27 suites seats at least 18 guests. The suites have 12 fixed seats and 6 high-top bar stools, along with plenty of standing room so that your guests can mingle.
Norseman Lounge Suites
The Norseman Lounge Suites offer a more intimate setting with a maximum of 12 guests per suite. Also located 36 rows behind the sidelines, these smaller yet still exclusive suites bring you right up to the edge of the action. There are 6 fixed seats and 4 high-top bar stools for your comfort.
Touchdown Suites
The Touchdown Suites are one of the most sought-after suites at US Bank Stadium. With only 8 suites available in this location, access is limited. The suites are the closest suites to the field in the entire NFL, giving you the most amazing and exclusive sightlines of the action. They are located at the East end zone of the stadium and typically seat 20 guests. Inside your suite, you'll have access to 3 flat-screen HDTVs for your viewing pleasure.
Turf Suites
The Turf Suites are located just like they are called- right on the turf. The Turf Suites are located right on the field, giving you amazing access to everything down to the nitty-gritty of play calls, huddles, and more. You could be as close as 25 feet from the field! These exclusive suites come with 12 to 24 suite tickets, access to buy VIP parking, access to the Delta Sky360 Lounge, and 3 flat-screen HDTVs in-suite. You can easily access the rail next to the Vikings tunnel during a Vikings game, and the outdoor patio to your suite is literally on the turf of the field. If you're looking to be a part of the action, the Turf Suites are for you.
Valhalla Suites
The Valhalla Suites at US Bank Stadium are one of the most exclusive suites. The high-end decor and upscale furnishings set them apart from the other suites in the stadium. However, the amenities are just as luxurious. Located only 17 rows from the field, these suites put you up close and personal to the action below. Your 24 to 32 guests will enjoy the best Minneapolis has to offer from this exclusive suite location.
Stadium FAQ
All about the suites at US Bank Stadium
US Bank Stadium is home to the NFL's Minnesota Vikings as well as host to several concerts and other performances throughout the year. Seating capacity is 66,655 with an expandable reach of 73,000.
The stadium recently completed construction in 2016 with the first game played in August of that year. The stadium is completely enclosed and hosts a myriad of events throughout the year including NFL games, concerts, and other performances.
How many suites are available at US Bank Stadium?
There are 141 suites available at US Bank Stadium. These suites can occupy a large range of guests from 12 to 32 depending on the suite.
Why should I book my US Bank Stadium suite with SuiteHop?
SuiteHop is an online marketplace providing the most comprehensive details and availability for all your Minnesota Vikings events. With real-time pricing and high attention to customer service, SuiteHop's suite experts will help you from booking your suite all the way through ordering catering for your event.
What is included in a suite at US Bank Stadium?
All US Bank Stadium suites provide the ultimate experience in luxury for your event or game in Minnesota. Many of the suites are located close to the field, bringing you right in on the action and amazing sightlines. All suites include access to buy VIP Parking and five-star catering as well as comfortable, spacious seating for your and your guests. Your SuiteHop Customer Service Expert can help you to book the suite that is best for your group depending on size and needs.
Where is US Bank Stadium Located?
US Bank Stadium is located in Minneapolis, Minnesota at 401 Chicago Avenue.
Where should I park for an event or game at US Bank Stadium?
There are several parking lots around US Bank Stadium conveniently located to ensure you are in for the event in plenty of time. With over 20,000 spots within a 20-minute walk of the stadium, there are several options for event-goers.

Some suites may include a limited number of VIP parking passes. VIP Parking is located adjacent to the stadium and additional passes may be available for purchase.
Which hotels are closed to US Bank Stadium?
US Bank Stadium is located in Minneapolis, Minnesota just minutes from the heart of downtown. There are several well-known hotels to stay at before or after your event at US Bank Stadium.
Radisson RED Minneapolis Downtown

Hilton Garden Inn Minneapolis Downtown

Kimpton Grand Hotel Minneapolis
What should I do before my event at US Bank Stadium?
Minneapolis has an active downtown and surrounding area, giving you a number of things you can do before or after you head to your luxury suite at US Bank Stadium such as:
Mill City Museum- Learn all about what makes Minneapolis grand at this downtown museum.

Stone Arch Bridge- This landmark is one of the defining features of Minneapolis.

Erik the Red- This bar and grill is located right outside US Bank Stadium and boasts an eclectic menu and on-location brews.
For more ideas on what you can do before you head to your luxurious suite at US Bank Stadium, visit Minneapolis' tourism site, Meet Minneapolis.
Catering
US Bank Stadium Catering Explained
One of the perks of sitting in a US Bank Stadium suite is ordering premium catering directly to your suite. With a suite attendant on call and a wide variety of menu options, your SuiteHop event expert can help you customize a menu specifically for your group.
Suite catering is not included with the cost of your booking. However, all suites can order a la carte menu items or additional packages if desired. Most suites have access to club lounges throughout the stadium as well as concessions. Suite catering at Minnesota Vikings Park is provided by Minnesota Hospitality.
Estimated US Bank Stadium Suite Catering Costs
| Options | Pricing |
| --- | --- |
| Full meal with drinks | $100 - $150 per guest |
| Snacks with beer & wine | $50 - $100 per guest |
| Beer & wine alone | $25 - $50 per guest |
SuiteHop Recommended Suite Catering Menu
Feeds 20 guests
Butter Popcorn

Kettle Chips & Dip

Bruschetta Tomatoes and Pita Bread

Market Fresh Fruit Display

Pretzel Bites & Stout Mustard

Johnsonville Bratwurst

Schweigert Beef Hot Dogs

Build your own Nachos

Fudge Brownies & Dessert Bars

12 Non-Alcoholic Beverages

24 Assorted Beers
This menu is based on US Bank Suite Catering offerings. Items are subject to availability.

Pro tip: To lower waste, we recommend ordering fewer beverages upfront. Watch what your guests are consuming and reorder accordingly.
Learn more about US Bank Stadium catering.