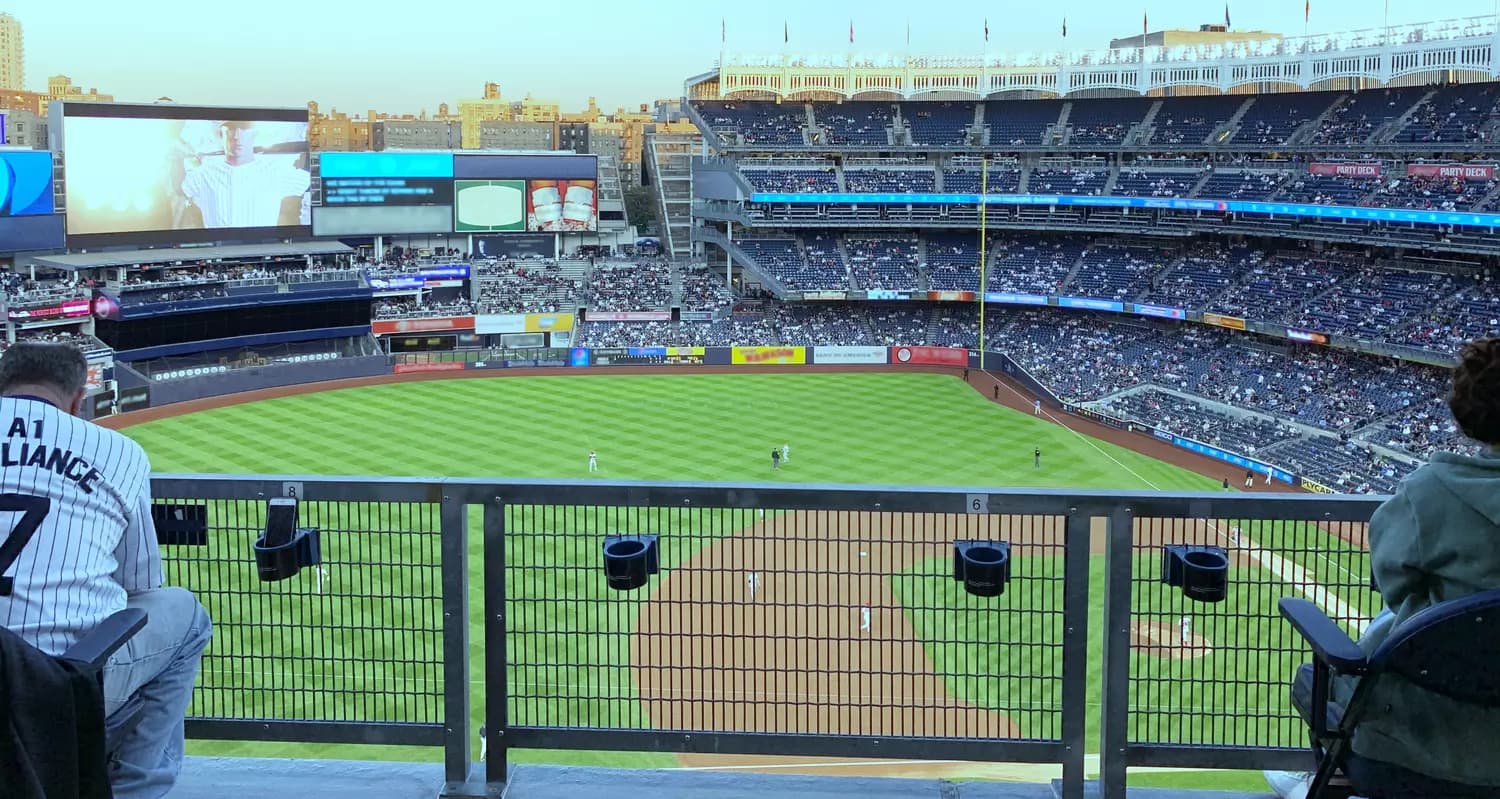 Yankee Stadium
Suites & Premium Seating
Venue Info
Yankee Stadium
161st Street and River Avenue
Bronx, NY
Get Updates
Sign up for our newsletter with offers, updates and featured events at Yankee Stadium.
Pricing
Yankee Stadium Suite & Club Pricing and Amenities
Yankee Stadium is one of the best-known Major League Baseball fields in the country. This bucket list field is located in the Concourse Neighborhood in New York City's "The Bronx" suburb.
Yankee Stadium is the home field for the New York Yankees baseball team, as well as a Major League Soccer team, New York City FC. If you're in the market for Yankee Stadium luxury seating, you have come to the right place. SuiteHop is the industry leader for planning luxury corporate events and will transform any Yankees game or concert at the iconic Yankee Stadium into a true VIP experience.
How much do club seats & suites at Yankee Stadium cost?
On average, you can plan on spending between $8,000-$20,000 for Yankees (baseball) suites, and $5,000-$15,000 for concerts at Yankee Stadium. Club seats at Yankee Stadium will vary from $200 - $5,000 per ticket. This wide range in prices depends on the event, date, and matchup. All prices are set by our Listing Partners

Amenities: Double-wide, theater-style seating, wet bar, high definition flat-screen TVs, private restrooms, refrigerator
Total Suites at Yankee Stadium: 56 Suites
Total Club Seats at Yankee Stadium: 4,300 Seats

Individual Suite Capacity: 12-34 guests (Pocket Door Suites available for larger groups)
Group Suites: 14-100 guests
Low Range

Location

High Range

$8,000

Luxury Suites
Suite Level; Above 200 Level

$20,000

$200 /Ticket

Field MVP Outdoor Suites
Rows 12-21; Behind Home Plate

$1,000 /Ticket

$400 /Ticket

Legends Suite Club
Bi-Level Club; Behind Home Plate

$5,000 /Ticket
Premium Seats
Host the perfect party with premium seats & suites at Yankee Stadium
Yankees fans come from all over the country to cheer on the boys in blue and white from this baseball mecca. SuiteHop's team of event experts can help make your next private Yankee Stadium Suite event or club experience unforgettable.
Yankees Stadium suites and club seats are the cream of the crop for luxury entertaining. Suites at Yankee Stadium offer open space for entertaining, the best views of the ballpark, and granite countertops, you'll love hosting an event in one of these exclusive luxury suites.
Yankee Stadium suites seat 12-34 guests and include comfortable cushioned seating to enjoy the game from. SuiteHop recommends club seats for smaller parties of 2-8 guests. Clubs offer the same large, padded seating with in-seat wait service.
Once you enter the ballpark through a private VIP entrance and suite ticket holders can enjoy five-star catering brought directly to your suite, you'll never want to attend a ballgame any other way.

Suite Amenities & Special Features
Yankee Stadium suites are configured with extra-wide, theater-style seats and also a climate-controlled interior space and private restrooms.
Luxury Suites
$8,000 - $20,000 | 16-100 Guests
Luxury suites at Yankees Stadium are located on both the suite and club levels. Luxury suites range in sizes to accommodate any party size. Traditional suites are perfect for groups of 16-36 guests. Party Suites located in the right field on the suite level can host parties of 35-80 guests. The Club Suite is the largest suite option on the third baseline with a capacity of 45-100 guests. Larger suites are available by combining the smaller luxury suites.
Private Viewing Space: Luxury Suites can accommodate 16-100 people.

Enhanced Viewing Experience: Luxury Suites feature exterior cushioned suite seating and a climate-controlled interior space with a private restroom.

In-Suite Action: Opportunity to arrange for an alumni appearance, custom gift bags, or a Hands-on History experience.

Food & Beverages: In-suite catering can be purchased with each private suite to serve your guests traditional ballpark fare and premium dining options.
Club Amenities & Features at Yankee Stadium
Field MVP Club
$200 Per Ticket - $1,000 Per Ticket
Field MVP Club seats at Yankee Stadium offer a true luxury experience for guests. Located between the bases in sections 116-124 about 10 rows from the action, these seats have the perfect view of Yankee Stadium field. Each guest within the Field MVP Club will enjoy cushioned seats with private tables next to select seats. In-seat wait service is available to order traditional and premium food and beverage options. The Field MVP Club Lounge is located on field level behind home plate with an upscale bar and dining options. Keep in mind that not all club tickets have access to this exclusive lounge as it can be reserved for the multiple-season ticket holders.
Legends Suite Club
$400 Per Ticket - $5,000 Per Ticket
Legends Suite Club seats are the highest demanded seats at Yankee Stadium as they are located directly behind home plate. This exclusive club offers a bi-level lounge with floor-to-ceiling windows, five-star dining, and first-class accommodations. The seats within the Legends Suite Club are oversized and extra padded offering the ultimate comfort as you watch the game or event. Legends Suite Club ticket holders are encouraged to enter Yankee Stadium through a private entrance, order food and beverages with in-seat wait service, and use private restrooms located in the lounge areas.
Stadium Facts
All about Yankee Stadium suites & clubs
The new and improved Yankee Stadium was built in 2009 to replace the original Yankee Stadium. It's located exactly one block north of the original stadium (which is now a public park called Heritage Park). The stadium gives a nod to the original by incorporating many of the same design elements and, at the time, held the record for the most expensive stadium ever built ($2.3 billion).
The exterior resembles the 1923 look of Yankee Stadium, while the playing field mimics the 1988 remodeled version. There are triple the number of suites inside the current Yankee Stadium, and they offer posh amenities that one can expect from this world-renowned stadium.
How many private suites & premium seats are available at Yankees Stadium?
There are 56 luxury suites, and an additional 4,300 executive club level seats or party suite seats available. Luxury suites are perfect for large parties with 16-100 guests. If you have a smaller party of 2-8 guests but still want a luxury experience, SuiteHop recommends purchasing club seats like the Field MVP Club and Legends Suite Club Seats.
How do I get to Yankees Stadium?
Since Yankee Stadium is located in New York City, it is easily accessible via public transportation, as well as via car. There are many parking garages and lots located around the stadium, and/or your suite ticket may include prepaid parking at a specified lot (make sure to check your individual suite listing).
Catering
Yankee Stadium Catering Explained
Catering at Yankee Stadium is provided by Legends, a leader in stadium catering services. Catering is not included with the purchase of your suite and will be an additional cost.
Legends Catering is known for its five-star catering menu options including delicious ballpark favorites such as the classic popcorn, Hebrew National hot dogs, assorted soda and domestic beer, and many more.
Your SuiteHop event expert can help you with selecting a catering package that best fits your needs and budget. Catering is not required, and suite guests may select from any of the stadium concessions and return to the suite to enjoy.
Estimated Yankee Stadium Suite Catering Costs
| Options | Pricing |
| --- | --- |
| Full meal with drinks | $75 - $150 per guest |
| Snacks with beer & wine | $30 - $60 per guest |
| Beer & wine alone | $25 - $40 per guest |
Yankee Stadium Recommended Suite Catering Menu
Feeds 20 guests
Stadium Popcorn

Carmelized Onion Dip & Lay's Potato Chips

Bazzini Roasted Peanuts

Sabrett Hot Dogs

Stadium Salad

Crispy Chicken Tenders

All American Hero

Fresh Baked Cookies & Brownies

12 Non-Alcoholic Beverages

24 Assorted Beers
This menu is based on SuiteHop's recommended suite catering menu based on popular catering items at Yankees Stadium. Items are subject to availability. 
Pro tip: To lower waste, we recommend ordering fewer beverages upfront. Watch what your guests are consuming and reorder accordingly.
Learn more about in-suite catering at Yankee Stadium.